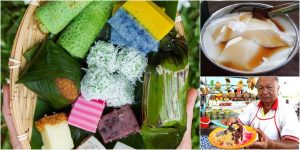 No One Can Know Malaysia Before Trying These 25 Street Foods
By Praseetha N
---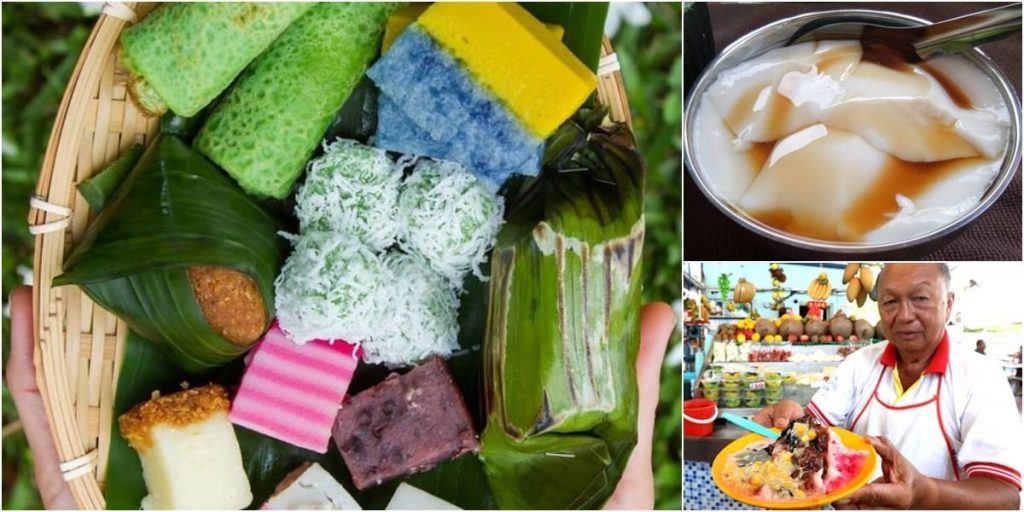 If and when you decide to visit Malaysia, stop and ask any Malaysian this question: "What makes Malaysia great?" and they can almost guarantee that the people would say "The food!" Sure, they have amazing architecture, rich history, and a blessed amount of nature around us but it's the food that transforms this salad bowl of a country into a melting pot. This is why if you really want to get a taste of what it's like to be a Malaysian, head to the streets and start food hunting! We have listed down 25 street foods that come from Malay, Chinese, and Indian culture so you can really immerse yourself in the Malaysian foodgasm. Watch your mouth water as you taste the different spices and learn about the many unique ways Malaysian cuisine is presented.
Ice Kacang
Here's a shaved ice treat that looks like cendol but actually isn't. Ice kacang or ABC (Ais Batu Campur) as we call it here in Malaysia, is a shaved iced dessert that is often topped with multi-colored sweet syrup and then a bunch of toppings are added.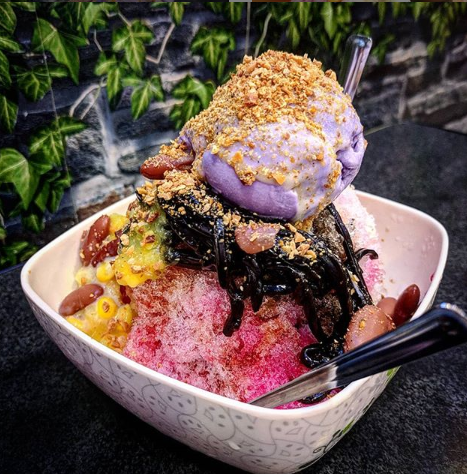 The toppings are more varied with choices of fruit cocktails and dressings. You will also see toppings such as red beans, roasted peanuts, and sweet corn. Ice kacang is basically a blank canvas and you can put almost any kind of topping you desire. Some go for ice cream or durian or even chocolate syrup as well! So do try them all out to see what fits your palate.  
Rojak
Malaysia is blessed with a variety of tropical fruits and vegetables, which allows them to create all sorts of dishes. One such dish that utilizes these fruits would be the Rojak. Rojak means a jumbled mix and that is exactly what you'll find in one.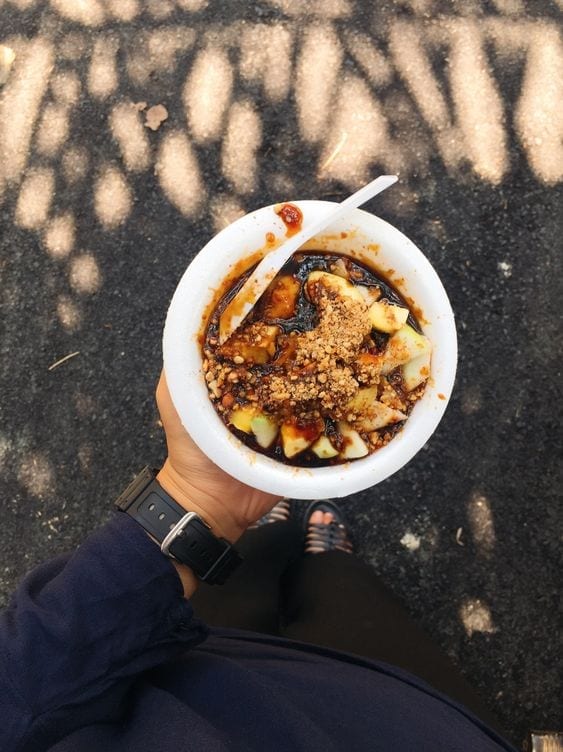 Here's a mix of fruits that consists of, but not limited to, pineapples, guavas, young mangoes, sweet turnip and cucumbers. These fruits and chopped into cubes or are sliced before being tossed in rojak sauce, which is a mixture of sweet and spice. This should be the first street food on your list as it's the very definition of Malaysian snacks.
Lok Lok
Lok Lok is basically a steamboat on wheels. It is sold on the back on a truck and it usually parks in different areas on different days, so if you want to get ahold of these guys, you'll have to look up where and when they'll be. Lok Lok consists of various skewered vegetables and meat to choose from. All you have to do is pick what you want and boil it yourself.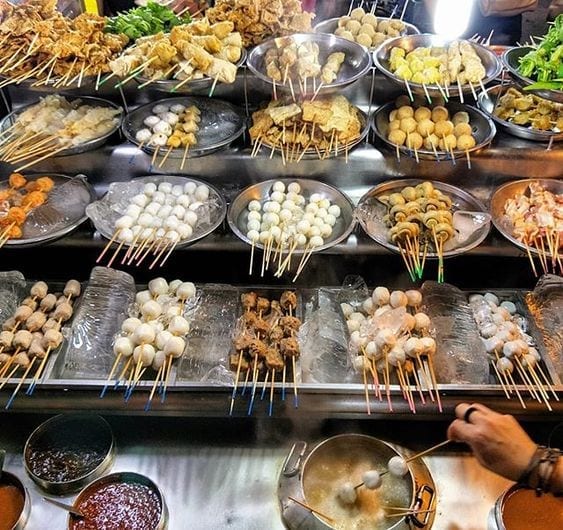 Unless you want to fry or grill it, then you pass it over to the seller to do it for you. Keep in mind that the prices of each skewer are different and you can tell by the color marking at the end of each stick. Each color indicates a different price range. However, if you're a halal foodie, it can be hard to find a halal-certified lok lok, so you may have to opt to eat at a halal steamboat restaurant instead.
Apom Balik
The Malaysian pancake is like a regular one, but sprinkled with assorted toppings. If you ever spot these, make sure to stop by and try a piece. This thick pancake is usually sprinkled with a generous topping of sugar, sweet corn, and peanuts! Now imagine all of those ingredients melting together on a warm pancake.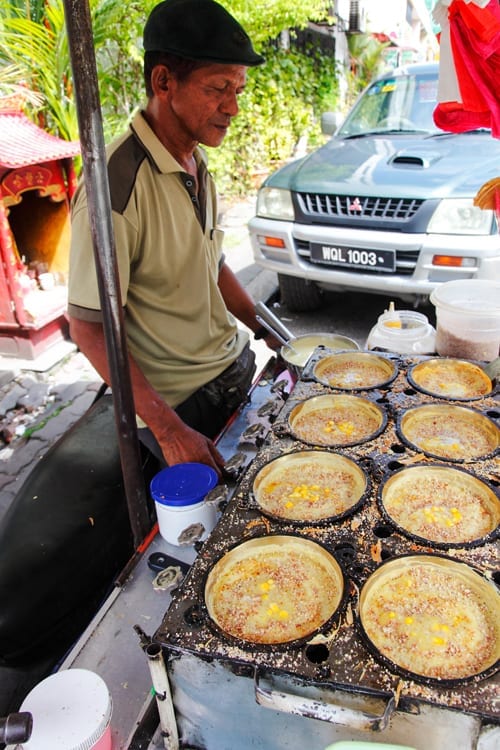 Yum! While these are the more traditional ingredients, you can also find other sellers upping their game by adding stuff like jams, Nutella, cheese, and more. This particular Apom we are describing is usually thick and soft, but you can always find other apoms that are smaller in size and are crispy.
Putu Mayam
Putu Mayam or Idiyappam is an Indian snack that every Malaysian is familiar with and adores. Most Malaysians grew up not buying these in stores, but actually from an elderly Indian uncle that drove around neighborhoods on his motorbike. The Putu Mayam container would be a huge silver tin that is strapped to the back seat of their bike.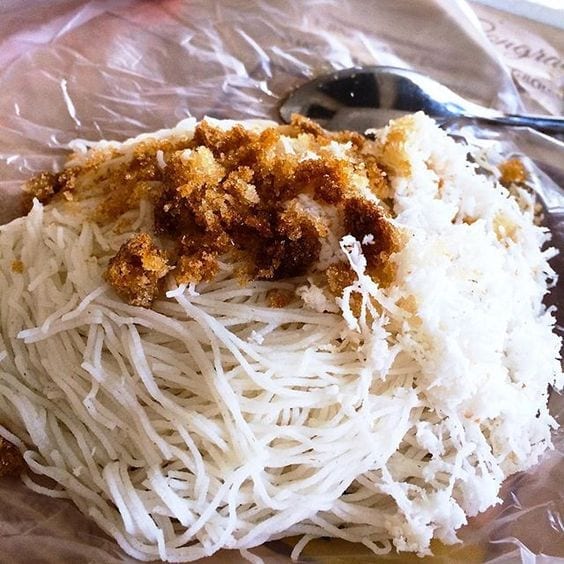 The Putu Mayam is made from rice flour that is pressed into noodles before being laid or woven into a flat circular shape. Traditionally, it is served with coconut shavings and gula melaka (not to be confused with brown sugar). However, some people eat it with curry as well to add a spicy kick to their sugary snack.
Otak-Otak
Otak-Otak literally translates to brain-brain but fret not, there are no brains of any kind in the street food. In fact, it's usually just a grilled fish cake. In some places, they use cuttlefish, shrimp, or even crab meat as well, but you will commonly find fish meat served in a banana wrapping.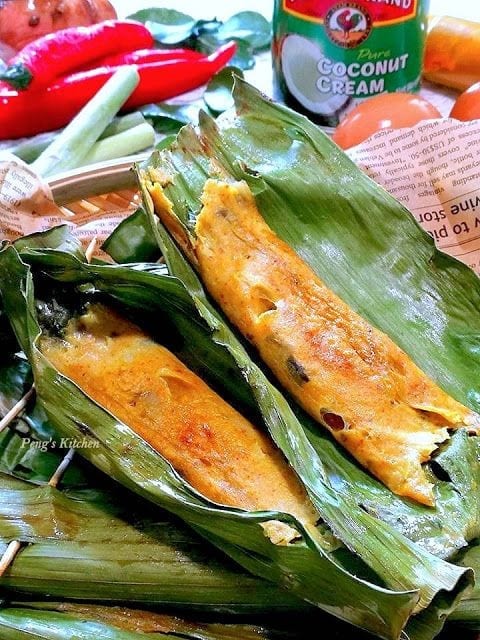 The fish is ground up with tapioca starch and spices, and then neatly wrapped up in a banana leaf before being grilled. The texture of the fish is deliciously soft and will give you a melt-in-your-mouth feeling. While this is usually served with rice, you can also eat it on its own as a snack. Keep in mind that these are usually a little on the spicy side but honestly, that's what gives it a nice kick!
Pisang Goreng
This crunchy snack is a wholesome favorite of many Malaysians. It's cheap, it's easy to make, and it's deep-fried bananas, so what's not to love? You can easily find these stalls when you walk through neighborhoods. Cucur Pisang or Pisang Goreng as it's normally called are green bananas dipped in batter and deep-fried.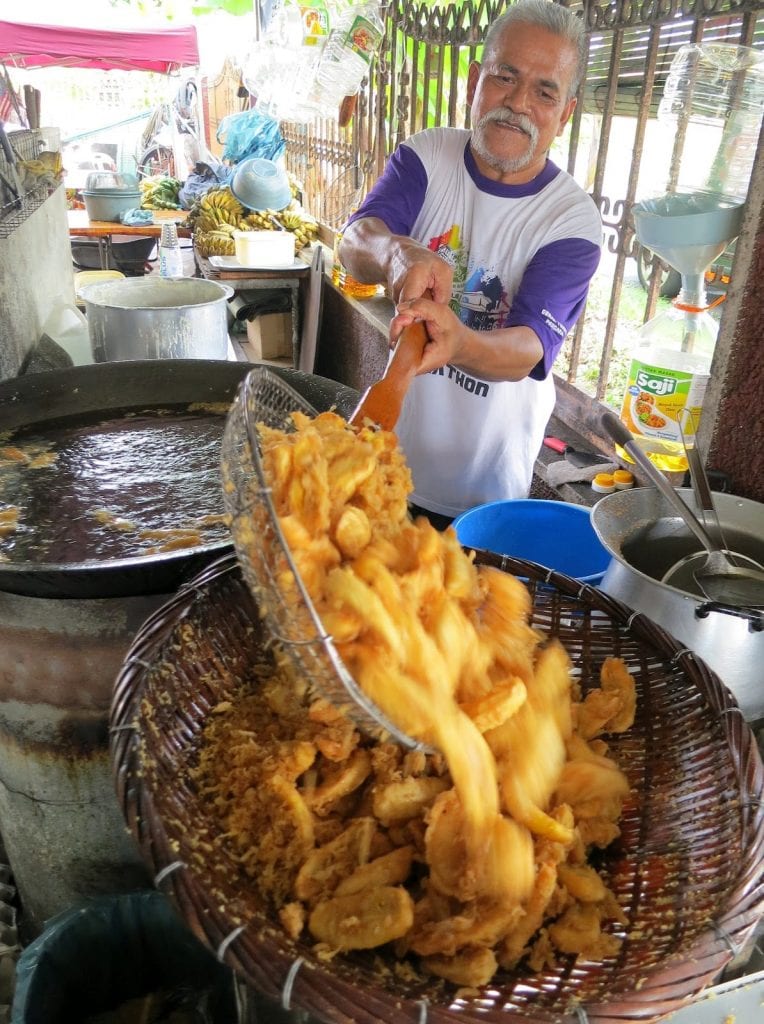 However, like every other snack, there are many variations to the Pisang Goreng. Some people dip the morsel in Nutella or melted mozzarella cheese. Others have come up with a business that sells Pisang Goreng with myriads of toppings like chocolate shavings, cinnamon, and every strawberry shaving. Take your pick!
Popiah
Popiah is a popular snack or meal for people around Asia. However, in Malaysia it's more of an appetizer. Traditionally, it's stuffed with shredded vegetables and sweet and spicy chili sauce. The wrap is made from popiah skin, which is rather thin and paper-like.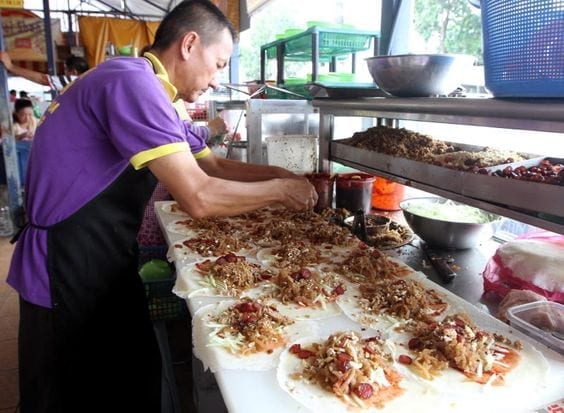 There are some stalls that deep fry the popiah as well (a.k.a spring rolls). Now, here's a little twist though. Over the years people have experimented with different ways of making popiah to a point where there are even dessert popiah out there stuffed with cheese, chocolate, and even strawberries.
Vadai
This is another Indian street food that actually has over 10 different variations but in Malaysia. You will commonly see three major ones, which are the Medu Vadai, Masala Vadai, and Maddur Vadai. Other Vadai's are around but a little harder to spot. With the Medu Vada, the batter is a blend of raw rice, boiled rice, and urad dal.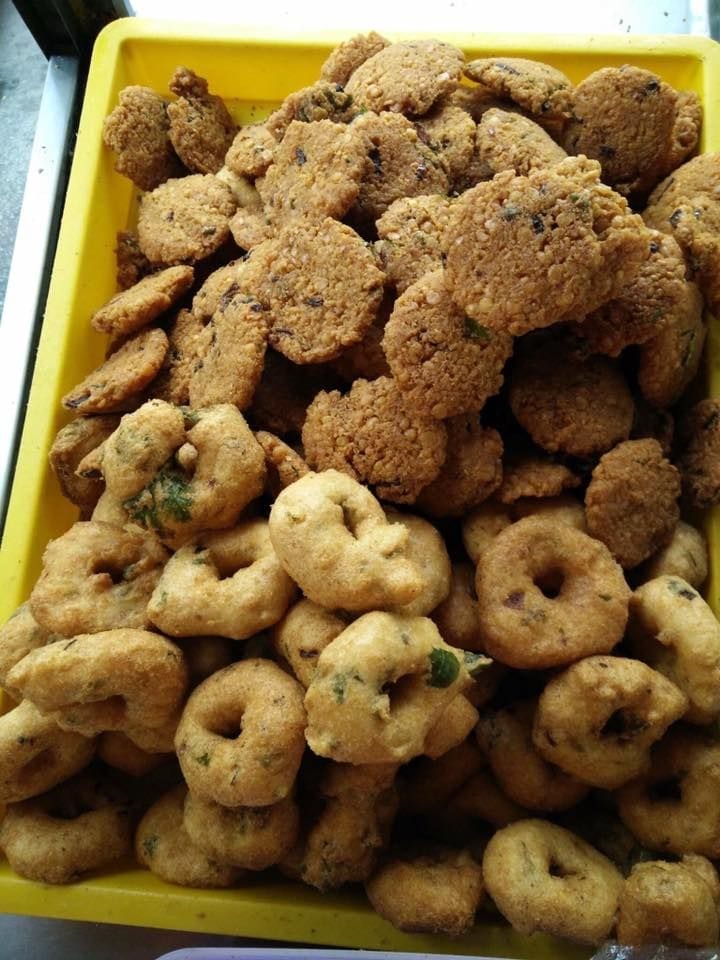 They are shaped into doughnuts and are deep-fried. This goes amazingly with chutney or a curry of your choice. It's even better when it's still warm so you get a nice crunch when you bite into it! Masala Vada is a crunchy alternative that you could try. A lot of people pair this with a cup of hot tea. Maddur Vada is made differently because the ingredients are roasted first before being mixed with the dough.
Cucur Pisang
The cucur pisang is another kind of deep-fried banana, rounded and browned. There are many ways that people make these, and frankly, it all depends on how you like it. When you tear this sweet morsel in half, you will either see a banana bread-like texture or chunks of bananas inside.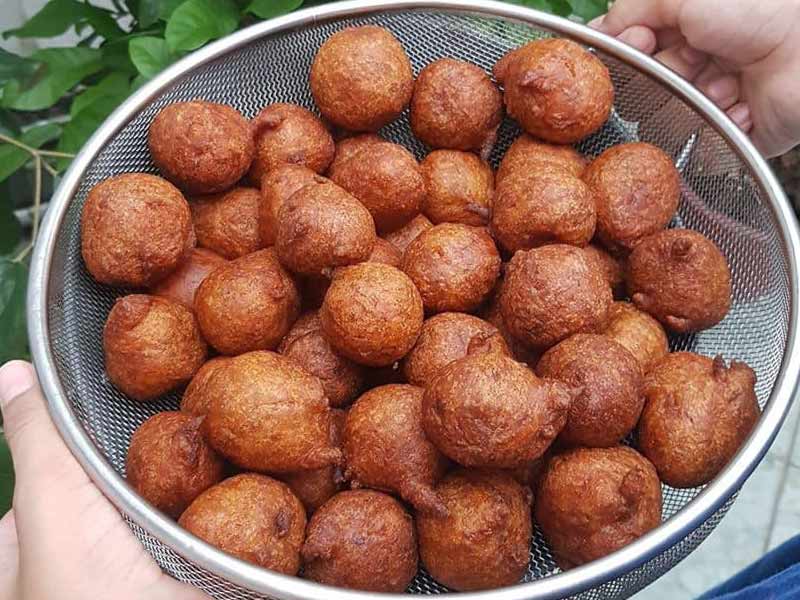 We love the ones that are soft and chewy with plenty of bananas in them. The difference between these and Pisang goreng is that the cucur pisang are made from crushed overripe bananas. This snack is usually eaten at tea time with a hot cup of tea or coffee. Think about your traditional biscuit or side snack but instead, a piping hot dessert ball made of bananas.
Ramly Burger
Okay, you're probably thinking that this is just a regular ol' burger. It sort of is, but it has an Asian twist to it. This isn't a burger you are able to get anywhere except for Malaysia or countries that import this specific patty. Ramly is a local brand that made its name on the street as an alternative to fast-food chains like McDonald's or KFC.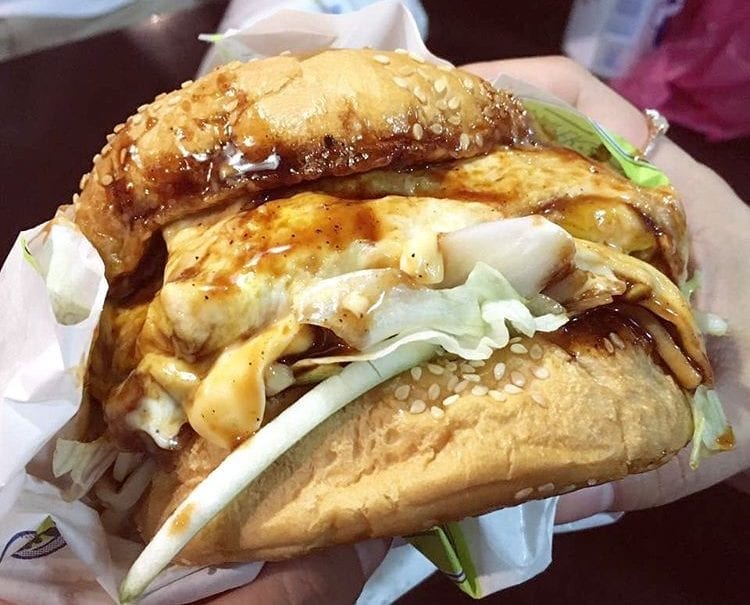 The special thing about having the Ramly burger is being able to customize it however you want! Cheese, eggs, extra patties, extra veggies, more sauce, or more cheese! If you can dream it, they will flip the burger of your dreams. One bite into one of these warm burgers will just make you feel so satisfied.
Roti John
Why does this food have a man's name to it? Well, we aren't entirely sure either. The literal translation of roti John is John's Bread, which leads to some saying that perhaps it was from the time Malaysia was colonized by the British, whose snack of choice was sandwiches.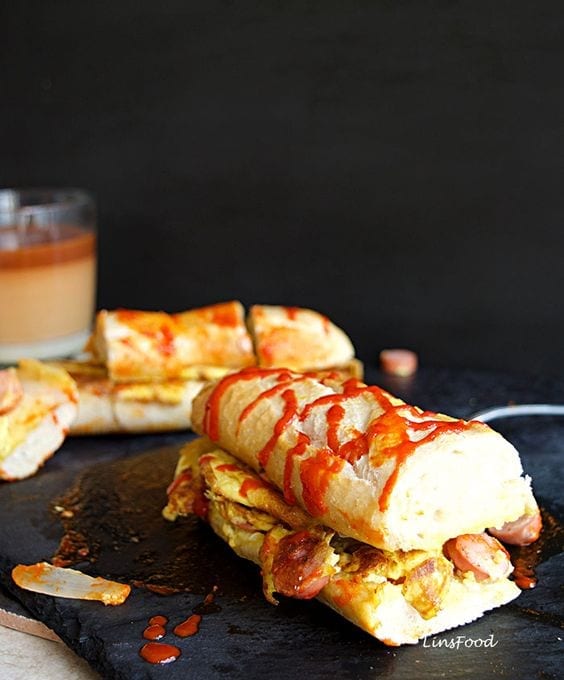 Roti John is basically an omelet sandwich. It's usually in between an oblong bun and other ingredients such as minced meat (chicken, beef, or mutton), onions and sauces. A roti John is often a picture of decadence, especially if there is cheese involved. What you will see if a bun that is basically chock full of egg, cheese, meat, caramelized onions, and sauces. Yum!
Durian Everything!
Durian is the king of fruits over in Malaysia. Over the years, Malaysians have gone to sitting around with friends and family eating the sweet custard of the durian fruit to putting them into every cuisine possible. This isn't an exaggeration. What's not to love though? This treat is delicious despite its reputation for having a bad smell.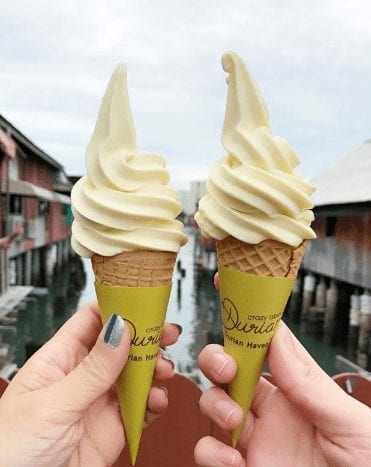 Since the durian is a fruit, it's only normal that when the durian season is upon us, we make plenty of desserts out of it. Ice cream, cakes, crepes, pancakes, smoothies; you name it and we probably have it here! However, some have taken it up a notch by adding durian to other food items like noodles and even as pizza toppings. While we can assure you the dessert ones are the bomb, we can only ask you to proceed with caution for the savory ones.
Kuih Muih
This rainbow dish is called Kuih Muih. It's the epitome of Malaysian culture, because what you see when you visit a kuih-muih stall is a variety of kuih that comes from different cultures in Malaysia. It's hard to tell who created which kuih, but it's a known fact that every one of them tastes amazing!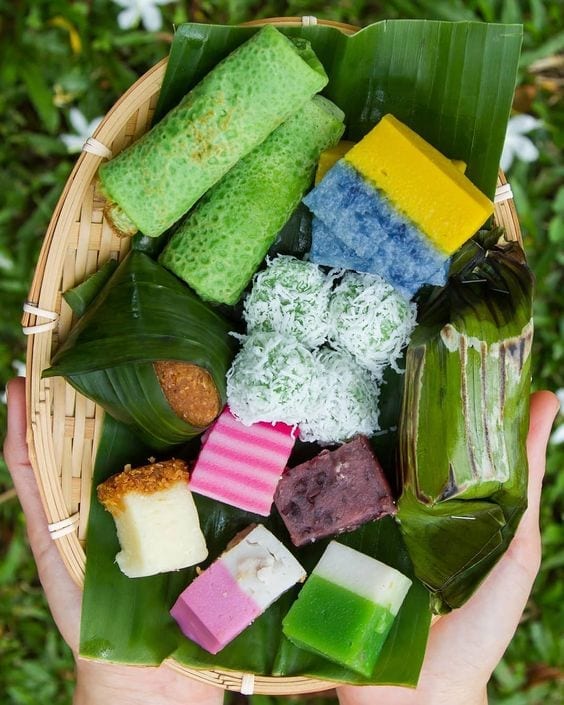 Personal faves of many children and adults alike are the Kuih Lapis and the Bengkang. Consider striking up a conversation with the seller, and they will be more than happy to talk to you about how they made it. Some will even give you a brief history of each piece. Behind every tasty treat is a story.
Yoo Tiao
The yoo tiao is known as the Chinese doughnut (or some people call it the Asian churro). It's a fave breakfast meal for a lot of people, and in China, it's almost a daily part of their meals. You can eat the yoo tiao in many ways, but it was traditionally eaten with a warm bowl of soybean milk. You can also opt to eat it with porridge or even curry!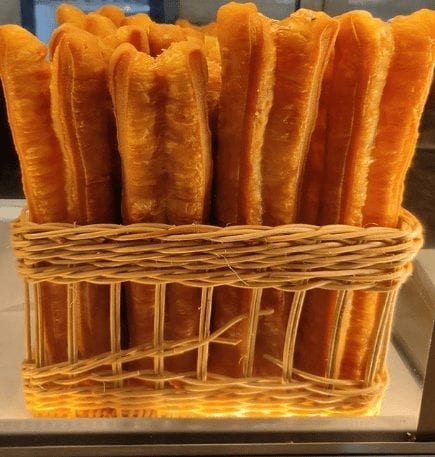 It really is up to you and you can even eat it on its own with a cup of tea. This author would like to suggest a way to eat it that may not be approved by a lot of Malaysians: try dipping the yoo tiao in a hot cup of Milo. The sweetness of the Milo really brings out the taste of the yoo tiao.
Satay
Who doesn't like skewered meat! It's basically barbeque but with a Malaysian twist. For vegetarians and vegans there's also a tofu option. You will usually find these stalls at night markets (Pasar Malam) or by the roadside at night. What makes it special is the sauce they use to glaze the meat before barbecuing it and also the famous satay peanut sauce.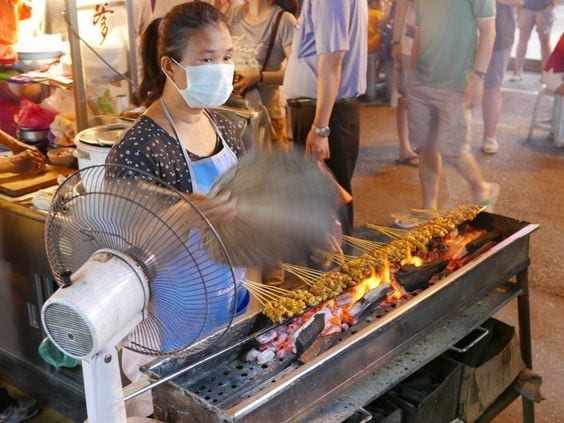 It doesn't sound like it'll work but trust us that it does. The peanut sauce will bring out the taste of the satay and elevate your senses to a whole new level. You can find choices of meat such as chicken, beef, lamb, and sometimes but very rarely tofu. There are pork satays as well, but those are leaning towards Thai cuisine.
Bak Kwa Bun
If you celebrate Chinese New Year or if you have heard of it then you will know that bak kwa is a big part of it. Bak kwa is Chinese dried meat that has a salty-sweet taste to it. It's usually pork but they have chicken meat as well. It's similar to a jerky, and could be classified as a mini jerky sandwich – Malaysian style.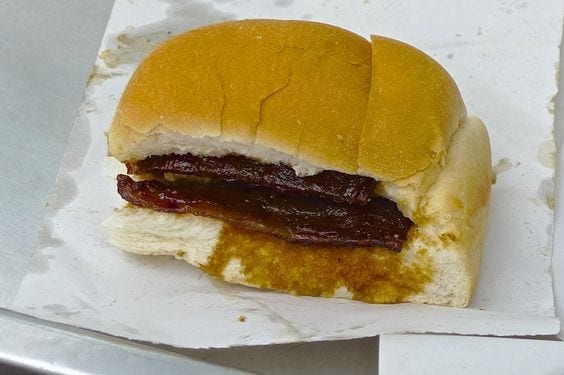 How does it turn into street food? The bak kwa is placed between a buttered bun with some slices of refreshing cucumber and chicken floss. This decadent little snack is made completely from meat and it will definitely satisfy your carnivorous needs.
Lin Chee Kang
Lin Chee Kang (Sweet Lotus Seed Soup) is a Chinese dessert that can be served either hot or cold. This dessert is considered to be relatively healthy and is known for its cooling properties. The key ingredients in this dessert are usually dried persimmons and lotus seeds.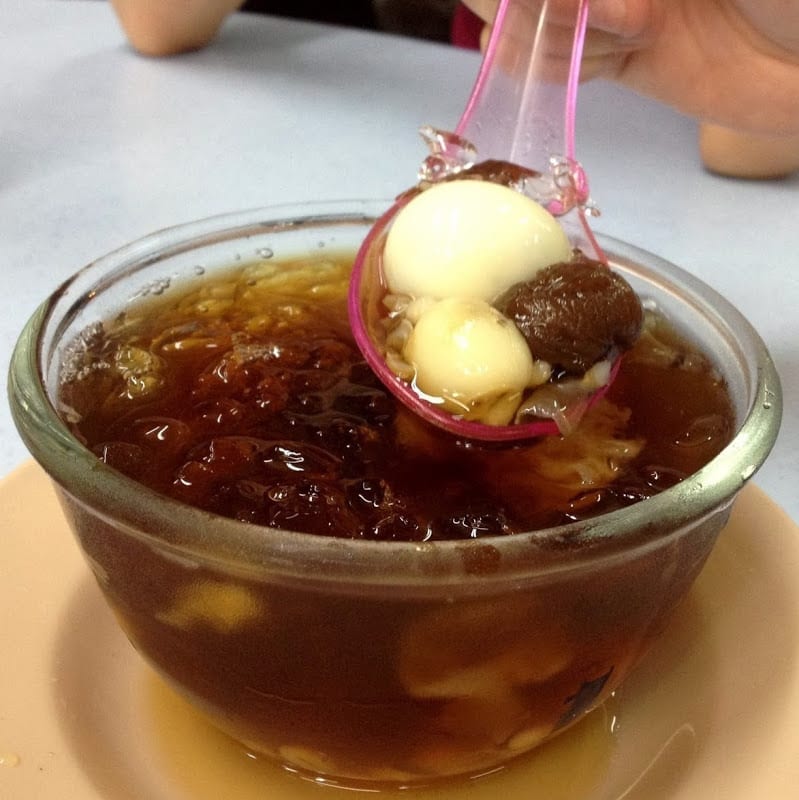 However, you will also find longans, lily bulbs, and Malva nut. On the other hand, some will opt to put in other stuff like jelly, basil seeds, and even hard-boiled quail's eggs. Now, while this is considered a dish you'd see on Chinese New Year, you will be able to find street vendors at night markets selling them as well. So, if you wish to cool off, opt for the cold lin chee Kang instead.
Cucur Bawang
If you like onion rings, you will probably like these. However, the ingredients are a little more extra than usual. These are usually eaten at tea time or as an appetizer, but you will often see folks making these on the daily, especially on a rainy day. However, should you want to try these, you can easily find them at the night market or at roadside stalls around neighborhoods.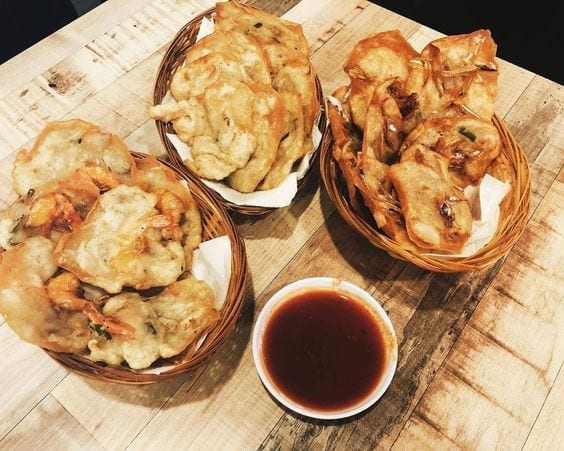 As we have mentioned before, the ingredients are more than just onions, as you will find anchovies as well as red and green chilies. Not to worry though, it's not that spicy. While most people dip the fried treat in chili sauce, you can also eat it on its own. Think about vegetable fritters but usually stuffed with seafood.
Karipap
A Karipap or Curry Puff is a tea time snack or even breakfast food for some people. The outer layer is a light pastry that is folded into a shape of a pouch that holds all the goodness in it. Pair it with a hot cup of tea, coffee, or Milo, and you will be gastronomically satisfied.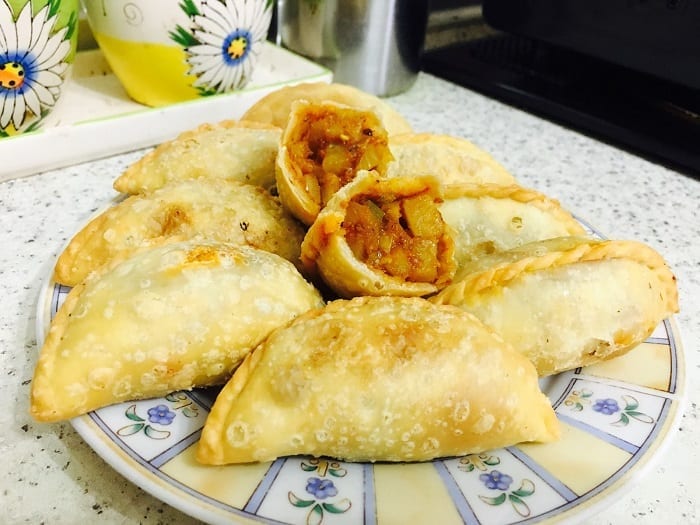 It almost resembles a samosa, but this dish is uniquely Malaysian. With karipap, you can find a number of stuffing. The traditional ones are usually served with potatoes or sardines. However, there are those that are stuffed with other fillings, such a curried chicken, lamb, beef, or even egg mayo, but these are harder to find.  
Keropok Lekor
As Lumiere said: "Try the gray stuff, it's delicious!" We implore you to also try the Malaysian gray stuff we call Keropok Lekor. This savory snack is made of fish paste and is then deep fried. There are two types of Keropok Lekor that you will find, called keropok lekor goreng and keropok lekor keping.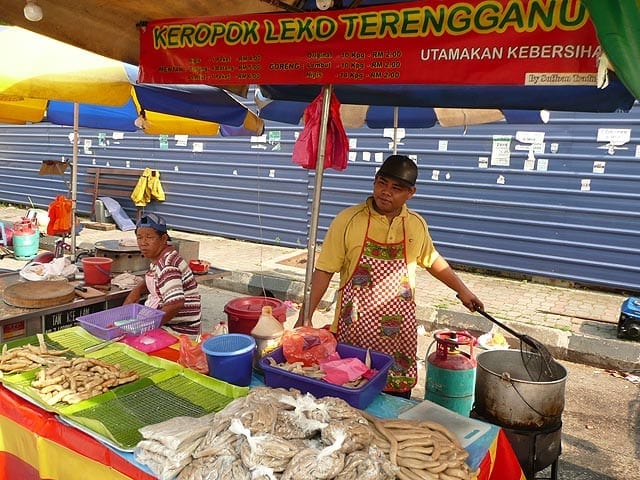 Both are fried fish paste but with the goreng, you will find them looking thick like sausages, and the texture is chewy; the other type is thin and crispy. So if you're looking for a crunch make sure to ask for Keropok Lekor Keping. This is great paired with a cold drink during a hot day for that savory dish and refreshing drink.
Cucur Udang
Just like the cucur bawang, cucur udang is similar to that however the difference here is that the key ingredient is udang, which means prawns. Just like how the cucur bawang is made, you can also find onions, chilis, and prawns with the shell still on.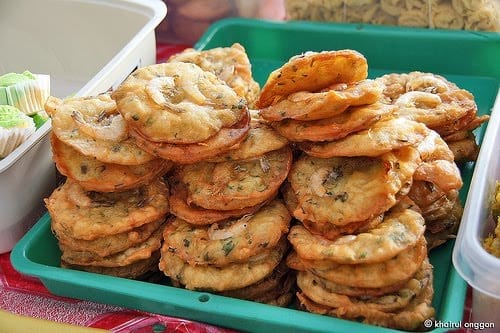 Now, this may sound odd, but trust us when we say the taste is so much better when the shell is on. Every cook does it differently, though; some may just use one big prawn and some use 3 or 4 small prawns for the fritters. You can either dip the cucur in chili sauce or just enjoy it on its own.
Muah Chee
If you're a fan of mochi, you're going to love this next snack. It's not exactly made of the same ingredients. While mochi is made with short-grain glutinous rice flour, muah chee is made from long-grain glutinous rice flour. It is usually cut up into smaller bite-sized pieces before being tossed in crushed peanuts and sugar.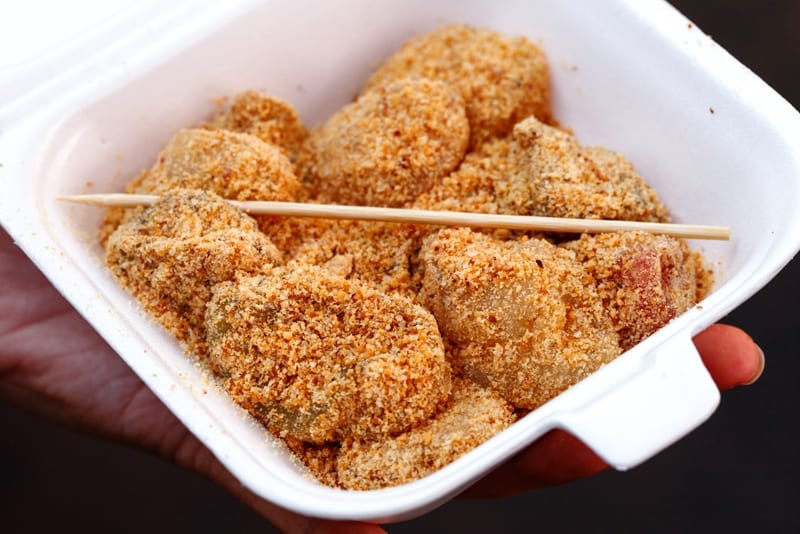 You will feel the peanutty goodness melt in your mouth and the muah chee will balance out the sweetness perfectly. Well, just like every other snack listed here, muah chee has also received an upgrade. Now, you are able to find flavor muah chee such as mango and pandan (screwpine leaf).
Tau Foo Fah
Tau Foo Fah, or as it's called in Mandarin, douhua, is a Chinese dessert made with silken soft tofu soaked in a sweet syrup. The syrup is infused with either ginger or pandan but it's more common to find the ones that are made with ginger. While it's usually eaten warm, it tastes just as good when eaten chilled.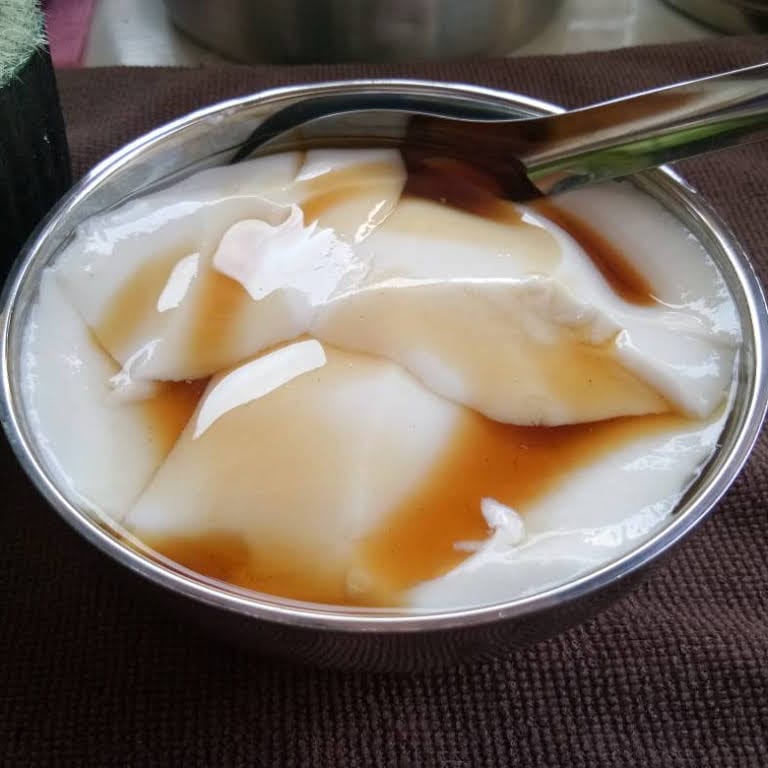 If you're walking around and want to cool off, consider getting a chilled tau foo fah. You can find it at dim sum restaurants or even at a stall by the roadsides. Tip: ask if the tau foo fah is chilled in the icebox or if they are going to simply add ice into it. If they add ice into it, we suggest you go somewhere else because once the ice goes in, the taste starts to run.
Cendol
Cendol is a sweet dessert perfect to cool off on a hot day! It's shaved ice that is drenched in coconut milk and Gula Melaka (palm sugar syrup). The dessert is often topped with a squiggly-looking green jelly made from pandan leaves! Pandan is a fragrant leaf that adds a sweet and refreshing taste to almost any dish.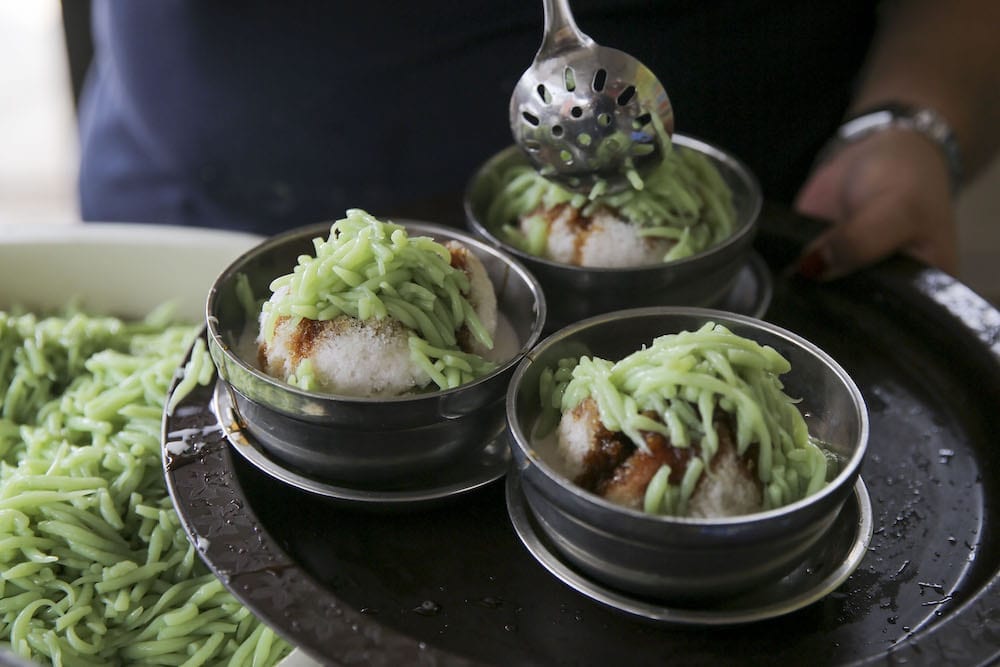 There are also red azuki beans and sometimes people even opt for durians as well. There are many places that serve this and Malaysians may sometimes argue where the best cendol comes from. But for us, Taiping probably wins hands down. When you get the chance head on over to Bismillah Cendol in Taiping, Perak.