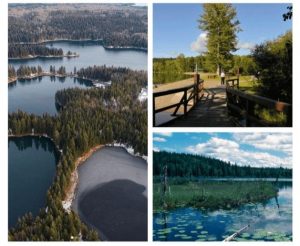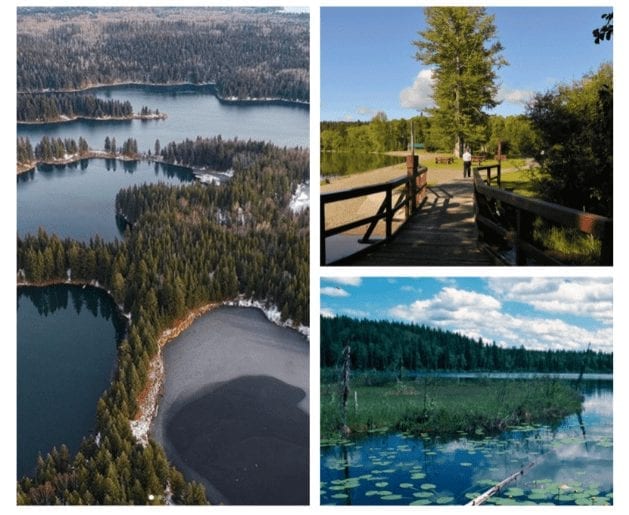 The Most Iconic Hiking Spots in Prince George, BC
By Gary G
---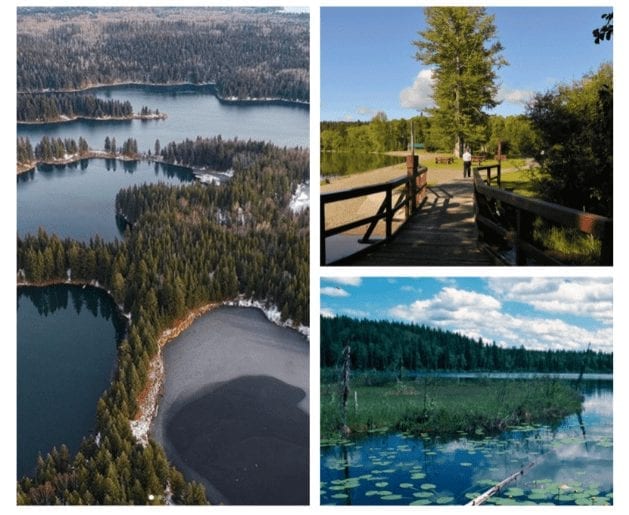 With a population of just under 90,000 people, Prince George, British Columbia is known as "BC's Northern capital". The city's residents know how to take advantage of their space, which is full of forests, hills, and mountains. This being said, many residents take up hiking during the months with no snow. But even during the cold winter months, hiking is still ideal with the proper gear. When the snow melts away, bright evergreen trees and lush scenery sprout out. But with so many people, how can there possibly be any space for hiking? Well, since the city is so spread out, there are actually tons of great hiking spots. You could visit a few parks for day trips or go full-on camping with all your gear. In fact, we can name more than 20 places to hike: let's check them out.
Wilson Park
Running alongside the Nechako River, Wilson Park is located just a few minutes from the center of Prince George. The park is gorgeous and rustic, with riverside access and clearly marked trails. Wilson Park is perfect for taking dogs for their daily walk, or just getting out and about into nature.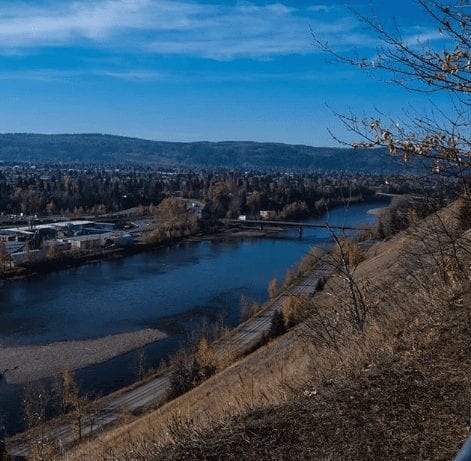 Going down to the riverside, you'll find plenty of places to gather rocks and you might even see an otter floating by! The park is also popular for its wild blueberry patch, which makes for a delicious snack midway through your stroll. If you visit at the right time of year, you might also come across Saskatoon berry bushes in bloom.
Forests For The World
A 106-hectare demonstration forest with 15.2 km of intense hiking trails, Forests for The World has been the scene of many momentous occasions and joyous events. The rustic landscape has seen engagements, first dates, and dozens of school field trips.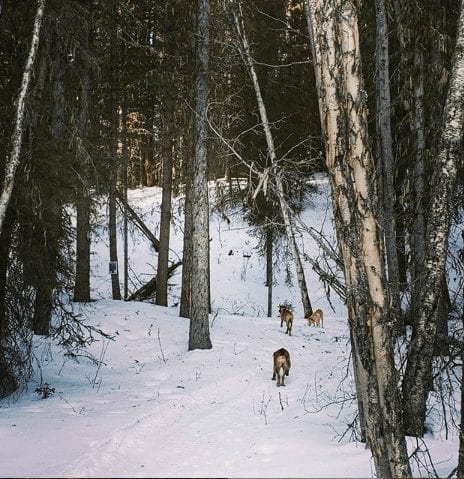 Many of the trails are uphill and it's easy to get turned around, but the scenic views and sense of adventure that the area offers are well worth the struggles. There is a covered picnic area, a dock that goes onto the lake and allows for tadpole fishing and water bug catching, and enough flora and fauna to have you seeing green for days.
Pidherny Trails
The Pidherny Recreation Site is home to the network of trails that are known by locals as the "Pidherny Trails". The trails are ideal for hiking and walking, but are nothing short of popular among bikers looking for a thrilling ride.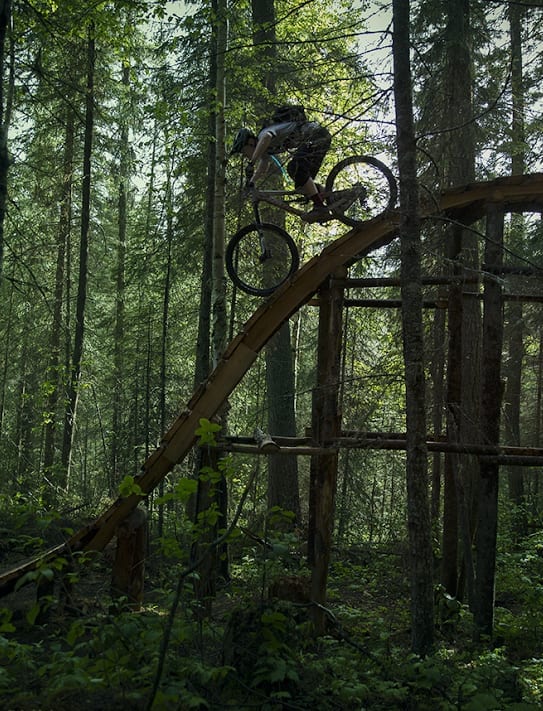 The trails wind through dense forests, combining steep inclines with flat, even terrain as they go. While bikers make use of the wooden footbridge-like tracks, many hikers use them too — they're truly a great way to get in a bit of exercise, as many of them have dramatic drops that the average hiker would struggle to get over. Some drops are so drastic that hikers on foot don't dare tackle them!
Teapot Mountain
One of Prince George's most popular mountain hiking destinations, Teapot Mountain is a staple for hikers. The mountain is also a favorite spot for hikers to take photos of themselves after conquering the slope. The experience of hiking the mountain varies.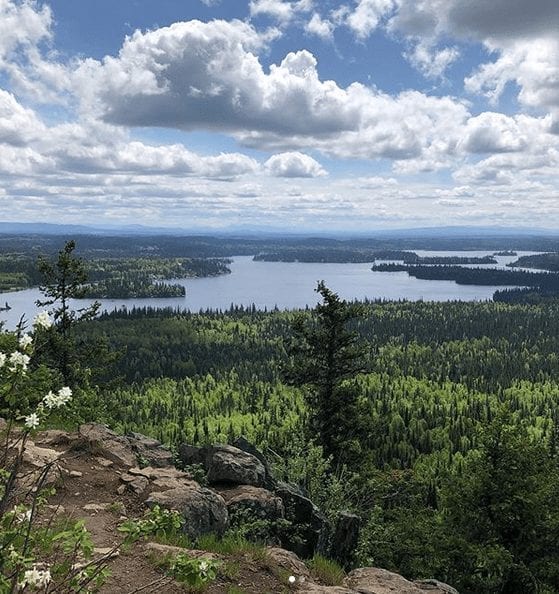 Sometimes, hikers are rewarded by a simple, upward trek that is relatively uneventful. Other times, they're left to struggle up the sandy mountain face on their hands and knees to avoid sliding back down. Regardless of how they get there, though, it's easy to see how rewarding the hike is.
Moore's Meadow Nature Park
In the heart of the downtown Prince George, Moore's Meadow Nature Park awaits the arrival of warm weather so it can charm the pants off hikers of all ages. The nature park is chalked full of outdoor opportunities and is one of the city's only dog-friendly parks.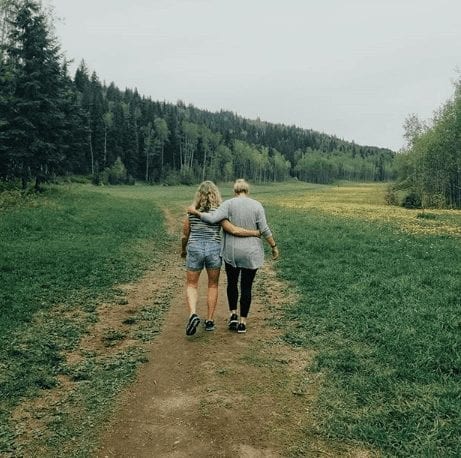 Moore's Meadow sits beside rows of houses and is close to the local university. However, walking the various trails of the park transports hikers to faraway, off-grid locations with ease. The park consists of a variety of paths, a water focal point, lush trees, and wildlife. On occasion, hikers have stumbled across bears and deer here.
Ferguson Lake Nature Reserve
Ferguson Lake Nature Reserve sits just beyond the Prince George city limits. It's home to a charming little lake, a plethora of wildlife, and plenty of places to explore. From the parking lot, visitors can go either way around the lake, following the various boardwalks and pathways.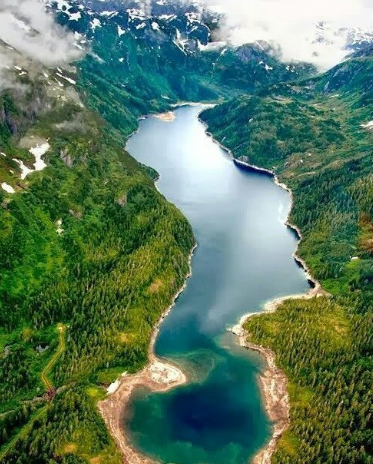 As they walk, they'll also get to see a handful of old, hand-built log houses that showcase the area's history. In addition, there are viewpoints, fishing areas that are full of rainbow trout, outhouses, and picnic areas. Visitors are also permitted to go kayaking and canoeing on the lake.
Goodsir Nature Park
With well-maintained trails and a friendly atmosphere, Goodsir Nature Park prides itself on its family-friendly attitude and accessibility. Families can go on overnight camping trips, enjoying the beauty of the park. For families looking to do a bit of learning after going on a gentle hike, they can do so at the on-site plant museum.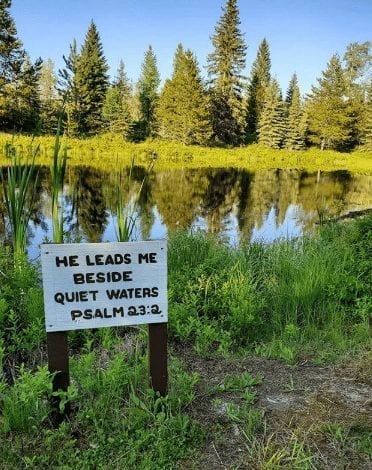 They can also choose to visit the gift and souvenir shop or book a guided tour, on which a trained, local tour guide will take them through the best areas of the park. There are various places to stop for lunch, as well as berries that can be picked during the summer months.
McMillan Creek And Cut Banks
McMillan Regional Park is home to the McMillan Creek and cut banks. The park offers scenic views of the city and the surrounding nature areas. The park's trail system is 2.5 km long and winds through various ecosystems, making it a must-see destination for anyone who loves plants and wildflowers.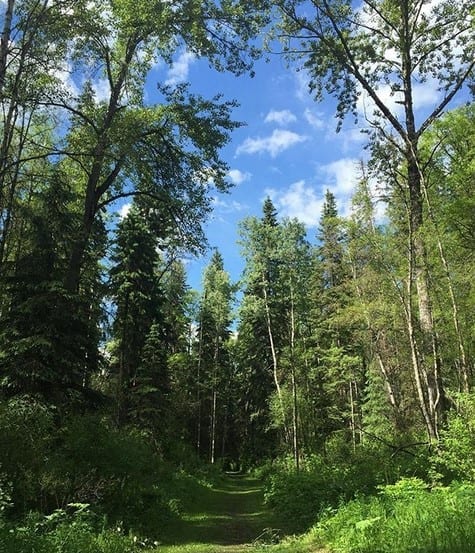 This trail runs over the top of the cut banks, which gives hikers a unique vantage point from which they can see over the treetops and to the other end of the city. If anyone gets tired? No worries! The park also features picnic tables, benches, and an outhouse.
Grizzly Den Provincial Park
Grizzly Den — wait, did you say 'grizzly'? Yep! Prince George's Grizzly Den Provincial Park is next on our list of amazing hikes. As the park's name suggests, there are a lot of bears here, so it's recommended to carry bear spray and bring a friend.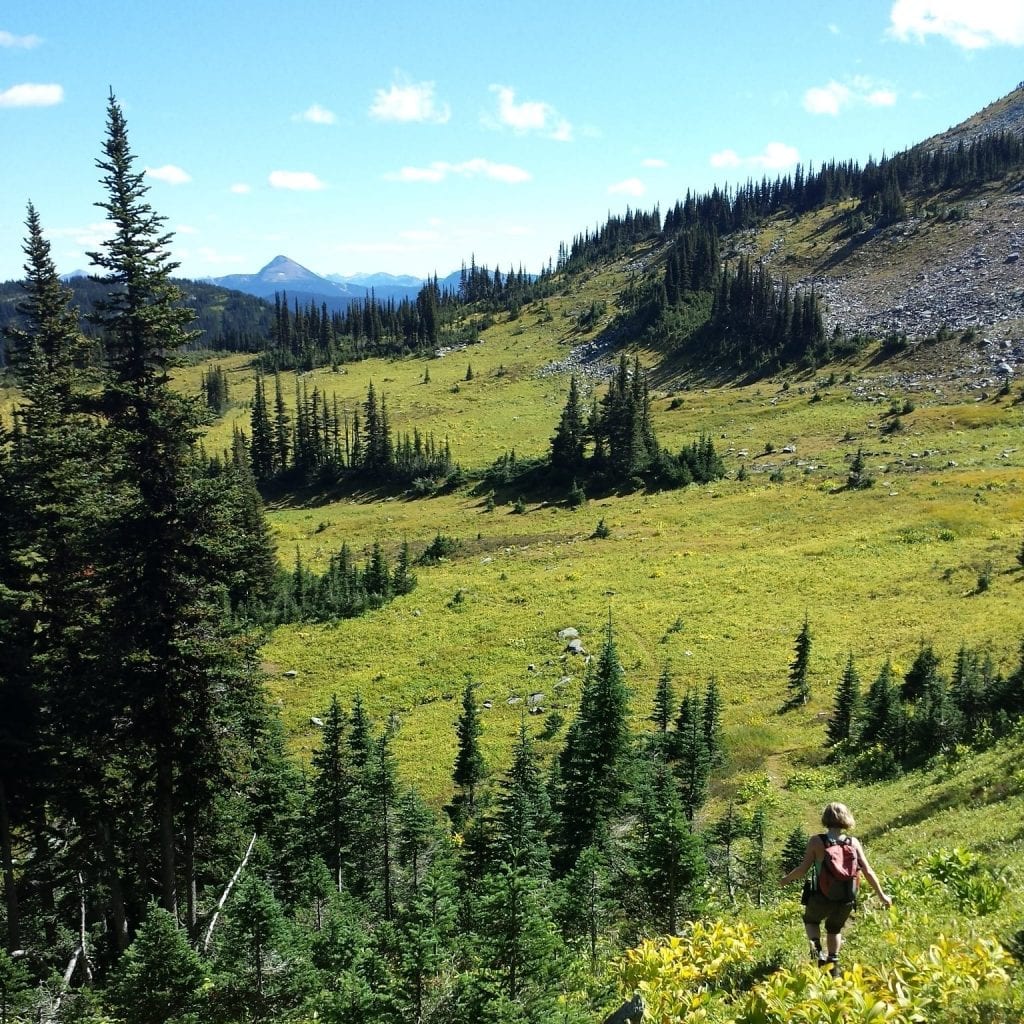 The park has much more to offer than just the occasional bear scare, though. It's home to scenic nature trails that are particularly rugged and perfect for seasoned hikers. There are a few cabins that can be rented for overnight stays, as well as ample opportunity to see wild caribou, bears, deer, moose, and an assortment of Northern BC's native birds.
Fort George Canyon Provincial Park
Fort George Canyon Provincial Park is made up of two distinct areas that are on either side of the Fraser River, the city's largest river. The Fort George Canyon, which is made up of volcanic rocks, is the general destination for trail goers.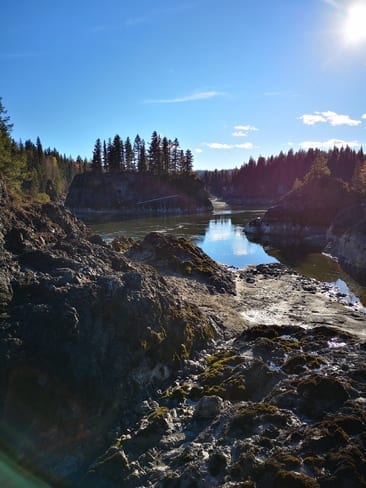 While embarking on the hike to the canyon, you'll travel through a lush forest full of flora and fauna like roses, fireweed, and ferns. You'll also traverse over wooden footbridges that are designed to get you over swampy, mushy areas without getting wet. In the middle of the river, there are large islands that can be visited during the summer; from here, you can fish, have a picnic, or just relax and watch the water.
Kiwanis Park
Kiwanis Park is, for all intent and purposes, a park within a park. It's a small community-based park that adjoins another, much large Prince George Park via both a body of water and a trail system. While the main focal point of Kiwanis is the boat launch and river access, the trail that cuts through the park also attracts its fair share of traffic.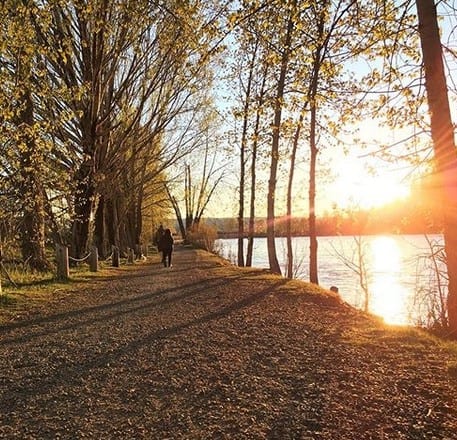 This trail, called the Heritage River Trail, provides uninterrupted views of the Nechako River and various resting spots. It's easy enough to traverse that those on roller blades, skateboards, and bikes can join their friends on foot for a scenic stroll.
Cottonwood Island Park
Cottonwood Island Park connects with Kiwanis Park, creating the ultimate walking or hiking spot for anyone who loves embarking on long journeys. The park is a large space that features more than just a fairytale sounding name and a river view.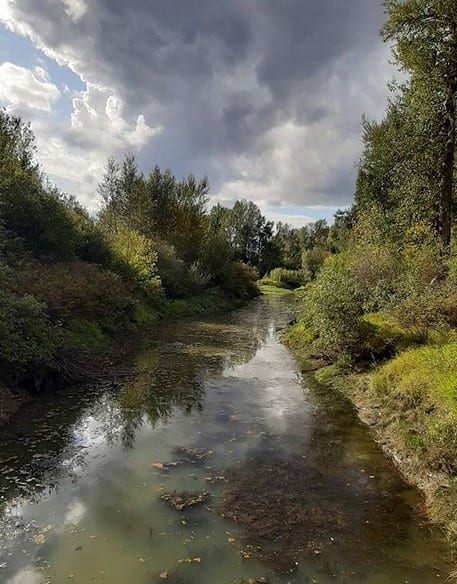 One of the focal points of the park is the overhead bridge, where people stop and take photos, relax, and enjoy the Prince George wilderness. Another are the various tree carvings sprinkled around the park and along the trails: these carvings are done by hand and have been at the park for decades. Regardless of which of these sounds most appealing to you, you can rest assured that you'll find both when you take the trails through the park.
Cranbrook Hill Greenway
Looking for a new place to go horseback riding within the city? The Cranbrook Hill Greenway, with over 25 km of horse-friendly trails, is just the place, regardless of the season. Of course, the greenway is also great for hikers on foot. Its multi-use trail system and steep trailhead incline make it challenging, but not too difficult.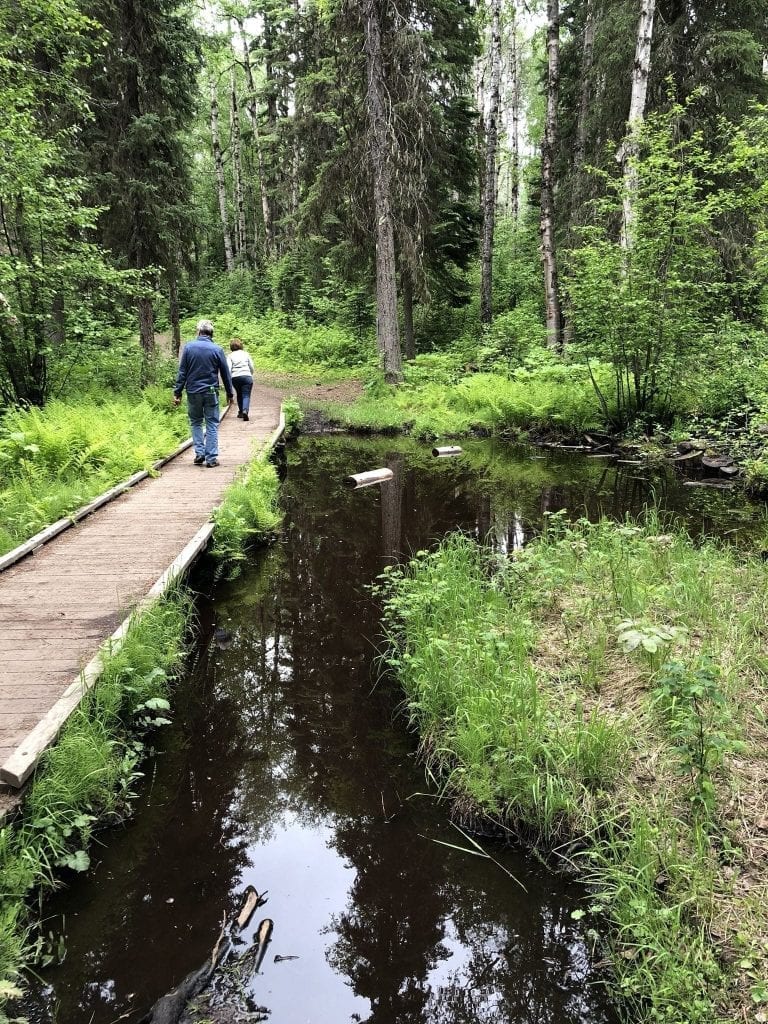 The highest inclined trail leads to the trailhead of the UNBC trail, which is the trail that goes directly to the local university. Although we can't imagine taking a hike up the trail every morning to get to college, we wouldn't be surprised to hear that someone does; after all, there's nothing like a breathtaking view to get the day going.
Connaught Hill
Perched on the top of a steep hill, Connaught Hill Park offers a panoramic view of the city like no other. While technically there is no "hiking", the hilltop park does have plenty of paved pathways for exploring. These pathways curve around the exterior border of the park, which is round in shape and loops back on itself.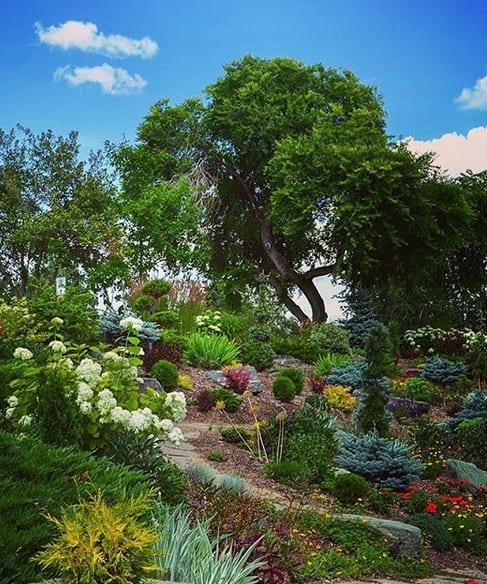 The pathways are dotted with benches for finding the perfect view and picnic tables so that hungry hikers can stop for a snack. The inside of the park is full of large trees and grass, perfect for suntanning or reading a good book. In addition, the walk up to the top of the hill features dozens of carefully curated flower beds for admiring.
Eskers Provincial Park
Eskers Provincial Park is roughly 45 minutes away from Prince George. It consists of almost 4,000 hectares of gently rolling hills and small, crystal clear lakes. One popular interest within the park is the unique gravel ridges that are part of the Stuart River Eskers Complex. This part of the complex has been conserved and protected.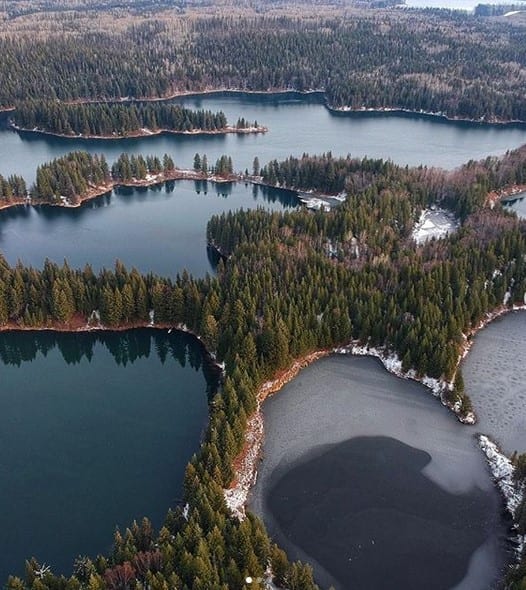 Hikers can enjoy the park's various trails. These trails take them past Camp Lake and Kathie Lake, as well as Pine Marsh, where it's common to see marsh-dwelling birds and other creatures. For hikers who enjoy hiking with their furry friends, Eskers Provincial Park is encouraging and permits pets as long as they're on leashes. There are also picnic areas, a hand pump at the marsh for drinking water, and outhouses.
LC Gunn Park
Following the very route that surveyors used when planning to make the railroad, LC Gunn Park's 3.5 km trail has a connection to history as well as a distinct, rustic beauty. The trail goes through the thinly spaced forest of pine trees, leading hikers and bikers to various vantage points that are ideal for catching a glimpse of downtown Prince George and the Fraser River.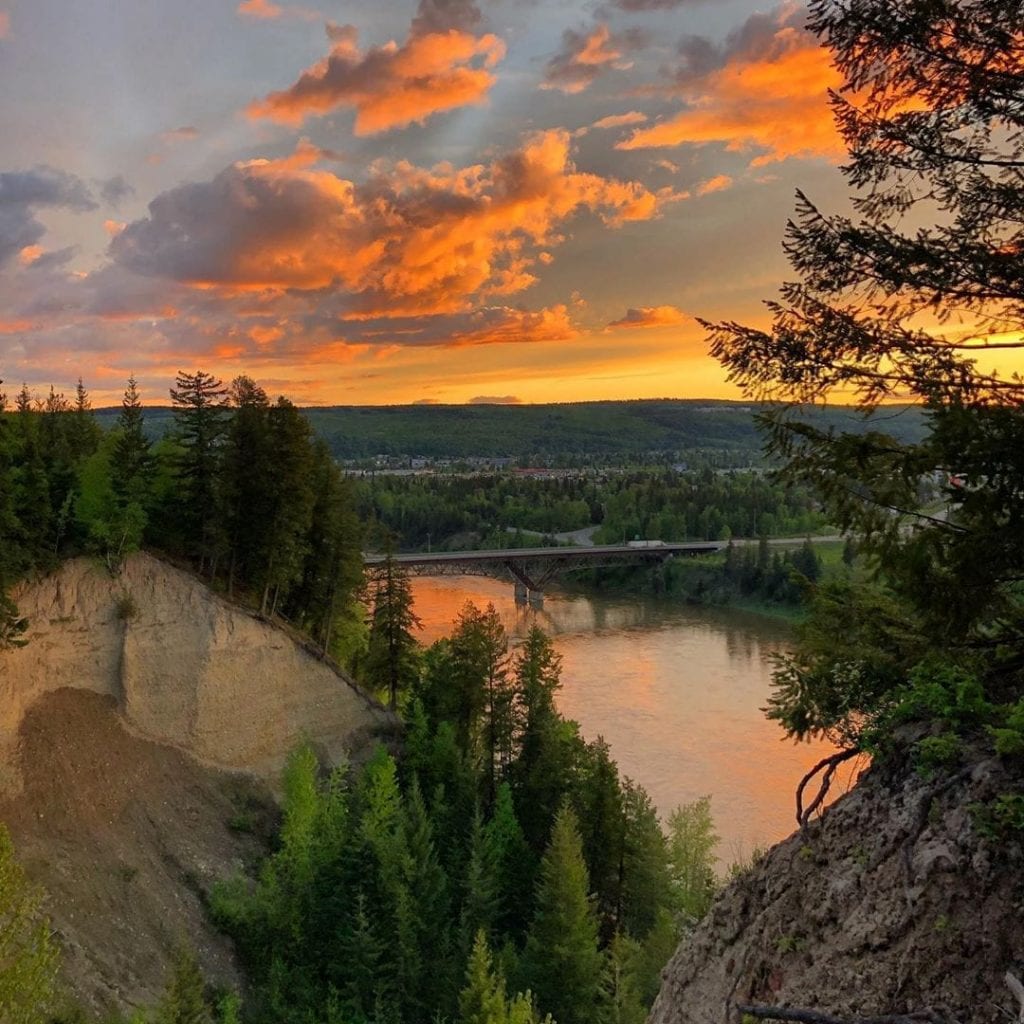 All viewpoints are fenced off for safety purposes, which makes them family-friendly and welcoming to both children and pets on leashes. The sun, however, isn't quite as welcoming, bathing the area in the sunshine; hikers should always wear a thick layer of sunblock.
West Lake Provincial Park
West Lake Provincial Park is a place that nearly all Prince George residents have fond memories of. Its popularity continues to grow year in and year out — and for good reason! The park has tons of fun activities to offer. This lakeside park offers everything from canoeing and swimming to ball games and, of course, hiking.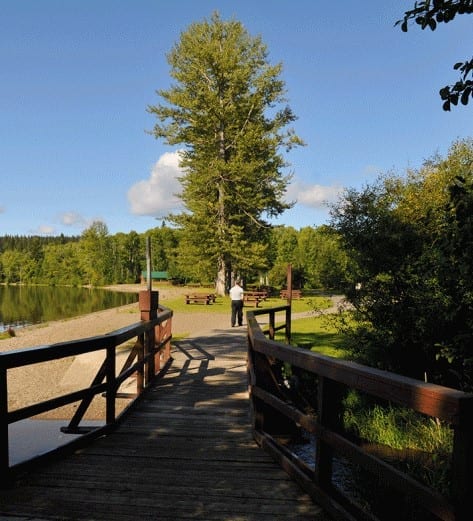 Hikers taking on West Lake can have their pick of various trails that span a total of 15 km and run through dense forest, over beach-like areas, and through fields. The hike is relatively easy, with incline changing very little. While on the trails, hikers can see birds, squirrels, and other small creatures, as well as an array of plant life and interesting insects.
Crooked River (Bear Lake) Provincial Park
Popular with camping enthusiasts and Prince George residents looking to spend a day in the outdoors, Crooked River Provincial Park is a local favorite. Highlights of the park include swimming, sandy beaches, fishing, and hiking. From the Bear Lake parking lot, the hiking trail that goes into the park is about 5 km in length, ending at the Livingston Springs.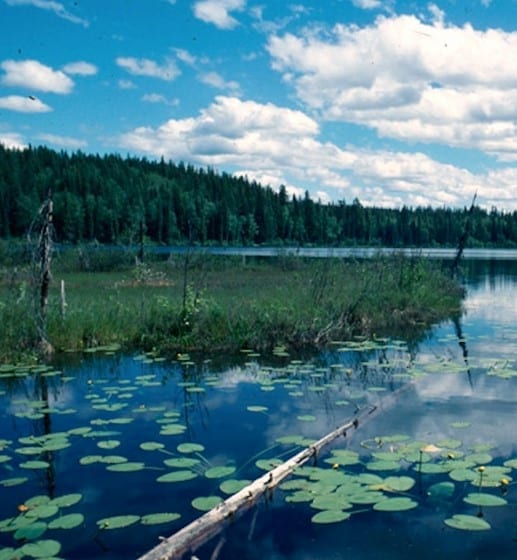 The hike there winds through a forest of lodge pole pines and is flat most of the way, except for a small hill just before the entrance to the springs. It does, however, also have a good amount of hazardous roots and much to avoid, so be careful!
Ness Lake Regional Park
Like many of Northern BC's lakes, Ness Lake is a common place for outdoor recreation during the summer months. Both residents of the nearby cities and visitors alike flock to its sandy shoes each season for a day of excitement. Ness Lake is known for its activities, which include zip-lining, archery, swimming, and rock climbing.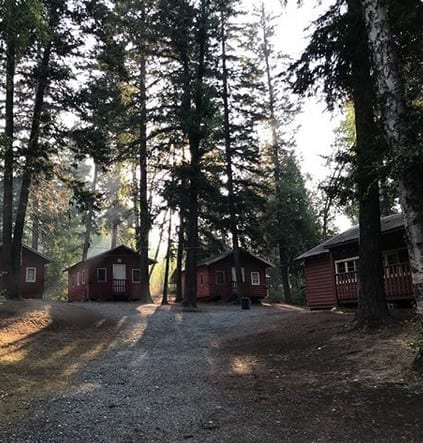 It's also incredibly popular for its hiking opportunities, as the lake is surrounded by forest and foliage that makes great places for exploring. The trails are all dirt and sand with the occasional rocks and large roots. It's easy to get lost here — not to mention that, while the hike is beautiful, mosquitoes love it, too.
Fraser Mountain Hiking Trail
If you don't mind taking a bit of a drive to reach your trailhead, the Fraser Mountain Hiking Trail is a trail that should be on your radar. It's located just outside of Vanderhoof, which is an hour away from Prince George. But even still, the trail sees many Prince George residents each season.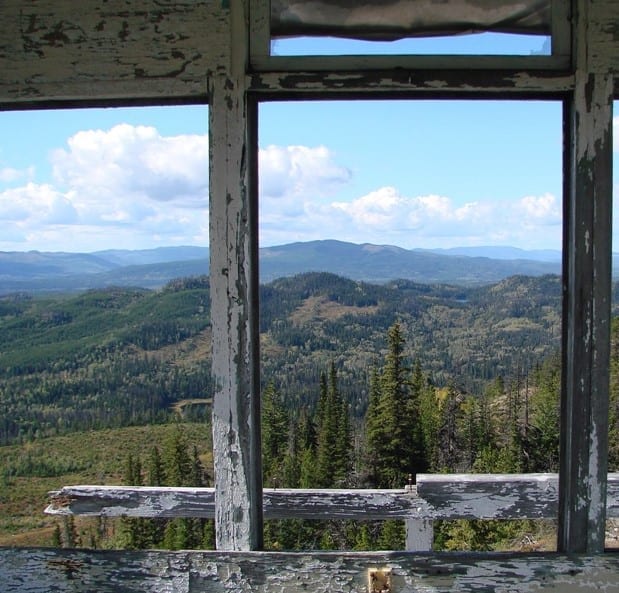 The hike is moderately difficult, but nothing too bad. Following the trail upwards, you're led to a lookout point that features a fire lookout and stunning views of the Fraser River. On the way up, you're sure to come across a variety of wildlife and maybe even get a sun tan.
Greer Creek Falls Recreation Site
If you have kids who enjoy hiking or are just starting out with the practice, you might be looking for a simple, easy hiking trail that is as beautiful as it is easy to conquer. If this you, we'd recommend checking out Greer Creek Falls Recreation Site.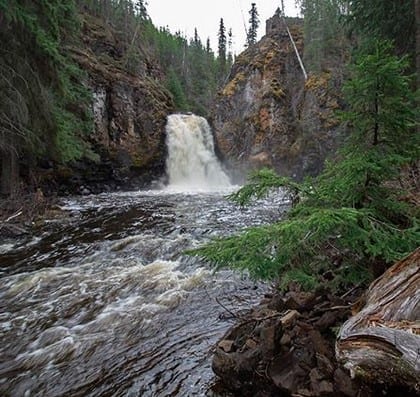 The trail here is only 1.7 km long and is maintained by both the city services and site visitors. For the duration of the hike, the ground is even and free of tripping hazards, save for a few steep drop-offs along the sides of the trail. When a journey is completed, hikers are rewarded with the view at the end: an 8-meter high waterfall and picnic area.
Ginter's Meadow
Also known as "Ginter's Field", Ginter's Meadow is another great place to take a hike after a long day. This extensive area of greenery is home to both dog-friendly off-leash and on-leash trails and is ideal for mountain biking. Following the paths into the forest, it's easy for guests to feel like they've lost themselves (in a good way!).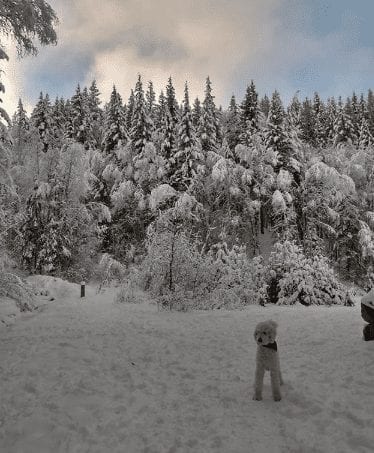 The trails are quiet and calming, with difficult areas as well as areas that would be suitable for small children and their parents. On the trails, guests can expect to find wildflowers, birds, various types of trees, and get a fantastic workout, as the trail is considered to be a medium-long length.