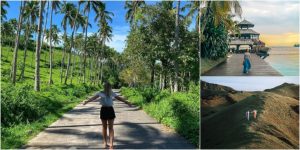 25 Beaches in the Philippines That Are Off the Beaten Path
By Gio D
---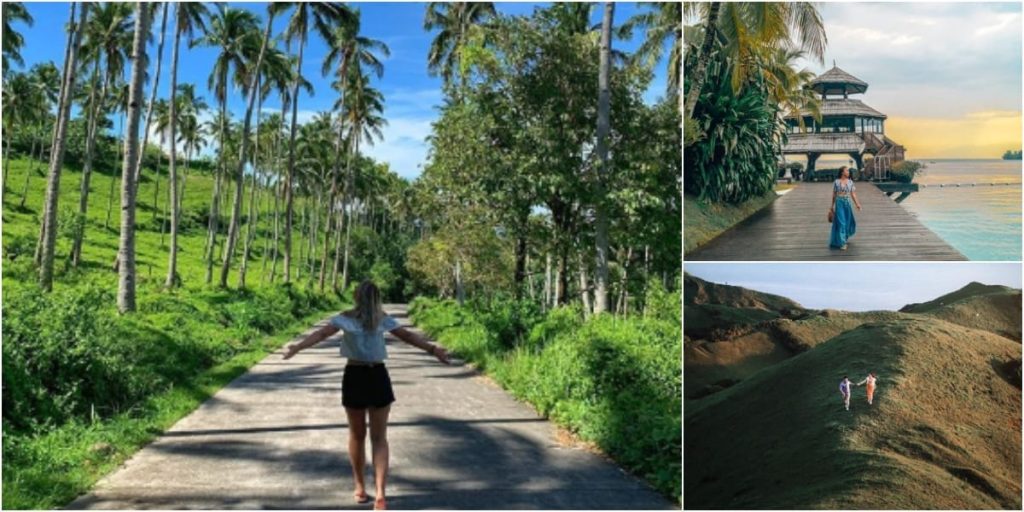 Recently, we can't seem to stop fantasizing about getting away from it all. Just pack up our bags and hightail it to some remote location, far from the madding crowd and away from all the worries and cares of daily life. As an island nation and one of the largest archipelagos in the world, the Philippines has no shortage of beautiful and isolated beaches to explore. Sun, sand, sea, and perhaps a cold beer or two — here is a list of beaches around the Philippines that you might not find in your typical guidebook. These paradise retreats, with their unspoiled nature and serenity are the perfect vacation spots. They're the ultimate destinations to detach from the harrowing outside world and commune with nature, rediscover inner peace, recharge and recover.
Romblon, Visayas
At the very heart of the Philippine archipelago, Romblon continues to be one of the country's most elusive provinces. Because it's made up of several different islands, it takes time to ferry back and forth and explore everything the region has to offer. On the main Romblon island, just a few kilometers off the capital city's port areas, is Bonbon Beach. This privately-owned stretch of sand tapers off to a small island brimming with wild birds and dense forest.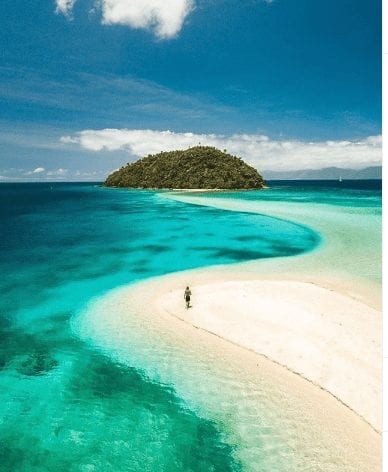 Tablas, the largest island, is host to even more marine sanctuaries, wreck dives, a blue hole, waterfalls, and epic panoramic views. Meanwhile, the more remote Sibuyan island is where you can trek up a mountain or roam the unpeopled shores of Cresta de Gallo. Last but not least, Carabao Island to the south, famous for the Cathedral Cave cliff diving spot, is somewhat known as a secret destination accessible from the way too touristy Boracay beach nearby.
Apo Island, Dumaguete
In the province of Negros Oriental is a gem of rural beach towns, Dumaguete. The trees are vibrant, the seafood is fresh, and Apo Island is just a rugger boat ride away. You don't need to spend more than 3 days here but 1-2 days should be sufficient.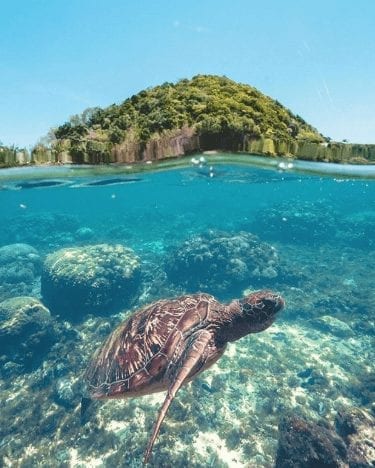 Dumaguete as a whole is prized for their great variety of sea flora and fauna, perfect for snorkelers and divers. Apo Island, then, would be its utmost treasure. Its surrounding reefs are a known sanctuary to sea turtles and thriving reef life. If your idea of Fantasy Island includes dolphins and rainbows, give this beach a lucky shot.
Jomalig, Quezon
Flanked by the Pacific Ocean to the east, the island of Jomalig is the golden gem of Quezon province. But don't take our word for it, see for yourself! The sands are clear and beautiful so you can easily lie down after a long day of tanning at the beach.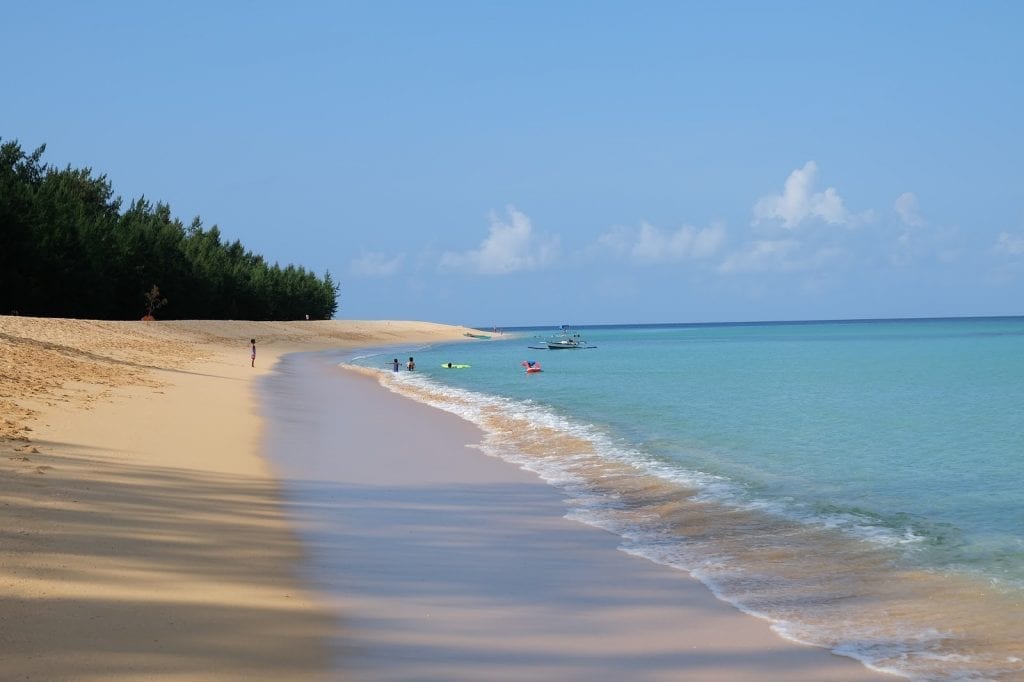 With all the talk of red, white, pink, and black sand beaches to explore around the world, what's left to say for good old-fashioned yellow? In that regard, Jomalig would be the poster child of classic tropical tranquility, with mossy rock cliffs and weathered karst boulders peeking over its radiant shores.
Balicasag, Bohol
The main island of Panglao provides the primary attractions of Bohol, including the marvelous chocolate hills and one-of-a-kind teensy primates called tarsiers. Beautiful white sand beaches on Alona or Dumaluan never get old. If you're craving a richer natural environment, the little island of Balicasag might be where you'd like to be.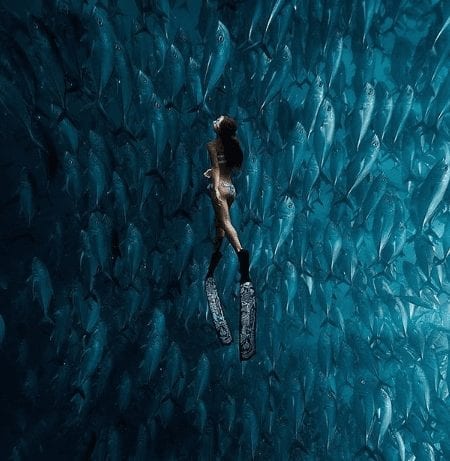 Clear aqua blue waters abound with colorful arrays of submarine cliffs, coral gardens, and tropical fish. There are several other smaller isles to explore as you please, each with its own wondrous treasures to behold. Whether you want to swim with fishes, turtles, or just by yourself, anything is possible in this beautiful island!
Caramoan, Camarines Sur
Reality TV series Survivor is no stranger to the magnificent remote beaches of the Philippines and may even be a personal rival to your travel itinerary. With international franchises of the show favoring some select spots around the country, there's a chance certain areas will be closed down when you visit.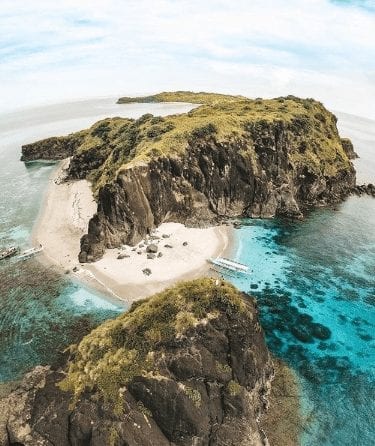 But for most of the year, the scenic and untouched islands off the coast of Caramoan are all yours to savor. Along with pristine blue waters, lush vegetation, and hidden lagoons behind limestone cliffs, there's also a well-kept National Park, caves, waterfalls, and a beautiful natural river to explore.
Calaguas, Camarines Norte
About two hours from the mainland by boat, the marvelous Calaguas Island awaits. Although more resorts and boutique hotels have opened up, the isolated province has retained its quiet, peaceful atmosphere and natural wonders. The largest and most favored stretch of local real estate is called Mahabang Buhangin.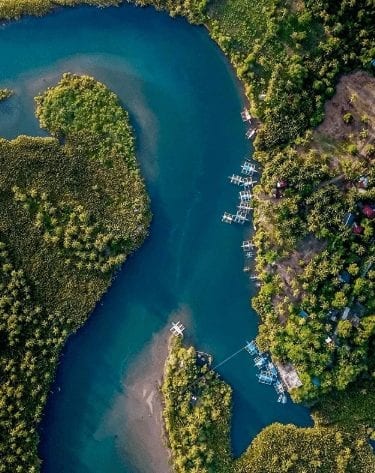 Meaning "long sand", it's nestled in a cove among swaying palm trees and volcanic rock formations. But throughout Calaguas there are many options for surfing, snorkeling, diving, cave spelunking, and jumping off waterfalls. Old churches and traditional stone architecture also add to the island's quaint beauty.
Siquijor, Visayas
Distinct for the winding roads that swerve, slink, and snake all around its uneven rocky surface like ribbons, Siquijor presents yet another paradise island, bound to leave a unique impression. Siquijor is a region known for its community of faith healers and herbalists.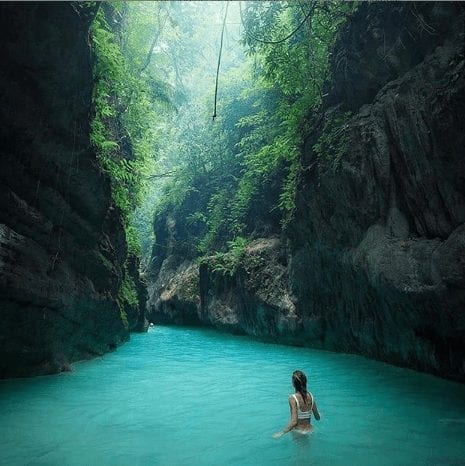 They venture into the deep wilderness to forage for their soothing balms and home remedies. Enormous ancient trees and forests aflutter with twinkling fireflies have given the island an almost otherworldly enchantment. Perhaps that's also why it holds a special reputation for honeymooners and soul-searching wanderers.
Sipalay, Negros Occidental
With a local airport that is yet to even service flights from Metro Manila, you can be sure that only a fortunate few have wandered the far reaches of Sipalay, a bucolic coast town 175 km south of Bacolod City. Sipalay is treasured by scuba divers for its bountiful marine life with a variety of sea turtles, reef fish, and several shipwrecks to explore.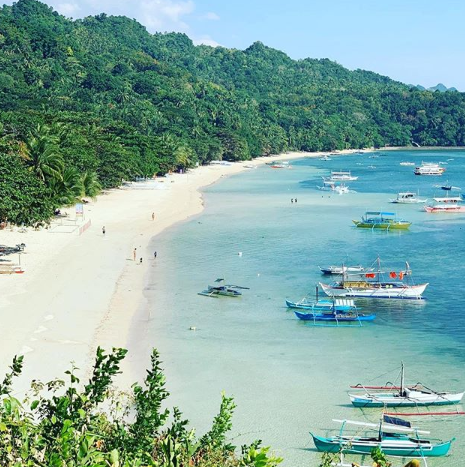 Sipalay brims with captivating allure. You can go take a dip in the calm waters at Tinagong Dagat, take a long relaxing walk on Sugar Beach, collect shells along the limestone-lined Campomanes Bay, or watch the sunset from the mountaintops of Anajauan Island.
Guimaras, Iloilo
In the past couple of years, Iloilo City has been on a steady pace towards becoming more urbanized and metropolitan, drawing in savvy city millennials and foreign travelers passing through. Hankering for far-flung Instagrammable content? You could try Gigantes Islands off the north coast.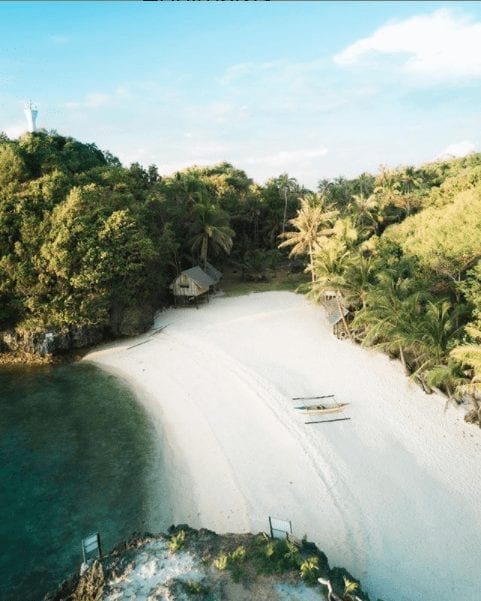 But just look in the opposite direction, visible from the wharf, and you'll find Iloilo's treasured mango island, Guimaras. Although it's seen as a weekend destination, even locals rarely make the less than half an hour trip — which means a less touristy island hopping and beachcombing experience for you!
Tawi-Tawi, Mindanao
If you're seeking the rich abundance of life at sea, Tawi-Tawi province at the southernmost tip of the map could be the winning ticket. The number of picturesque beaches and unspoiled islands like Panampangan are rivaled only by the utter diversity of the region's surrounding communities.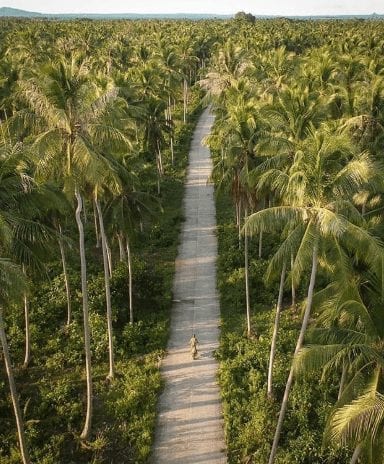 From the shipmakers of Sibutu to the floating villages of Sitangkai, Tawi-Tawi offers visitors a window to a unique water-bound culture of seafarers, beachgoers, and ocean-dwellers, along with splendid panoramic views at every turn. It's a taste of Philippine culture at its best.
Batanes, Luzon
At the northern tip of the Philippine map sits a barely visible cluster of islands called Batanes. Some people claim it was the landing point for early seafarers sailing off the coast of Taiwan to the north. And when you arrive, it's almost like visiting a time capsule of an earlier, more parochial life — the ultimate getaway. Verdant rolling hills and painting-like panoramic land and sea vistas have given Batanes a postcard reputation, with one famous spot dubbed Marlboro Country.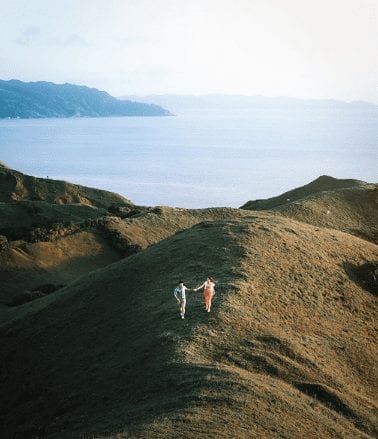 But scratch the surface and you'll find a happy fishing village at the heart of this community, eating the fresh catch of the day, then watching sunsets along Valugan boulder beach. The entire region is so small that people easily drive around the entire island in less than a day, with plenty of time to visit the more primeval islets of Sabtang or Itbayat.
Matnog, Sorsogon
Although the pink sand beaches of Zamboanga's Greater Santa Cruz are widely acclaimed, it would be unfair to ignore the Philippines' other rosy-hued contenders. The municipality of Matnog in Luzon's southernmost region of Sorsogon boasts not one but three pink sand beaches.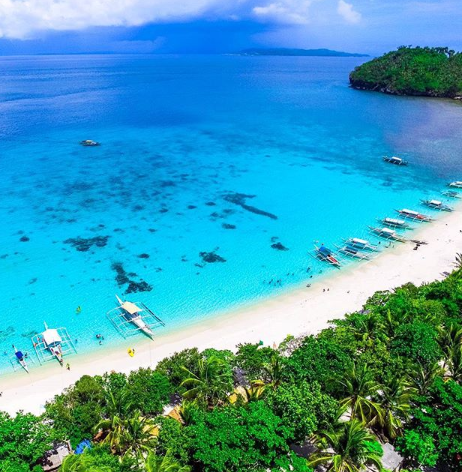 Selfie stick-wielding millennials will have plenty of opportunities to get that perfectly framed shot. Hop on a boat and make your way from Calintaan to Tikling, but don't forget to spend some time at the Juag Lagoon Marine Sanctuary as well. From sunbathing to snorkeling, island life is just one tough choice after another.
Pagudpud, Ilocos Norte
Though by no means an unexplored frontier, the northernmost Luzon coast of Pagudpud in Ilocos Norte still provides an unmissable beach experience that can be found nowhere else. Towering coconut trees that arc up to the azure blue skies are a telltale sign you've arrived.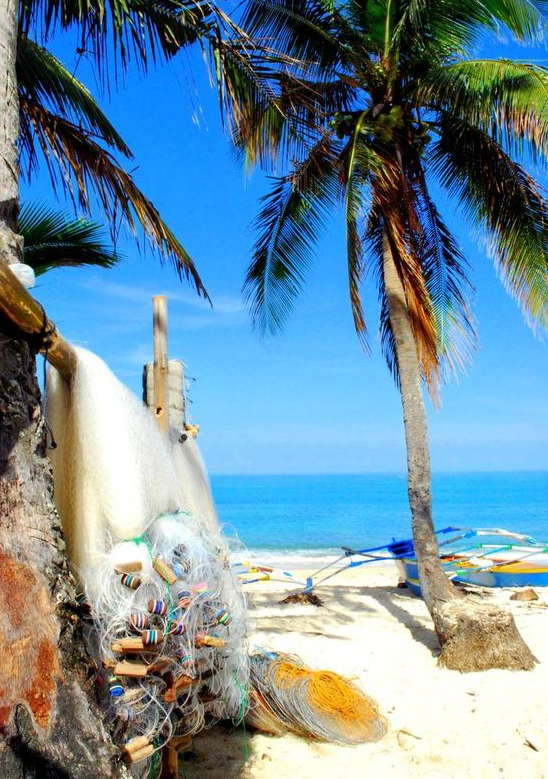 Miles of sand and rolling sea greet you. You could soak in the sun or saltwater here, or visit the breathtaking Blue Lagoon or Saud Beach. You can also visit the windmills nearby, of which there are about 15 around the area. They're incredibly important because they supply electricity to villages nearby.
Samal, Davao
Sitting off the coast of Davao, the Philippines' largest city by land area, is the unassuming Island Garden City of Samal. Although it's nothing new to locals who frequent Samal on weekends and holidays, the island is a veritable gem of the country's southern shores.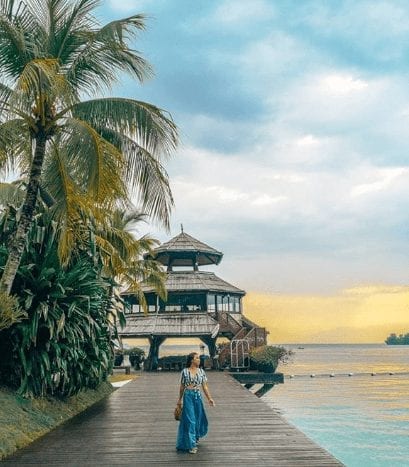 On the island, there are scenic waterfalls, flourishing wildlife, laidback beaches, and even old wartime hideouts dug into the cliffs. The Pearl Farm Resort is a luxurious backdrop for grand occasions and intimate retreats alike. For the more action-inclined, there are several water parks that offer different sports and activities, while Talikud island to the south is a diver's dream.
San Antonio, Zambales
Is your goal to get off the grid, down to earth, and into the great outdoors? Well, Zambales will not only bring you closer to nature but take you right by the sea as well. The series of sparkling shores along the length of Zambales, such as Crystal Beach, Pundaquit, and Liwliwa, are regular fare for surfers and vacationing city-dwellers, but the handful of uninhabited coves around San Antonio are in a class of their own.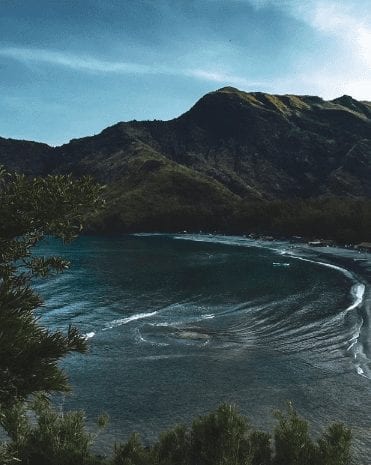 Mountaineers often take a weekend trek through the rainforest just to get to Anawangin Cove, a back-to-basics campsite nestled by pine trees. Similar nearby islands like Nagsasa, Talisayin, or Capones Island are all just an outrigger away from San Antonio.
Lanuza, Surigao del Sur
Nowadays, everybody and their mom have gone surfing at Siargao island in Surigao del Norte while they tour the Philippines. While the island deserves all its acclaim, why not shed a light on the vast coastline of its neighboring region as well?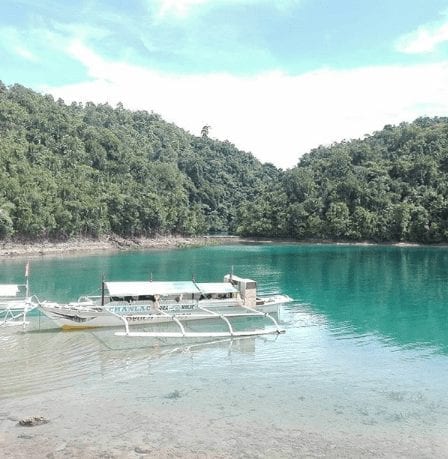 Lanuza would be the Surigao del Sur counterpart to northern surf haven Siargao, but there is plenty more to discover down the line. For a more classic beach experience, the sun-soaked white sand bars and cozy shores of the Britania Islands in San Agustin or the secluded cove of Cagwait Beach might be up your speed.
Camiguin, Mindanao
Often cited as the agreed island getaway for the city folk coming from mainland Mindanao, Camiguin offers everyone their own piece of common ground to stand on. It's another one of those Philippine islands that can be traversed in a day.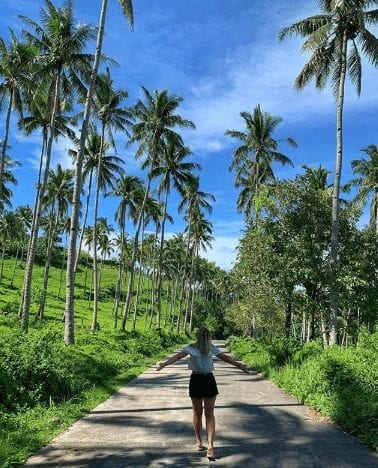 And yet you end up wanting to stay for more than a week, appreciating the white sand beaches, waterfalls, and natural sights at a leisurely pace. You can even rent a motorcycle and try your luck riding to your heart's content. Just make sure to wear a helmet!
Linapacan, Palawan
Although the natural splendors of Palawan never grow tiresome, the usual flocks of backpackers found in El Nido, Puerto Princesa, and Coron can reach a boiling point. While most "in-the-know" travelers will readily suggest Port Barton as a quiet alternative to tourist-infested Palawan favorites, the idyllic Linapacan island continues to go under the radar.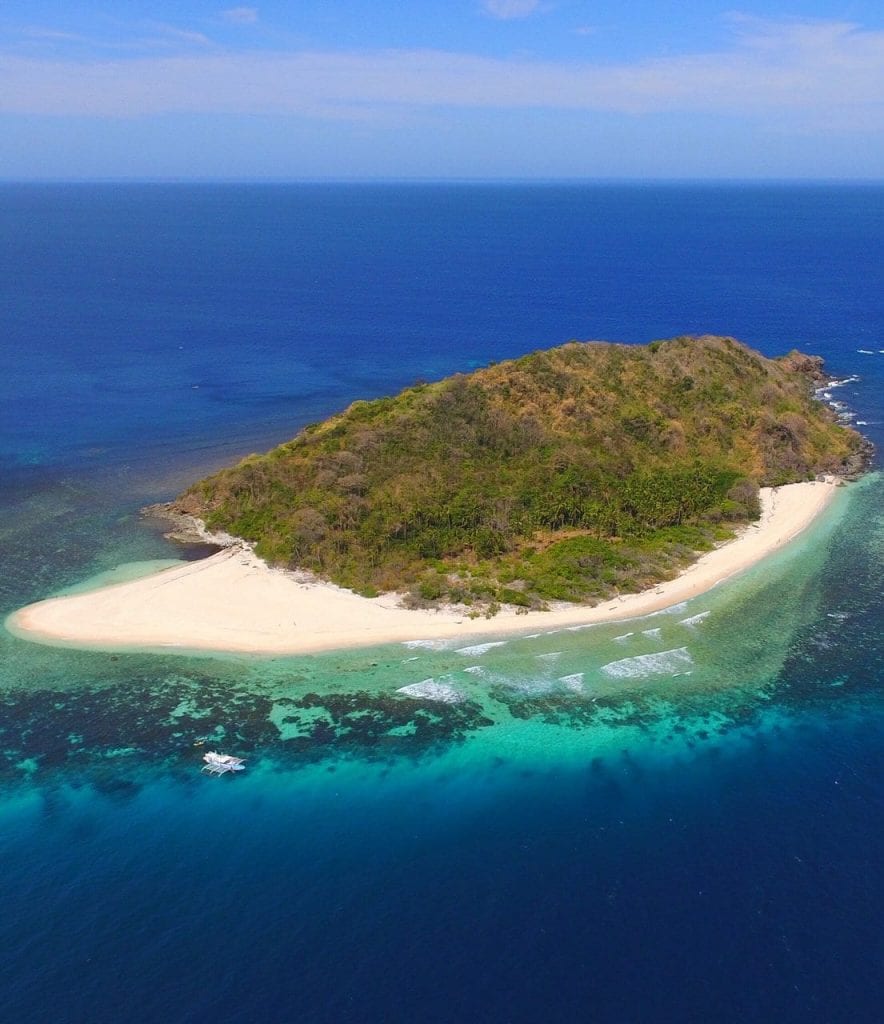 Situated in between El Nido and the Calamian Islands of Coron, Linapacan was recently recognized as having the clearest ocean water anywhere in the world. For that alone, the trip would be incomparable. You can easily hop from one island to another with ease with the locals cooking delicious feasts of seafood or preparing fresh fruits, which are available year-round.
Maniwaya, Marinduque
Lined with shady palms, tiny huts, and cottages, the island of Maniwaya often invites cheerful campers looking for a restful retreat cradled by the Philippine Sea. This one is a great choice for a larger group of friends looking to escape the daily rush.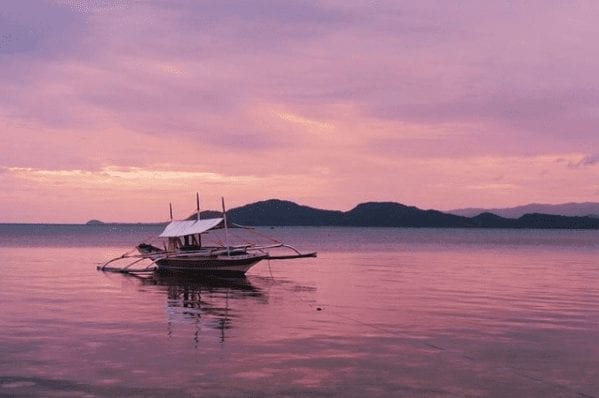 Expect serene seascapes, glorious sunsets, and the day's catch fresh off the grill. There are nearby islands, lagoons, limestone rock formations, and coral reefs to discover, or you could just laze around on a sunbed by the hotel pool. We won't judge.
Great Santa Cruz, Zamboanga
The undisputed queen of rare beaches in the Philippines, Zamboanga's Great Santa Cruz Island, is reachable via motorboat off the bustling Zamboanga City port. It's part of a chain of 11 islands you can traverse across the greater Zamboanga peninsula.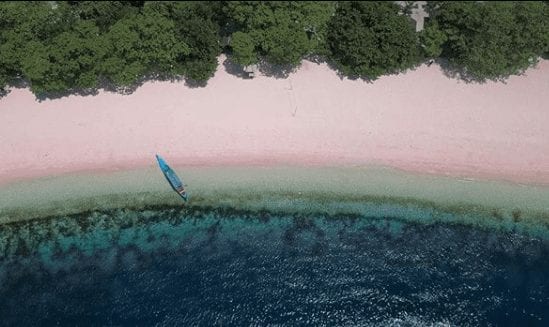 Its crowning glory: the unique mixture of fine white sand and generations of pulverized organ pipe coral that give the beach an uncanny and Instagram-worthy pink tint. To be fair, there is a whole spectrum of stunning beaches among the esteemed eleven, but none seem to twinkle as bright as Great Santa Cruz.
Gumasa, Sarangani
While most of this list is about lesser-known beaches in the Philippines that you can enjoy all to yourself, allow us this one exception. Despite the sizeable draw of the Sarangani Bay Festival held annually at Gumasa Beach, the region still remains largely overlooked.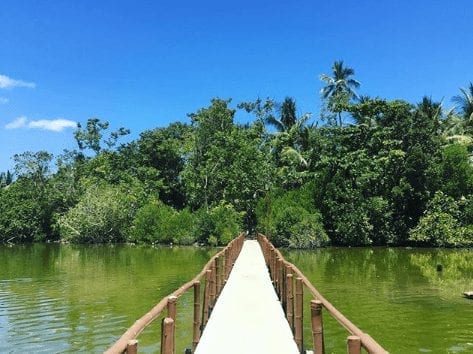 This yearly event has become a venue to gather, celebrate, and enjoy the very best things a paradise beach vacation can offer. There are pageants and parties, live music and dancing, team sports and sand castle competitions — all set to the backdrop of waves lapping on powder-soft shores.
Palaui, Cagayan
Another Philippine location made famous by the Survivor franchise, Palaui in Cagayan is a protected area and national park in the quiet beach town of Santa Ana. There are up to 50 hectares of undisturbed coral to marvel at here.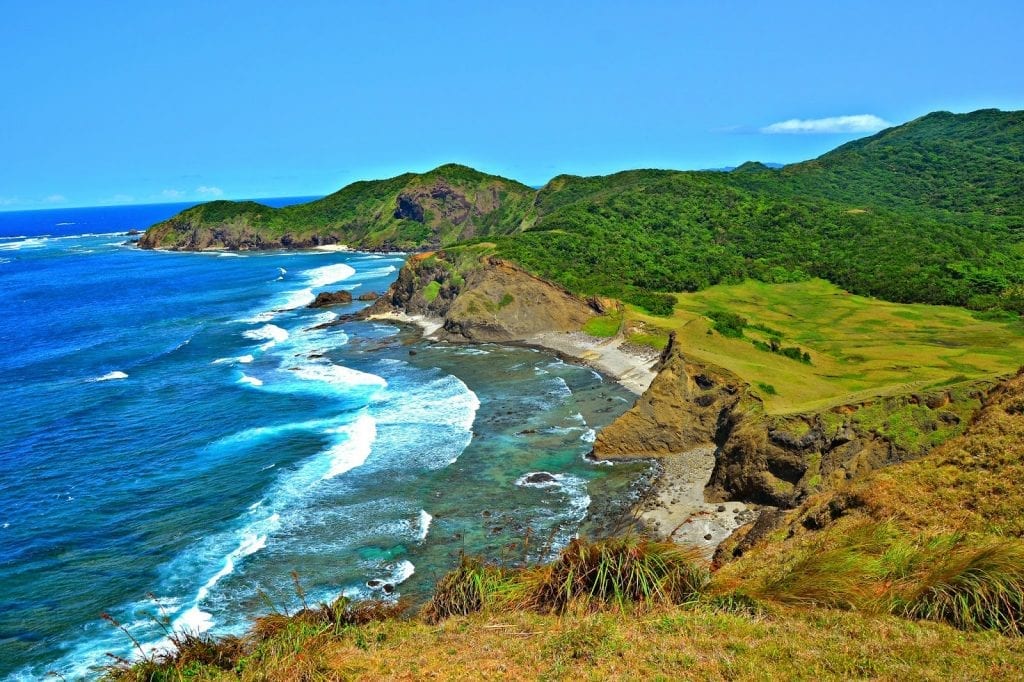 Not to mention the sheer number of tropical plants and migratory birds that settle in the verdant surroundings. Because of its remote nature, the island exudes a delicate raw beauty. Aside from all the crystalline beaches and coral gardens, Palaui is also host to mangrove forests, abandoned ruins, and hidden falls.
Sablayan, Occidental Mindoro
A cheeky alternative on the opposite side of party-ravaged Puerto Galera in Mindoro, the sandy shores of Sablayan are a soothing salve for the weary traveler's tired soles. Dig your toes into the fine sand of Pandan Island, take a walk in the natural parks, scale a mountain, drift on a lake.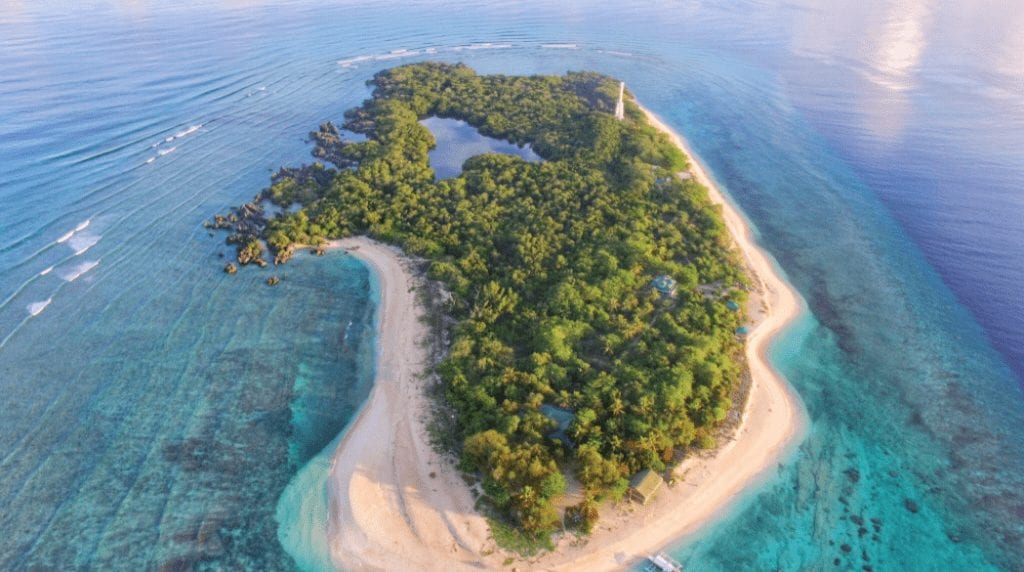 Or for you adventurous thrill-seekers out there, you could also soar across the world's longest island-to-island zipline. Of course, there's always Apo Reef. This marvelous underwater world filled with magnificent sea life should not be confused with Dumaguete's Apo Island.
Bantayan Island, Cebu
Known as a central travel hub, Cebu provides easy access to places in the Visayas region, like Bohol, Siquijor, and Dumaguete, as well as flights to the rest of the country. There is a lot to see and do in Cebu for tourists, such as canyoneering, waterfall cliff jumping, mountain biking, dipping in hot springs, or swimming with subway train schools of sardines.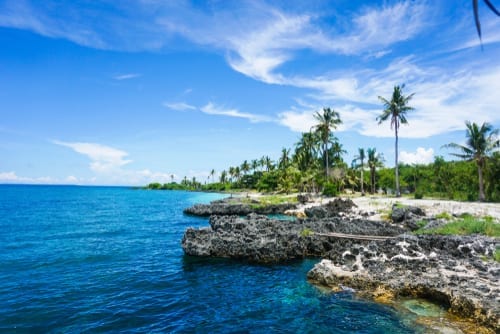 Off the northern coast of Cebu island, sheltered by a cove, Bantayan hosts a brimming community of island towns, unpeopled beaches, and cerulean blue sea. You could hop on a boat to Paradise Island or maybe make your way up to Malapascua to dive in search of thresher sharks.
Biri, North Samar
This is probably not what you expected when you imagined a pristine Philippine beach. To demonstrate the sheer variety of beach landscapes found throughout the Philippine archipelago, look no further than the Pacific charms of Biri in Northern Samar. The main attraction is the island's diverse array of rock formations.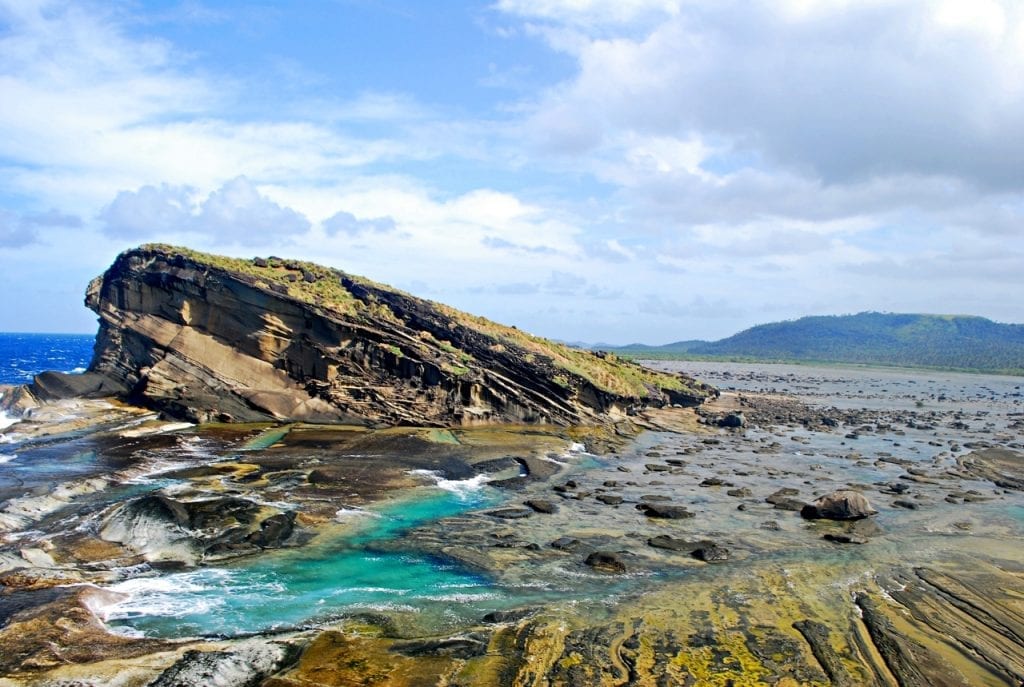 You can see just how the ravage of ocean waves have carved and sculpted the cliffs, where tide pools glimmer in shifting tones of blue and green. Resilient mangrove trees with their spindly roots battle for purchase across the island's rugged topography, clustering in the nooks and crannies where earth, sand, and sea meet.