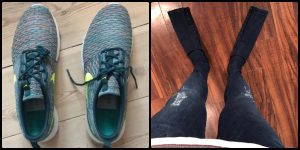 Online Shopping Fails So Bad That It Curbed Our Shopping From The Sofa Urges
By James P
---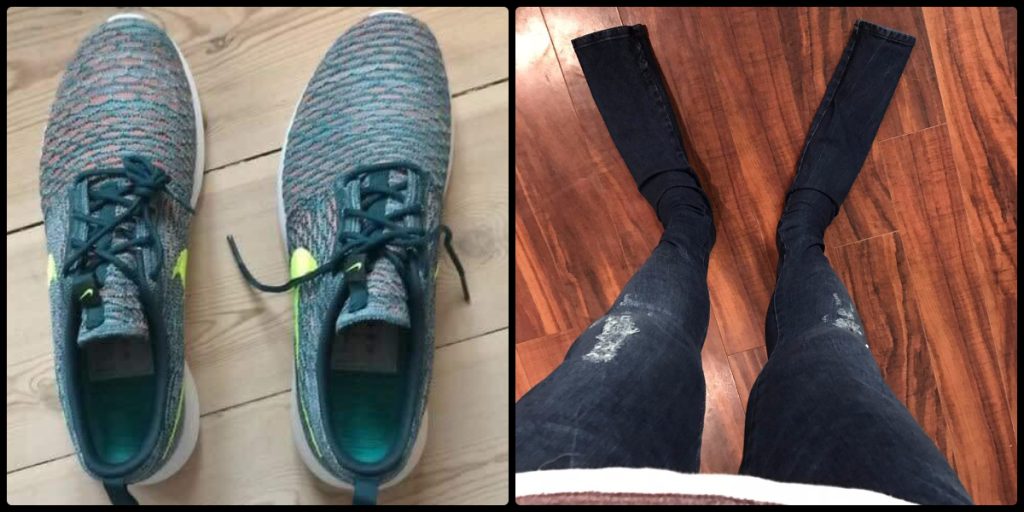 We all know what the delights of being drawn into a compulsive binge trip through the aisles of our favorite digital stores. Of course, no matter how fun or how easy it is to do, online shopping can be quite the risky endeavor, especially if you end up buying from somewhat shady and too good to be true websites. Some people pride themselves as the master of online shopping, but even they fail to pay heed to measurements, product specifications and other important details of their order. In case you need a heads up for your next order, we have scooped up the 30 most hilarious and disastrous online shopping disappointments that had us roaring with laughter. Don't say we didn't warn you! Let's take a look!
Adidas Slippers
For many of us, few things could be more exciting than finding a fabulous bargain on designer sneakers, in this case, a striking pair of trains from the prestigious Adidas x Yeezy collection. We feel so proud and financially savvy as a shopper, only to be bitterly disappointed when the pair finally arrives on our doorstep.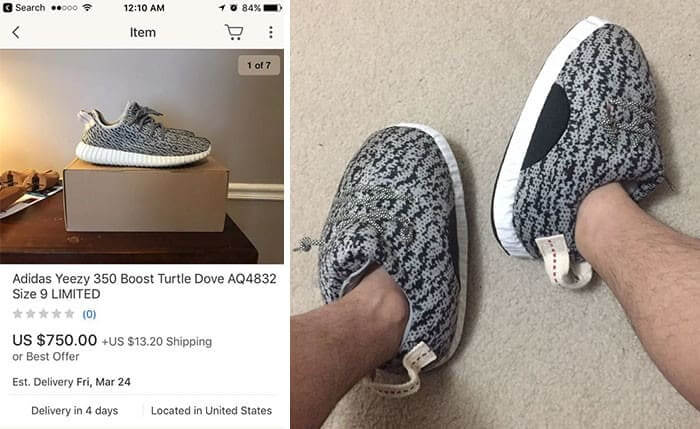 This particular purchase turned out to be hideously misleading. The pair of sneakers that were ordered turned out to be terribly loose and lanky, unfit to even be called slippers. Imagine paying $750 for a pair of slippers that you cannot even wear at home. What a waste of money!
Dwarf-Sized Chair
What could be more exciting than finding a perfect-looking plastic chair for $10? It would certainly be the deal of the year for a thrifty shopper. But if you're shopping on Amazon, there is a great need to pay heed to reviews and make sure you're buying from an authentic manufacturer or buyer.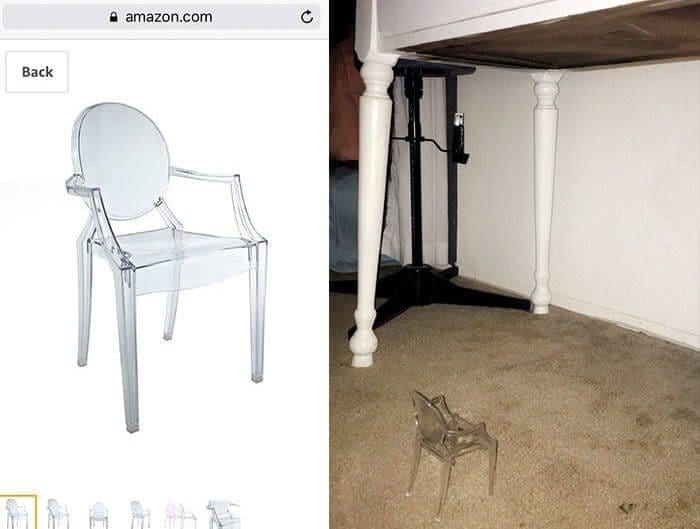 When buying furniture, online or otherwise, it is crucial to check all the measurements, dimensions, and other specifications — unless, of course, you want to end up with a dwarf-sized chair like this devastated customer. Perhaps it can be added to a child's dollhouse?
Teddy With The Longest Legs
Although we all adore large, life-sized teddy bears, when you pay over $100 for an online purchase, you have a right to receive exactly what you ordered. In the promotional picture, we see a perfectly adorable and fluffy teddy bear. However, the teddy bear the customer received certainly had a certain defect.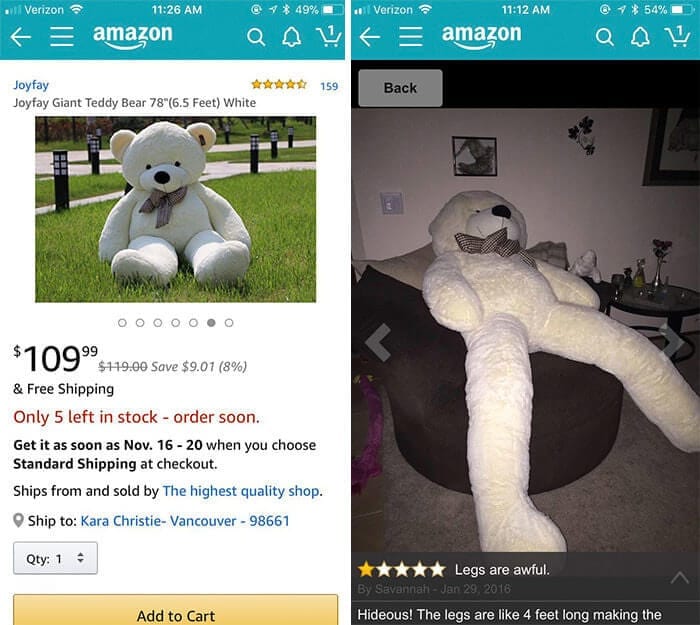 The legs are over 4 feet long, which is completely abnormal for a teddy bear. We cannot imagine the horror and hilarity the customer must have felt while receiving this order. Creepy much! Is it all a matter of perspective as to how the original sales photo was shot?
Build Your Own Blanket
Here's a heartbreaking tale of online shopping woes. What was supposed to be a perfect cozy blanket turned out to be some skimpy ropes of yarn. This customer ordered a cozy-looking blanket to keep warm and snug through those chilly winter nights.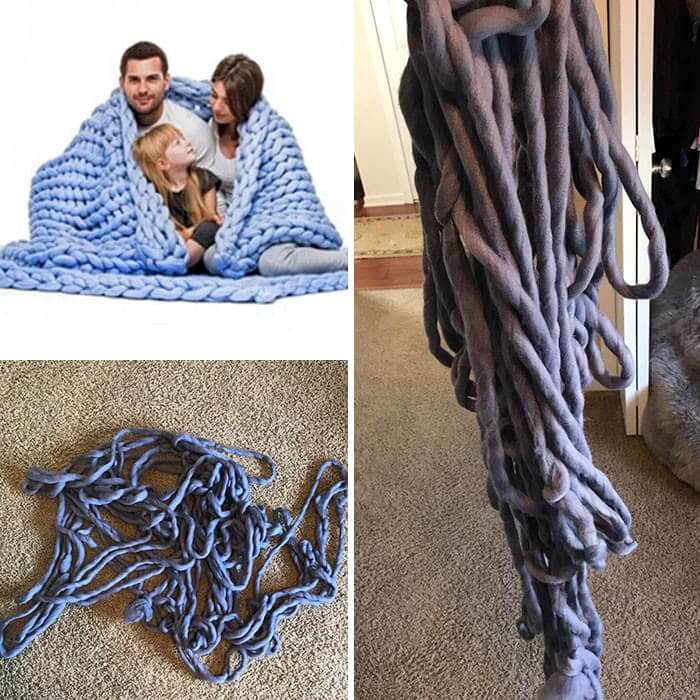 However, when she opened the much-anticipated package, it clearly rattled her faith in online shopping. Perhaps, the intention of the manufacturer was to encourage customers to take up knitting and create their own blanket through their provided yarn. Such a terrible way to con customers through online shopping.
How About A Tank Dress?
We cannot help but laugh out loud at this epic online shopping fail. What was supposed to be a masculine, muscle-flattering tank top for the gym turned out to be a rather skimpy tank dress! It must have been disappointing for the young man.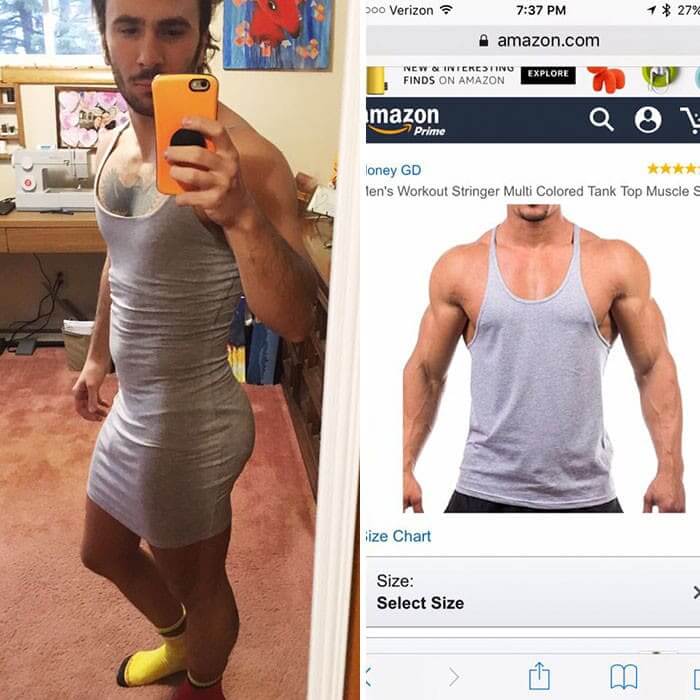 Due to just a bit of a length problem, he could not enjoy the pleasure of sporting the muscular tank top he thought he had bought. It turned out to be a cheap tank dress that he couldn't even present to his girlfriend. Indeed, it is these terrible disappointments that steal our faith in online shopping.
No Right Foot
Who needs a shoe for the right foot when one can have a pair with two left foot, said no one ever! This is by far one of the most hilarious, not to mention one of the most frustrating, shoe shopping fails we have ever discovered.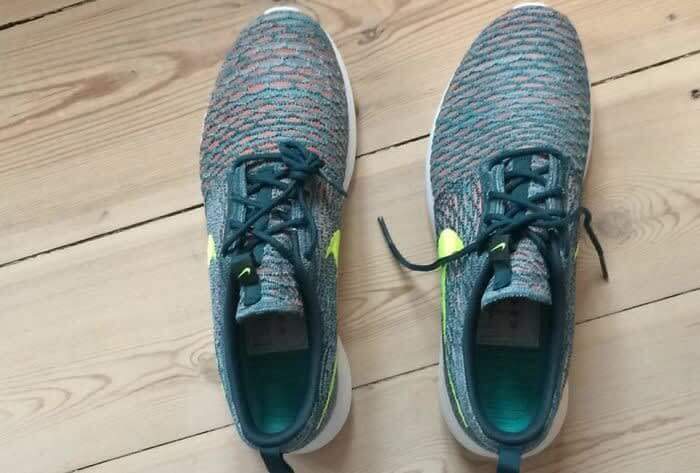 Imagine finding the perfect pair of trainers at an online shop, only to end up with a pair of two left foot shoes. It's an epic fail. Guess this purchase is going to leave the buyer nothing short of 'hopping mad'.
Dinosaur Pillow Or Print?
Many online advertisements and promotion strategies can be horribly misleading. Online shopping brands that proclaim they provide overly cheap bargains have a tendency to show something else and sell something else. Now, in the advertisement, this seems like a perfectly fluffy and desirable dinosaur pillow with a child sleeping on it.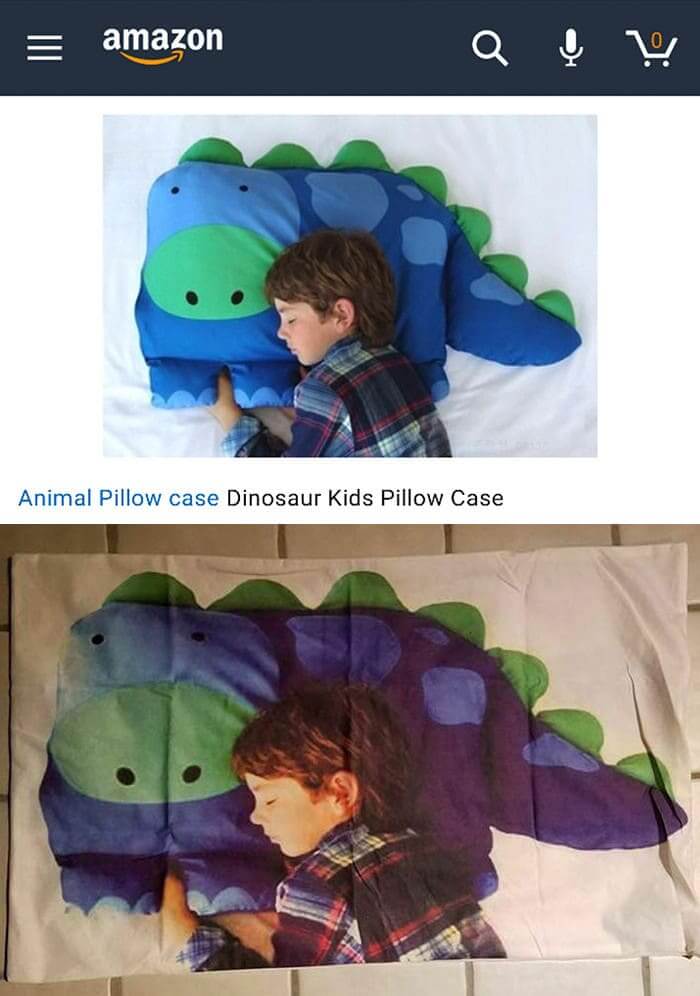 However, the reality turned out to be more than a bit disappointing. Even the printing skills were absolutely cringeworthy. This is why it is important to read reviews and shop for authentic and well-established online brands. Imagine presenting your child with the option to rest their head on…another child's image. Weird!
Skin Pampering Gone Wrong
Sheet masks are a remarkable trick to help rejuvenate your skin from deep within without having to put in too much effort. You simply put it on, sit back, and relax. However, online shopping can often turn a simple thing into a complete and utter disaster.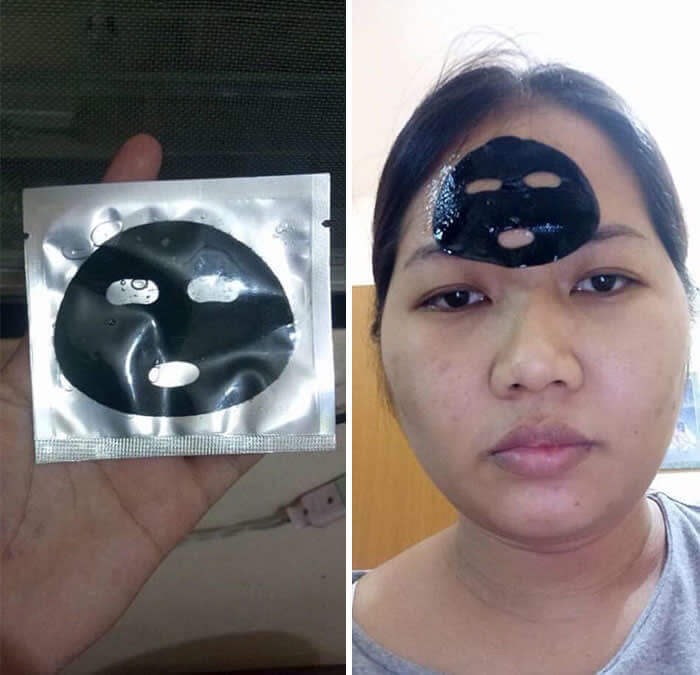 Behold this perfectly pleasant-looking sheet mask that couldn't even manage to cover the eyes. We can't imagine the horror of this young woman when she discovered the disastrous purchase she made. At least a bit of her forehead might get to be moisturized?
Fifty Shades Of Disappointment
Who knew shopping for books online could be such a risky endeavor? This customer ordered the Fifty Shades of Grey books, and ended up with something far more literal: a sheet of color palettes that literally depicted, well, fifty shades of the color gray.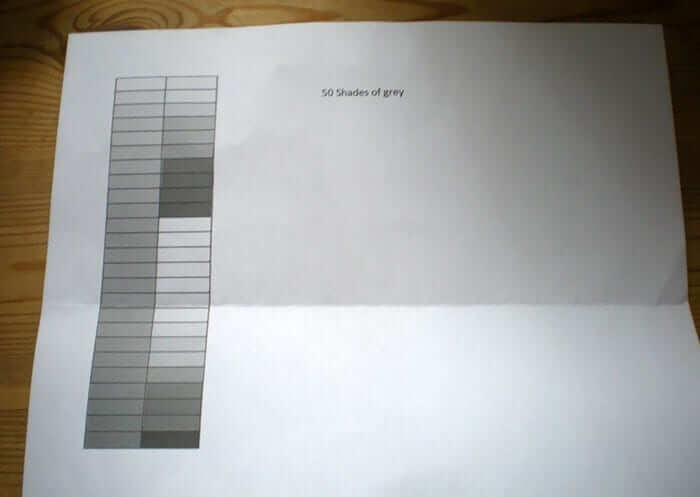 Not that the books would have been a great literary investment, but this color palette sheet doesn't offer much consolation for the amount of money paid by the customer. Honestly, whoever was working in shipping that day has a dastardly sense of humor.
Punching Bag Gone Wrong
A punching bag is one of the purchases that requires close consideration. You cannot just order a cheap punching bag online and expect it not to fall apart after a few kicks, now can you? This is an investment that requires inspection for its sturdiness, grip, and material.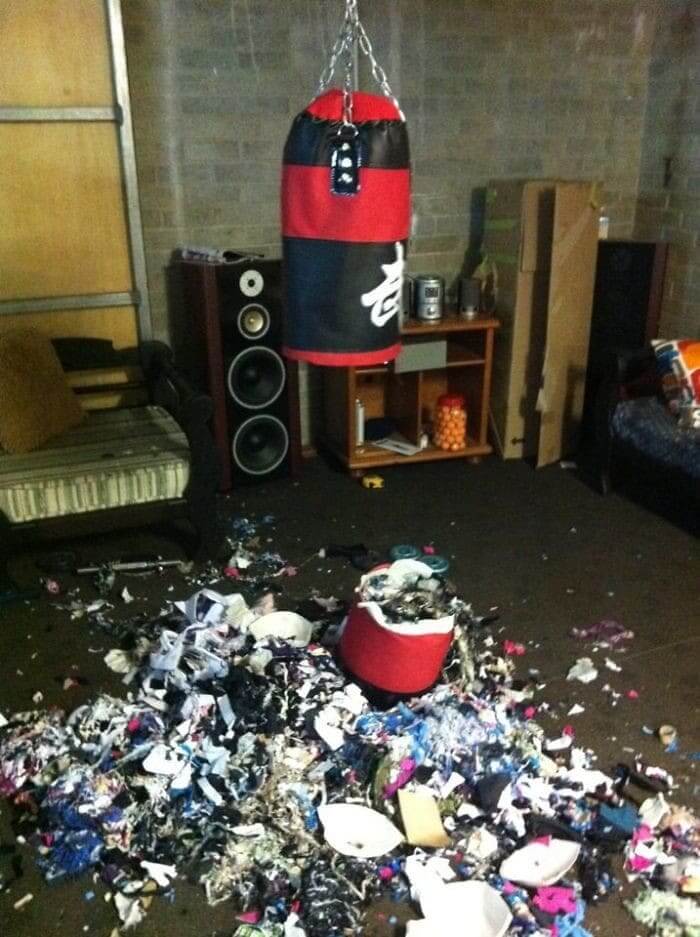 You need a sturdy and well-built punching bag that is tough and durable and will withstand the pressure of your fist and kicks. This one fell apart like a cheap piñata loaded with junk and landfill. Great for a birthday party, not so great for a workout.
Are you a Pepper or a Dr. Pepper?
Clothing fails and disappointments are an extremely common hazard of online shopping. If you're buying cheap clothes from a website that lacks polishing and modern website tools, you should steer clear and know better than to invest your money there.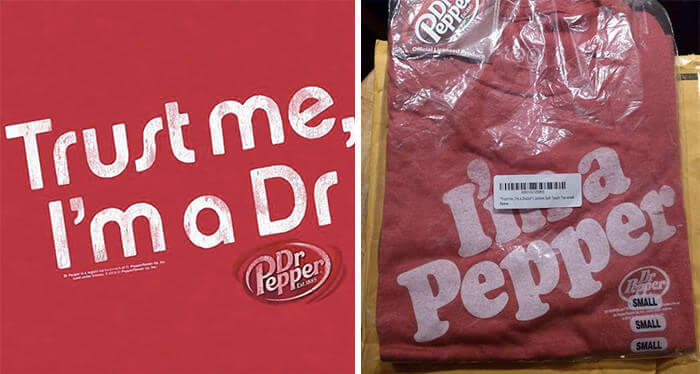 However, the majority of online customers get excited by the idea of cheap clothes and pride themselves on making such savvy investments. Well, this turned out to be a terrible choice indeed. The Dr. Pepper t-shirt is hellbent on making the customer embrace the "I'm a pepper" lifestyle. It's a good thing at least it is wearable.
Waist-less Dress
When we're shopping online, if there's a gorgeous model flaunting the item we want to purchase, chances are, we'll have a greater tendency of falling prey to fallacious gimmicks and terribly disappointing online purchases. But people, it is important to remind yourself that all that glitter is not necessarily gold.
This woman found herself the perfect dress with pretty little pink flamingos on the hemline. However, what she received was probably more suited for a little girl less than half her age. The dress is clearly lacking a waistline and certainly wouldn't flatter the figure of a grown lady!
Another Case of Yarn
Our research reveals that cozy yarn blankets are by far the most dangerous investment for your online shopping endeavors. It's beginning to seem more and more likely that you will end up with a few ghastly-looking ropes of yarn. We cannot imagine the rage this customer must have felt upon receiving this terrible order.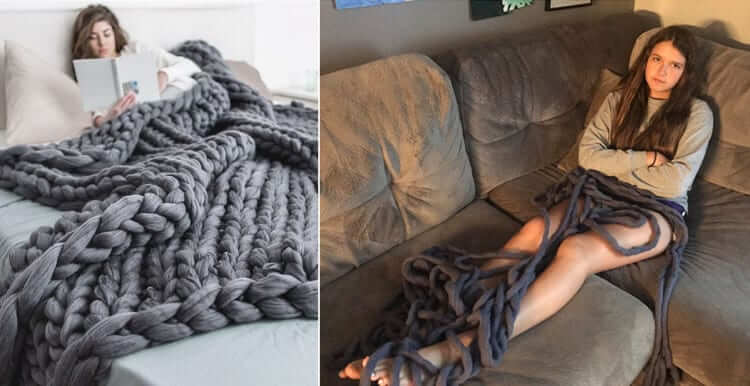 What was supposed to be a luxurious and warm yarn blanket turned out to be an utter disaster! Perhaps this is a new gimmick by online shopping destinations to encourage their customers to be more hands-on with assembling, well, everything? Although those pitiful layers of yarn don't seem fit enough to knit anything — not even a rug!
Dress Disaster
The legacy of online shopping is marred by a series of agonizing fashion disasters, and yet, shoppers don't shy away from placing their trust in cheap offerings and shady brands. This beautiful-looking silk dress turned out to be a badly tailored and shapeless disaster.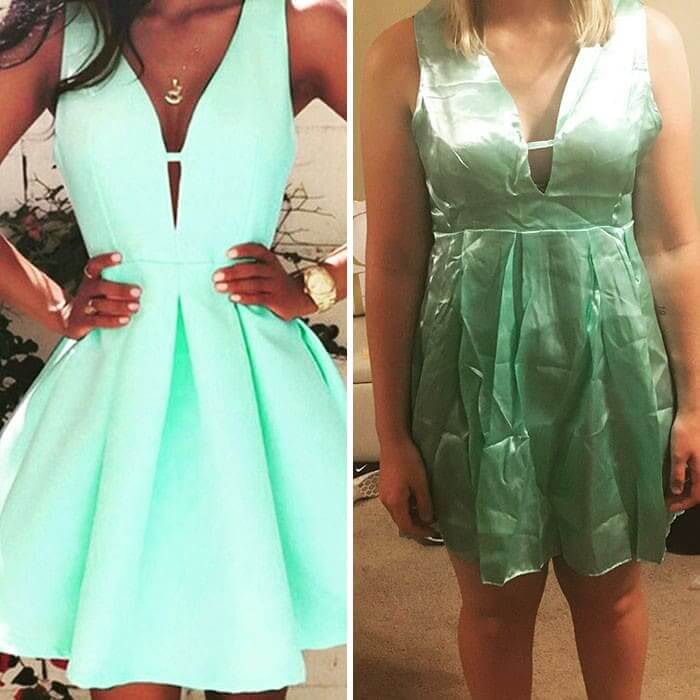 The fabric looks cheap and tacky enough to be used as a rag, and clearly, it looks nothing like the picture shown to trap customers. What sort of event would you wear this debacle to? Maybe it can be recycled in some sort of cheap Little Mermaid costume for Halloween?
How About A Little Poker?
A miniature set of cards is neither adorable nor useful, unless you happen to be in possession of a very well-trained and poker-savvy house mouse. This customer could barely hold the deck in his hands because it was shockingly small.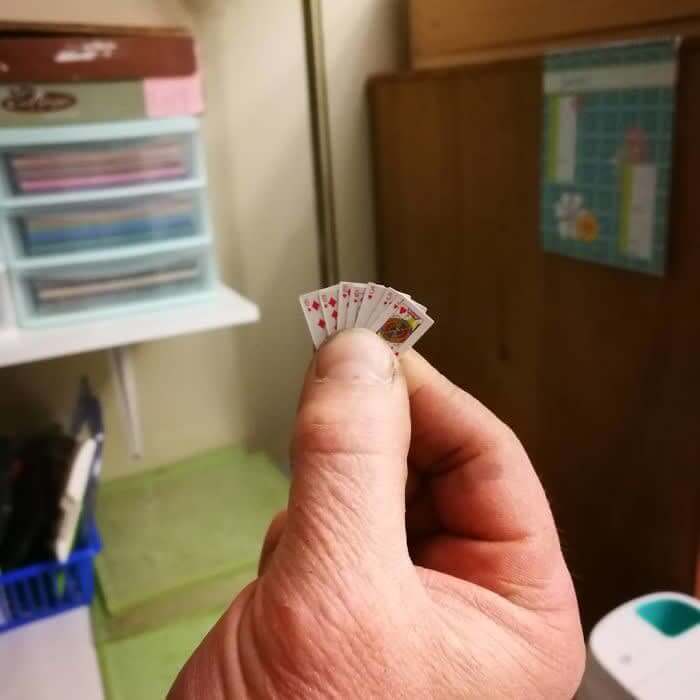 It would make sense if the deck was meant to be a collectible or décor item, but it was truly and honestly intended to be played with. This teaches us how unreliable online shopping can be. At least this deck can be used as a conversation piece or collectible around the house — unless the customer demands a refund, which is only fair.
Little Hamster Swing
Imagine finding the perfect swing for your little one, only to find out that it is much littler than your kid's size. This swing is so small, even a hamster or a mouse would barely be able to fit into it. It's a typical example of manufacturers using advertising gimmicks and visuals to sell a product that is absolutely worthless.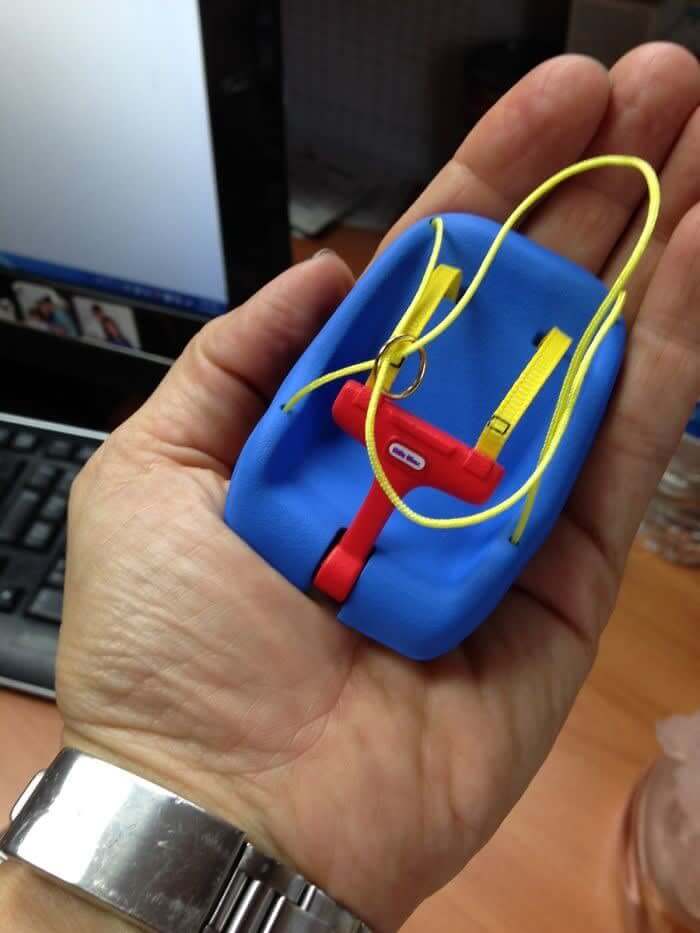 We cannot help but laughter with mirth at the tiny size of the swing. But at the same time, our heart definitely goes out to the little child and parents who must have anxiously waiting for the mail to come.
The Gigantic Unicorn
Here's an online purchase that certainly didn't strike us as a disappointment, unless of course it was meant for a kid. The giant-sized unicorn floating toy is twice the size of the intended product, but all things considered, we found it to be rather enticing.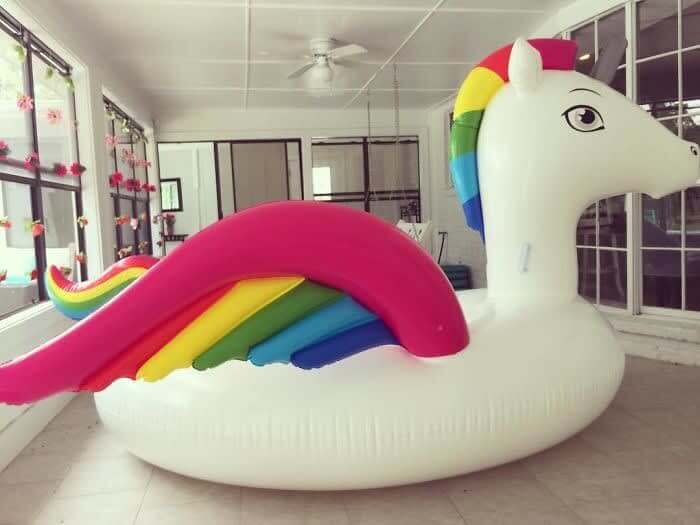 This is why customers need to pay strong attention to dimensions and size measurements when ordering online products. It is important to make sure that they meet your requirements before you process the payment. That being said, we'd be more than willing to try this toy out.
Pockets Misplaced
The realm of online shopping is the breeding ground for many fashion disasters. This adorable and warm-looking hoodie-sweater seems like a great fashion bargain filled with holiday cheer, doesn't it? However, when it arrived, the customer was shocked to find the pockets were more than a tad misplaced.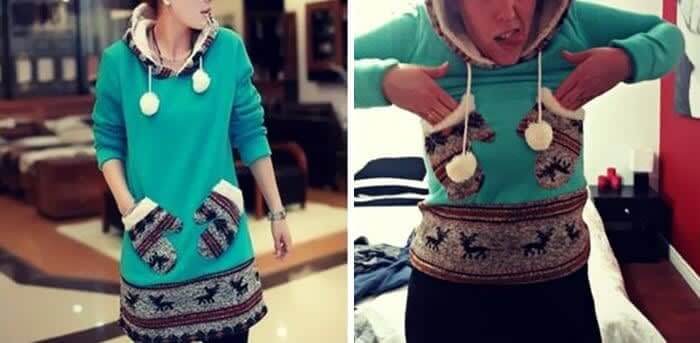 Not only was the sweater short in size, but the pockets had migrated just a tad too far north. Perhaps, the customer did not pay attention to the size and measurements while placing the order. At least she's got a sense of humor about it!
$5 iPad
Honestly, this one shouldn't even come as a surprise or a disappointment. Was the customer actually hoping to get an actual iPad for $5? The customer should have known that the purchase would turn out to be a toy iPad that even children wouldn't find worth their time.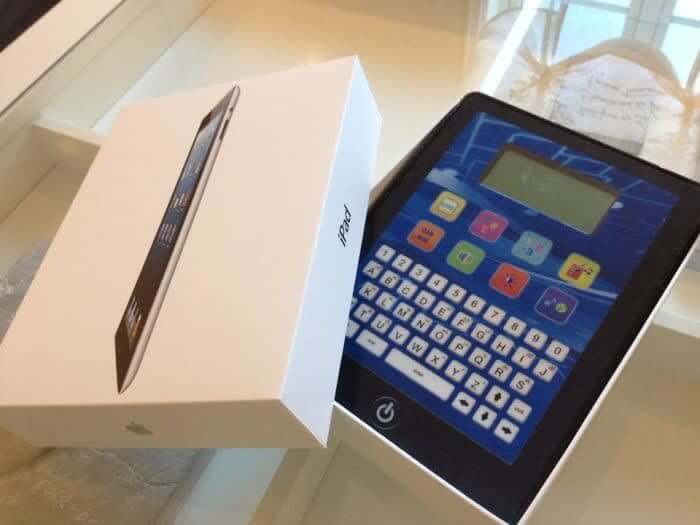 We are all so elated when we embark on an online shopping trip with the purpose of purchasing electronic gadgets and Apple products. Nothing could be more exciting than finding a product worth hundreds of dollars for the meager and meaningless price of $5. It's like playing an April fool's prank on yourself, isn't it?
A Wave Of Pugs
A customer once ordered an exciting tapestry of the famous Japanese illustration of a tsunami wave, without actually zooming in to study the specifics of the design. It seemed like a soulful and visually appealing treat that he was eager to hang up in his room.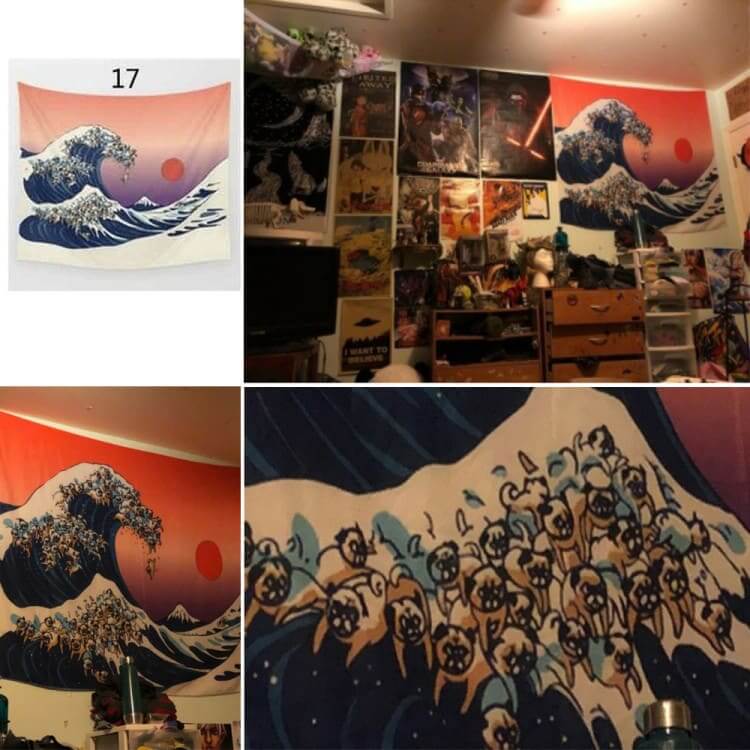 When the poster finally arrived and he got a chance to take a closer look, he was left dumbfounded by the abundance of pugs, struggling against the wave. We cannot help but shudder at the morbid creativity exhibited by the artist who created this dark and bizarre masterpiece.
The Saga Of Dwarf-Sized Chairs Continues
Buying online furniture is always a risk, as you have to examine the measurements and dimensions of the product until it arrives at your doorstep. Many customers are distracted by the affordable price tag and don't even bother to check the minutia to see if they fit their criteria.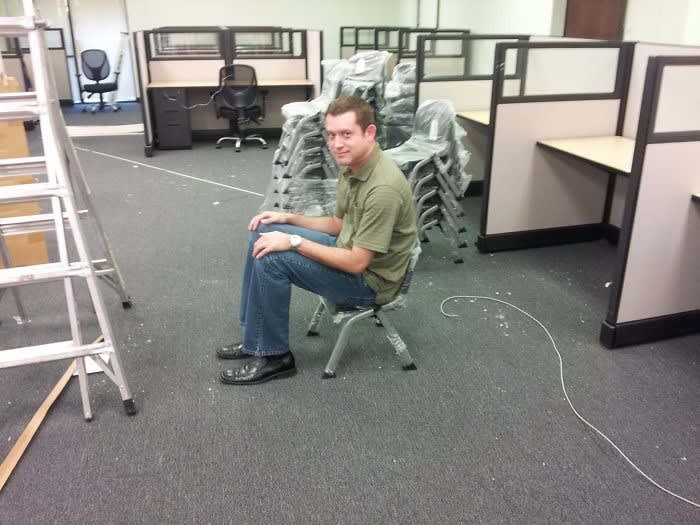 This young man ordered a set of new chairs for his office space, and the order turned out to leave more than a little to be desired. It appears that this particular manufacturer is promoting child employment with this tiny chair, that can only serve as a comfortable seating option for toddlers. We truly shudder to think about what he must have paid for the entire order.
Unworthy Of Walking
The shoes in the promotional picture look so attractive and comfortable that one cannot help but want to scoop them up. But things don't always turn out to be what they seem, especially in the case of online shopping. These shoes are a serious manufacturing disaster.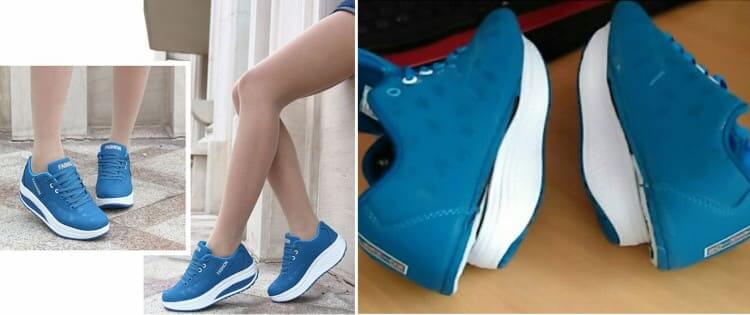 It appears as if the manufacturer was experimenting with shoemaking and finally got bored or awfully tired, and decided to end the job rather hastily. The sole stands out with its ridiculously short size in comparison to the build, making the pair seriously unfit for walking. One couldn't even stand properly in this pair!
Extra Coverage
Here's yet another fashion disaster that engulfed us with mirth and laughter. It appears that Amazon is most certainly a dangerous arena when it comes to shopping for clothes. The shirt in the promotional picture looks delightfully adorable and we love the color combination.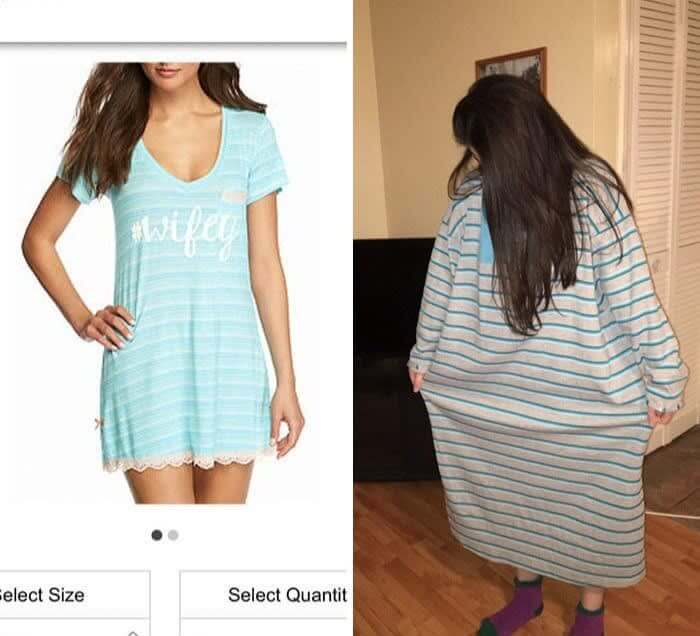 But the overly loose and lanky dress-shirt received by the customer is a far cry from the picture. Well, at least it can be used as a comfortable shirt-all that wraps around the body in a loose and lanky fit, perfect for days when you want to lounge around in your pajamas and watch Netflix in bed all day!
A Carrot is not a Toy!
This customer ordered an adorable pair of stuffed carrot toys for her little one to help encourage the habit of eating veggies. However, the order she received turned out to be a bitter and anger-inducing disappointment. The seller didn't even try to be creative about it. The fluffy stuffed carrot toys turned out to be…an actual carrot.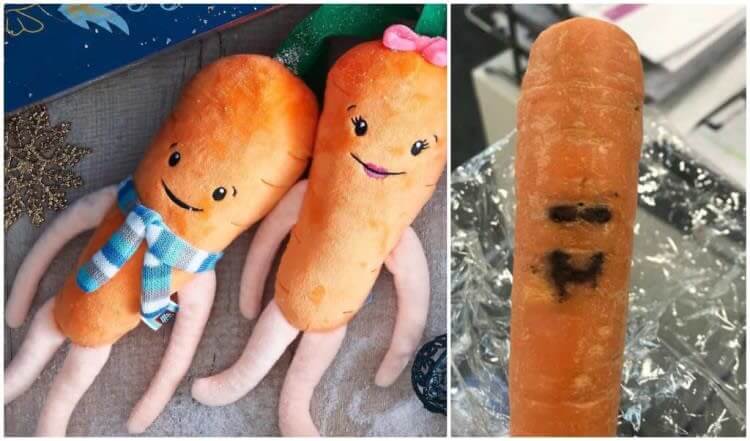 The seller actually went to the extent of drawing hideously beady eyes and a barely-there smile on the carrot with a black marker. We cannot stop laughing at this one, but at least we weren't on the receiving end of this equation. Truly an epic fail! Yet another reason to shop from a verified online seller or brand.
Stunted Puppy Growth
Large-sized stuffed animals are the perfect things to cuddle to sleep and lounge around with. But that's only if you get them in the size that you see. Imagine anxiously awaiting a larger-than-life puppy, and getting a more realistic one. That wasn't the point!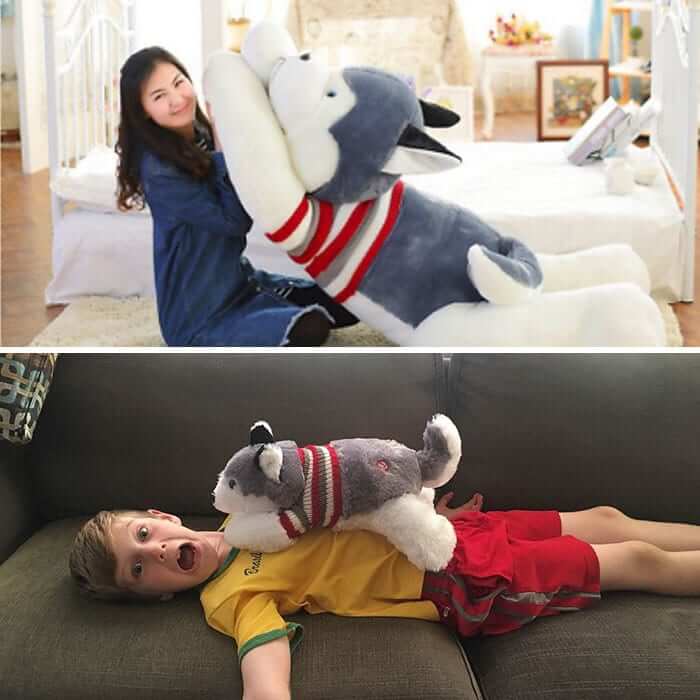 It appears that the puppy's growth has been stunted, or at least, it needs a few more years to grow into the size promised in the picture. How horribly misleading! This product leaves more than a bit of snuggling capacity sorely lacking.
Larger than Life
While receiving items that are smaller than their intended size is fairly common, here is a rather unique example of how online shopped products can turn out to be surprisingly larger than the size you ordered. This incredibly large dustpan hardly seems utterly baffling to us.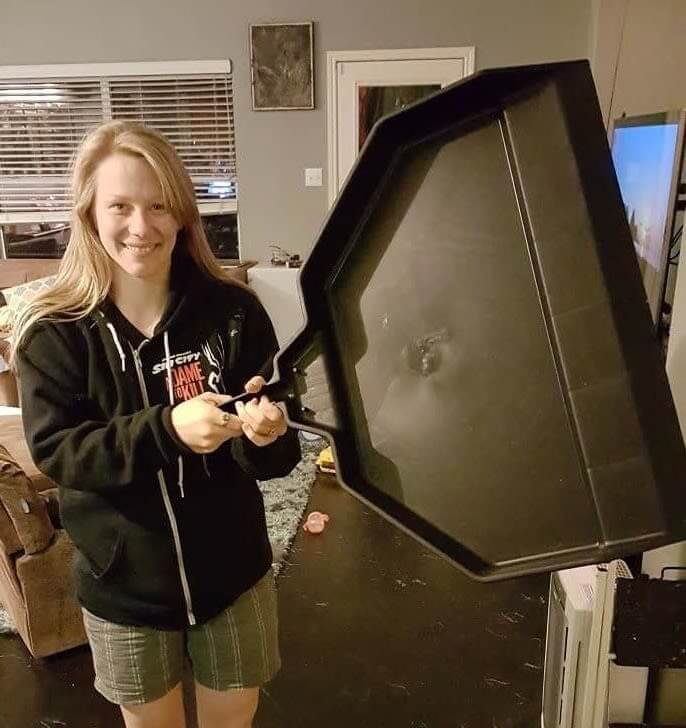 In fact, it could be a rather pleasant surprise, as it can be used to collect dirt from the entire house without the need to dump it all. The only difficulty would be finding a broom to complement its size. All things considered, we feel it is a good investment. What do you think?
Weighing Scale For Insects
Who could have thought that miniature weighing scales were actually available in the market? This particular manufacturer seems to have a rather unique sense of humor. While this scale cannot be used to weigh a human's weight, it can certainly be useful in finding the weight of blueberries and cherries.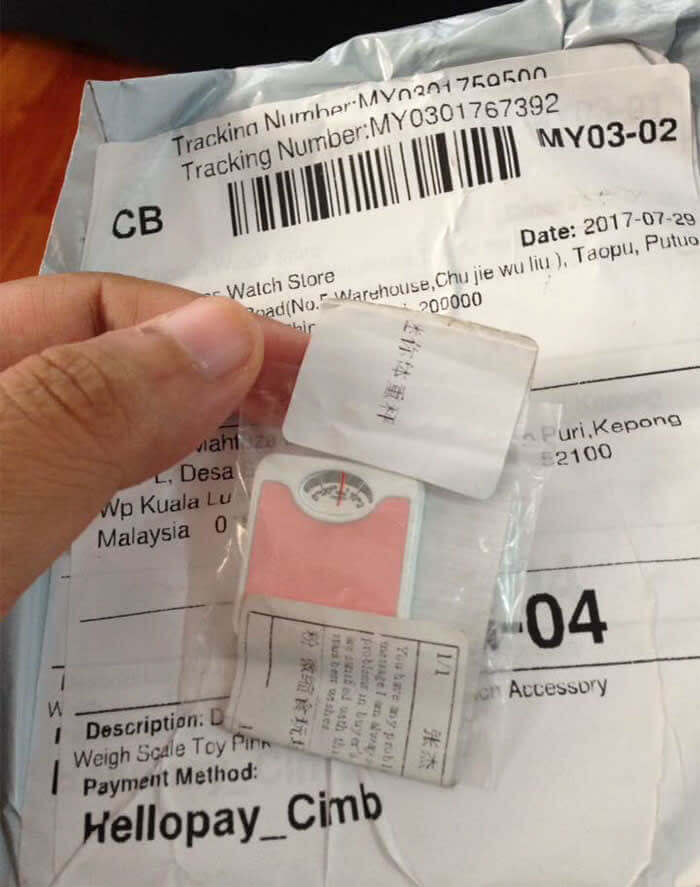 One can even allow insects around the house an opportunity to check their own weight. Or if the customer has a desire to stock up on miniature everyday items, perhaps this tool could be a great addition to the collection.
Winnie The Pooh
Once upon a time, a little girl ordered a Winnie the Pooh mask with great excitement and plans to wear it at the upcoming party at her school. For days, she anxiously waited for the adorable mask to arrive, and when it finally did, we couldn't have even begun to imagine her shock.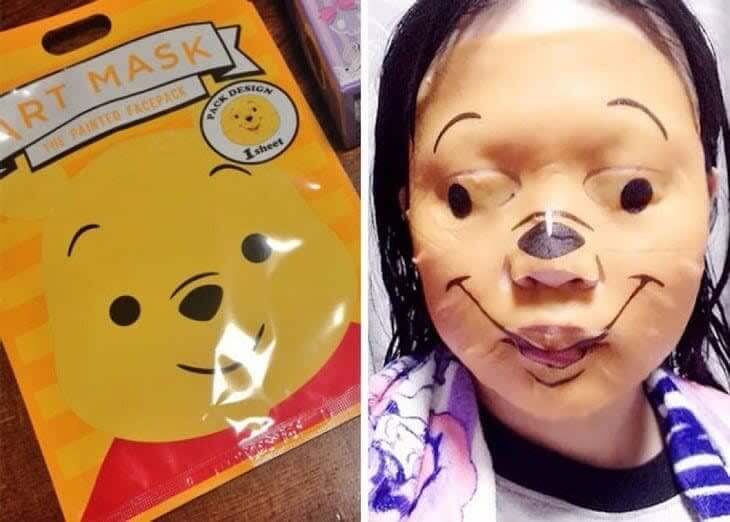 For starters, it appeared as if Winnie the Pooh had gotten an ugly facelift. The wrinkly and badly disfigured mask was a far cry from the picture she had admired while shopping for the mask. We feel your pain, little girl! This is rather terrifying.
Sneaker Costume
World-famous rapper Kanye West's high-end designer brand Yeezy has made waves across the world with its coveted collections and upscale sneakers. Customers are crazy about the brand's luxury offerings, and they seek to procure these designer products at cheap rates.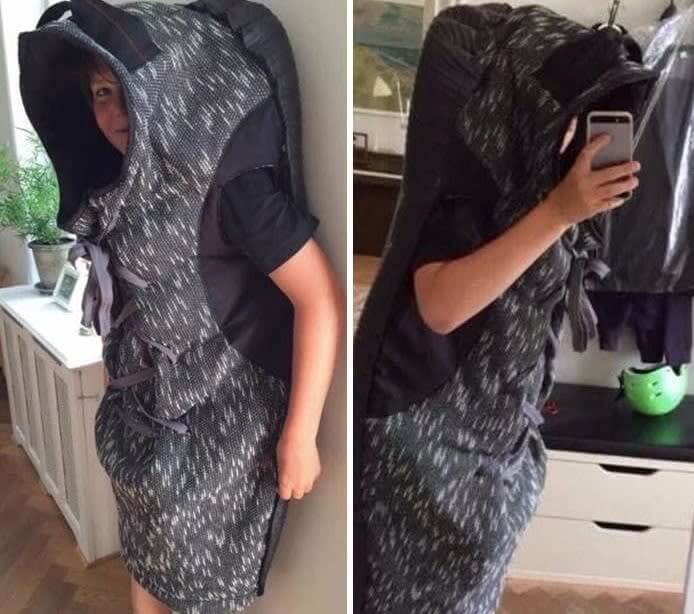 The realm of online shopping is laced with cheap bargains offering products from the Yeezy collection. But the irony here is that you don't always get what you see. In this case, one simply wouldn't expect to get a sneaker costume instead of a pair of shoes. Well, at least the boy's got a costume for Halloween!
Absolutely Killing It
Young Mr. Dylan was looking for something casual yet snazzy from ASOS. So why not keep it simple with those black skinny jeans and some groovy sunglasses? Of course, that's rather far from what actually came in the mail. Behold the new and improved Dylan.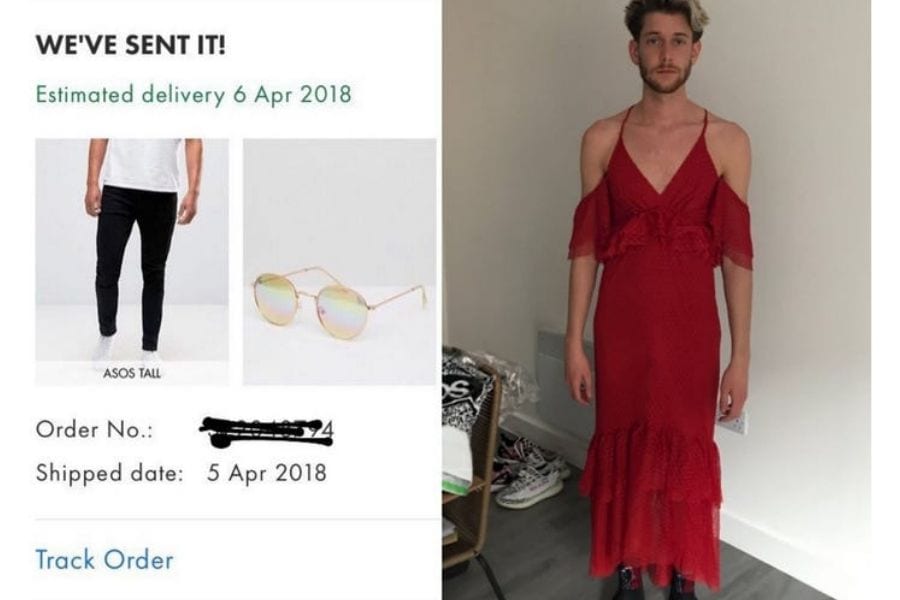 Looks as if this is just a simple case of his order getting confused with someone else's and mixed up in the mail, but the end result is absolutely hilarious. What's more, it fits him perfectly. You do you, man! Flaunt it!