These 35 Hotels Actually Exist and We Aren't Kidding
By Ina S
---
"People don't take trips, trips take people."
We all have a desire to explore our planet to visit new destinations and live our best lives. When we're busy all day, working, studying or taking care of our family, we crave for that quick vacation trip. For this reason, the travel industry has expanded to accommodate our dream destinations.
Won't it surprise you if you arrive at a hotel that isn't usual? Will you rest your head after the winding road in a hotel made of ice? Or maybe you'll spend the night at a hotel, located on the sea's surface? Or maybe you'll even stop at the place where a legendary murder was committed several centuries ago?
In this article, you'll find the top 36 unique and craziest accommodations around the planet
Hotel Costa Verde, Costa Rica
First on our list. Are you an aviation lover? Could you spend your holidays on an airplane? If yes, here is one of the most amazing accommodations. Hotel Costa Verde, located in a coastal rainforest in Costa Rica, is the perfect hotel for those who love nature and adventure travel.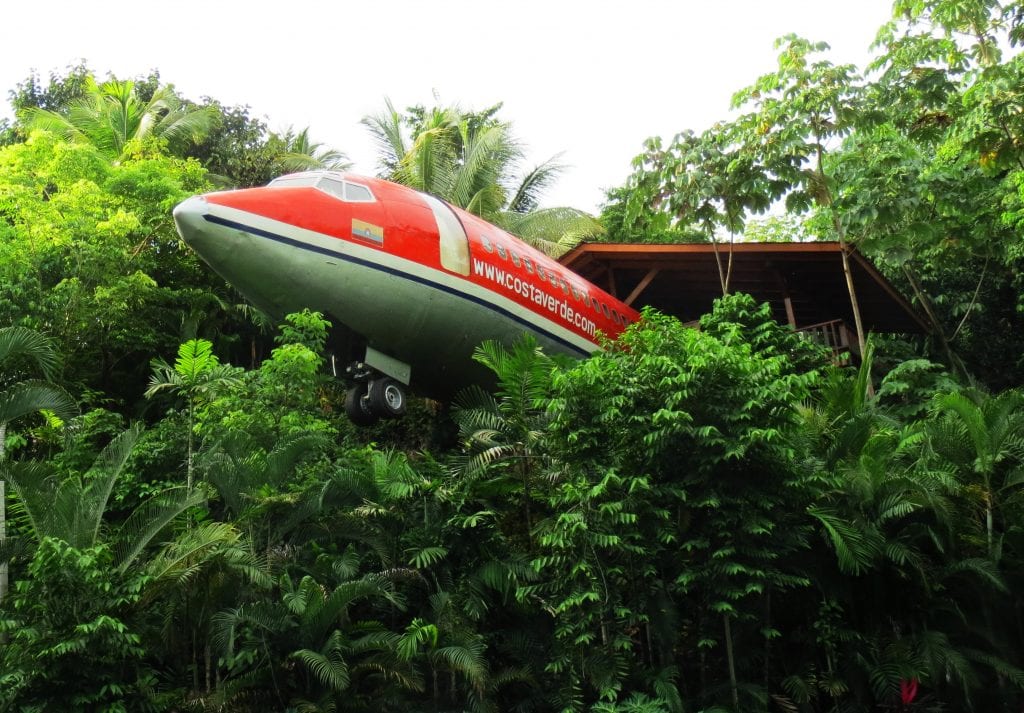 This hotel is a Boeing 727 that has two-bedroom suites and also offers other facilities, like restaurants, cliff-sided pools, and sundecks. It has an amazing view, as is perched 50 feet above the ground. So, what are you waiting for? It's time for liftoff!
Jumbo Stay, Stockholm, Sweden
Still, an aviation lover, but you prefer cold weather instead of being in a tropical, hot resort? Don't worry because we have another unique solution for you.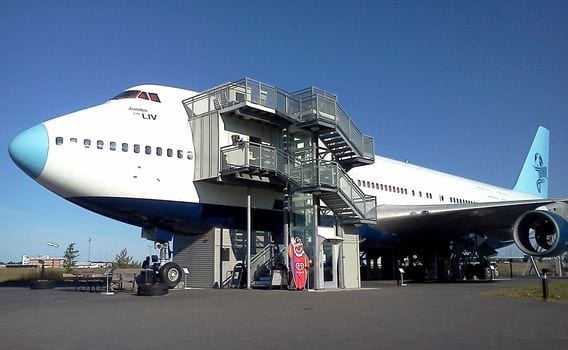 This amazing hotel is located near Arlanda Airport inside a decommissioned 747-200 jetliner. It has 33 rooms, 76 beds in total, along with the most luxurious "cockpit suite." All rooms share a shower and a toilet in the corridor, except for the Black Box suite, the cockpit suite, and a single person room. A small restaurant for coffee and breakfast is also available.
You'll certainly get the full airplane experience. With the stewardess announcing over the speakers: "Ladies and gentlemen, fasten your seatbelts and enjoy your flight."
Kumbuk River Resort, Sri Lanka
If you wish for a romantic experience, but not in Paris or Rome, you could go to Sri Lanka and spend your dreamy nights in a huge elephant! This river, which is the Kumbuk River Resort, lies on the bank of a river that can offer the guests unique experiences, like animal watching, fishing, hiking, and other activities.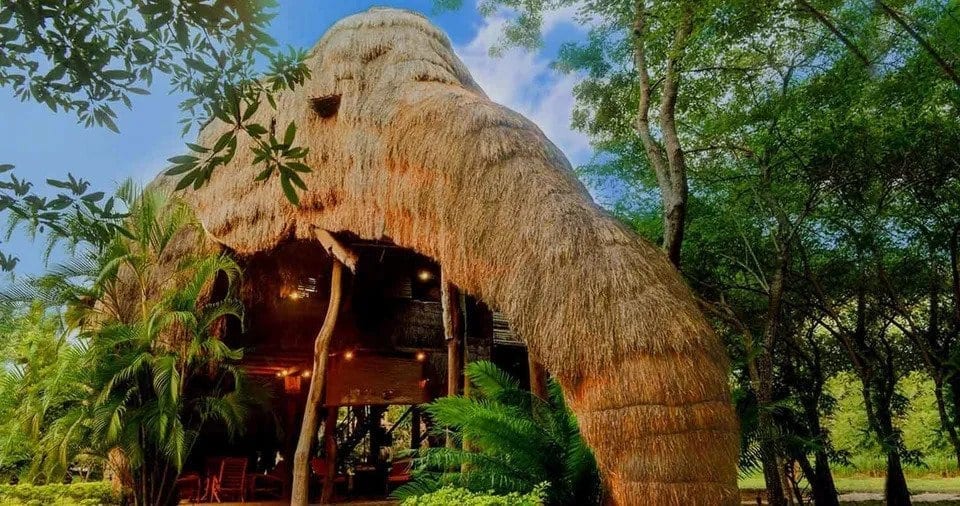 If you just want to take your time, you could relax, swim in the river and enjoy the traditional food. But be careful, this resort accepts ten guests at a time in order to guarantee a fully relaxed stay. If this accommodation answers your needs, visit their website and book your next holiday!
Big Idaho Potato Hotel, Idaho
It looks like a dirty, weird nest, but the interior will take you off guard. The Big Idaho Potato Hotel, in Idaho was originally built for a potato celebration as Idaho produces high – quality potatoes worldwide.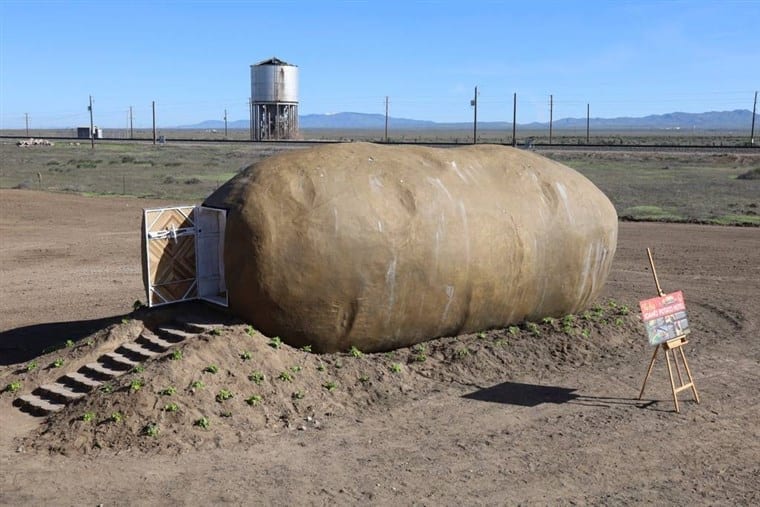 The clever owner of this building seized the opportunity and made it an Airbnb. So if you are a potato lover, here is your chance. Live the weirdest experience ever. Inside is a surprisingly nice space for two guests, with a queen-size bed, bathroom, kitchenette, air conditioning, and even a fireplace. Please be careful though, don't fry it!
Dog Bark Park Inn, Idaho
Apparently, Idaho has the weirdest hotels. After the extremely matchless, potato Airbnb, here it's another one, the Dog Bark Park Inn.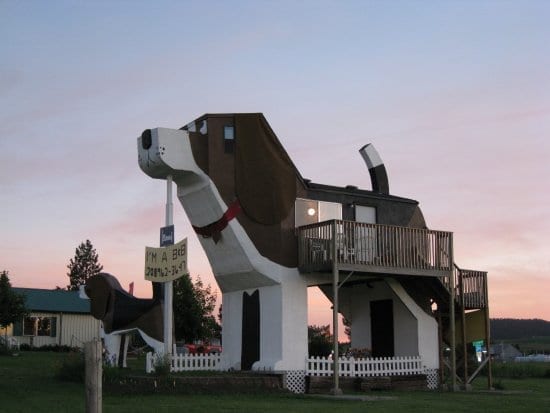 Designed and built by Dennis Sullivan & Frances Conklin, "Sweet Willy" bed and breakfast is located inside a 12-foot beagle. To enter, you need to enter the beagle's body through the second-story deck. It can accommodate up to 4 guests, and of course, it is very friendly and loyal with all the guests! Don't be afraid; it won't bite.
Palms Hotel's Barbie Suite
"I'm a Barbie girl in a Barbie world." This world being the Barbie-themed suite at Palms Casino Resort in Las Vegas. Designed by Mattel and Jonathan Adler.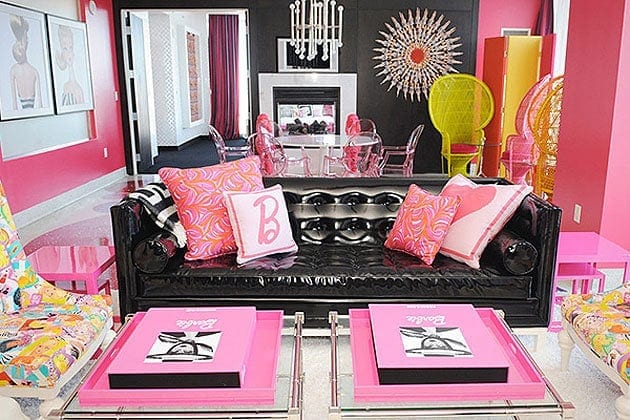 At the entrance, you will find a wallpaper with images of all the types of Barbies and, of course, Barbie statues all over the place. The view from the glass windows is breathtaking as you can see Vegas and The Strip.
However, the most exciting and impressive thing is the XL bedroom, not only for its size but for its spirit. A sexy fireplace and pink everywhere create a playful atmosphere. And the bathroom? A pink oasis with a huge tub, two showers with adjustable pink strobe lights, and a stripper pole! Wowza!
V8 Hotel, Germany
The previous hotel had a more feminine theme, now we present the ultimate masculine hotel in Stuttgart, Germany, the V8 Hotel. "Arrive and feel at home" is their motto. The automotive history and the versatile usage of vehicles throughout the years are reflected in the furnishings and fittings in the whole building.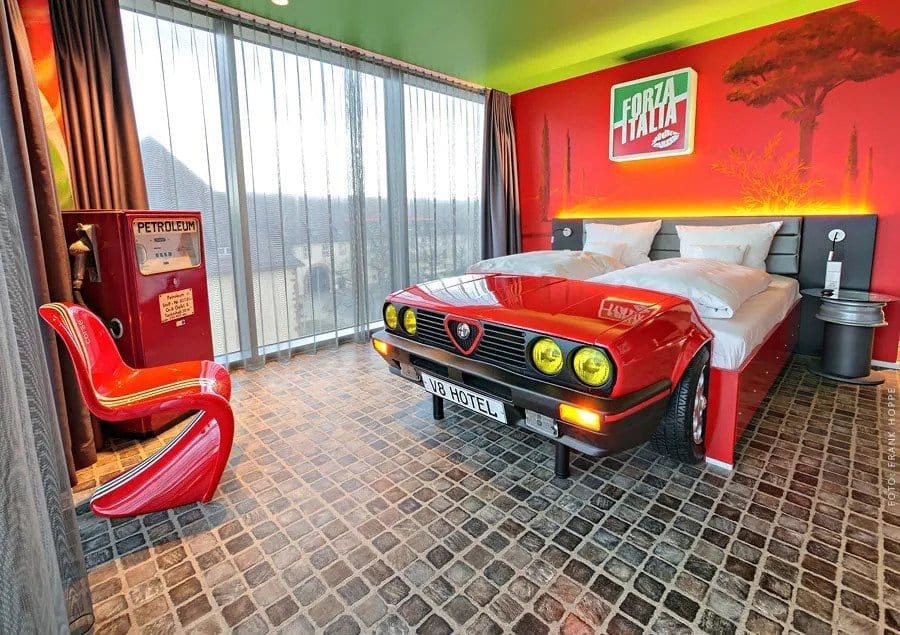 The 26 V8 rooms allow guests to immerse themselves in a thematic world of their own taste. Of course, all the furniture, including the beds, is made from real vehicles. Enjoy the ride and drive safely!
Railway Square YHA, Sydney, Australia
Are you planning to go to Sydney with your mates, have fun and meet other people from all around the world? Here is the top hostel located in a railway station.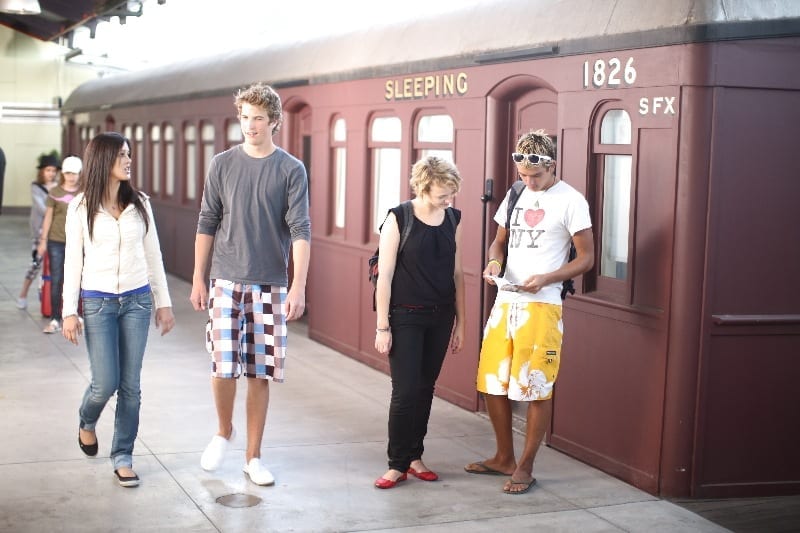 Sleep in one of the funky red train carriages on Central Station's original Platform Zero. Only 1.0 miles away from the center of Sydney, you are able to enjoy the facilities of this hostel, like BBQ, breakfast, and a snack bar.
The most impressive of all is their website. You could check for the available dates but they also offer discounts in the region of Sydney for museums, theatres, and other activities to explore the city. Also, don't miss out on clicking on "Things To Do" on the website! Except for the activities in the city, you could participate in "At the hostel" activities.
Radeka Downunder, Coober Pedy, Australia
In this top 15 list, we couldn't miss adding this extraordinary hostel, located in the desert of South Australia. Located in the center of Coober Pedy, this underground hostel gives the feeling that you have traveled back in time, in another era, the era of the Flintstones!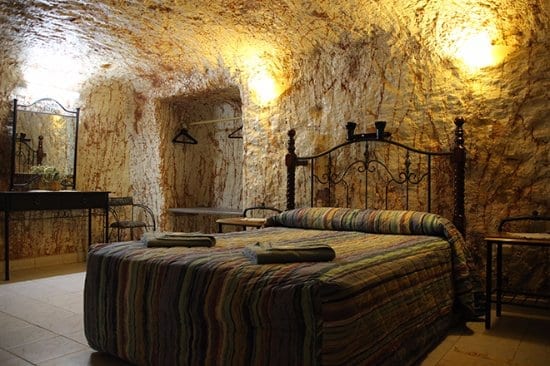 This is a holiday destination for couples, families, and friends. Except for the unique underground accommodation, you can join funny and educated activities like visiting the underground museums & shops, gazing at the Southern Night Sky, watching movies at the open-air drive-in cinema, and more.
You could find all the available rooms and activities on their website. If you're looking for an eccentric hotel, then you're going to be in for a treat with this place.
Das Park Hotel, Linz, Austria
Is that a tube? And can you stay in this tube? Oh yes. Another weird hotel in the list of unique accommodations. Concrete cylinders in a park in the middle of Linz, Austria, could sound like the opposite of comfort but no.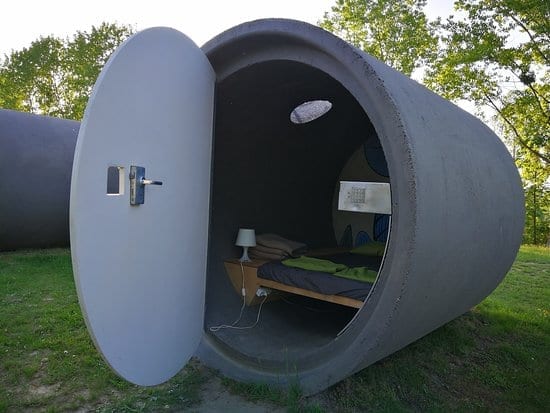 The interior is unexpectedly comfortable – double bed, light, power, storage, blankets. Just to add that the rest of the facilities, like restaurants, toilets, cafes, etc. are supplied by the public space around the hostel. This hostel is for people who want something extraordinary. Just make sure that if you visit in the winter, bring extra layers of jackets.
Bivacco Gervasutti, Italy
A lot of people have a dream, to travel beyond this planet, to space. We know that this can be an extremely expensive experience, and you need time and strength to do it, but what if I tell you that on our planet, you could stay in a space-age capsule?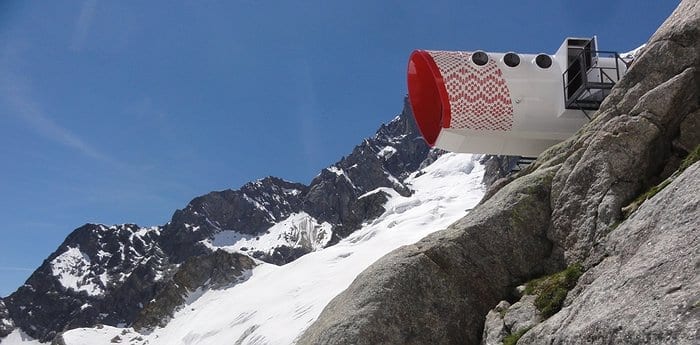 Yes, that's right. As we mentioned before, people's fantasies have crossed every line and limit and can cover every need. If you want to spend your holidays, staying in a space capsule, far away from everyone, here is your chance to finally fulfill your dream.
Set 2.835 meters (9.300 feet) in the Mont Blanc (White Mountain) in Italy, Bivacco Gersavutti, has a unique wooden structure, including dining and living areas and two sleeping quarters that can fit up to twelve people.
Furthermore, it's the best hostel for those who love hiking and want to explore the Italian mountains. It appears to be perfectly safe and well placed in order to protect the climbers from the bad weather.
Icehotel, Sweden
Icehotel is a hotel and an art exhibition made from snow and ice. Located in Jukkasjarvi, in Northern Sweden, you will have the opportunity to experience the ice, snow and to watch the Northern Lights. Icehotel offers two different types of accommodation in order to fulfill every wish.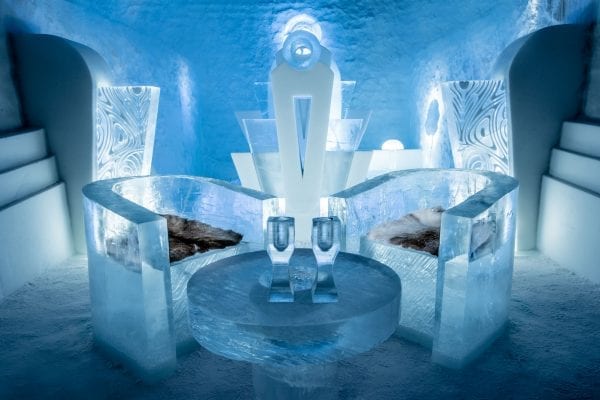 First of all, the Icehotel is available from December until April. In this period, the empty space on the riverbank turns into an extraordinary hotel with a brand new art design. During these five months, the guests have the chance to see this ice art before it melts and turns to the Torne River. The Icehotel Winter edition can hold 15 thematic art suites, 20 regular ice rooms, and a ceremony hall.
For those who can't stand sleeping in the ice and they just want to experience the joy of snow for a while, they could stay at the Icehotel 365. It is a specially designed area with Art houses, luxury Suites, an Ice Bar, and an event hall. Also, don't forget to check the fascinating activities in the arctic. Snowmobile experience, Northern Lights, ice sculpting class & more are waiting for you.
Mirrorcube, Sweden
The Mirrorcube is camouflaged by mirrors a small treehouse in a forest in Northern Sweden. Being part of the Treehotel Resort, this specific treehouse is unique. From the outside, the mirrors give the illusion that the room is made of glass from floor to ceiling.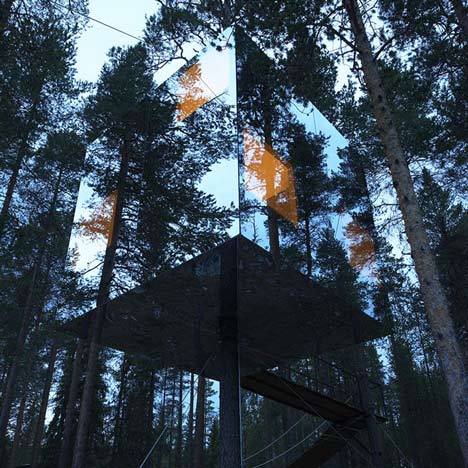 However, inside there are walls and windows with a panoramic view of the forest. Another weird fact is that this mirror cube has a balcony! Behind the mirror face, the balcony allows you to go outside the box, admiring the view, doing whatever you please, without being seen! The treehouse provides accommodation for two guests as it contains a double bed, a seating area, and a toilet.
If you visit it once and you can't forget the amazing and unique accommodation, don't worry because we have another idea for you. You can try to design this stunning room and have it built in your own space, in your very own backyard!
Conrad Maldives Rangali Island, Maldives
If you are planning your honeymoon, here is one of the best accommodations in the Maldives. Sleep & dine five meters below the surface and be enchanted by your ocean friends and neighbors.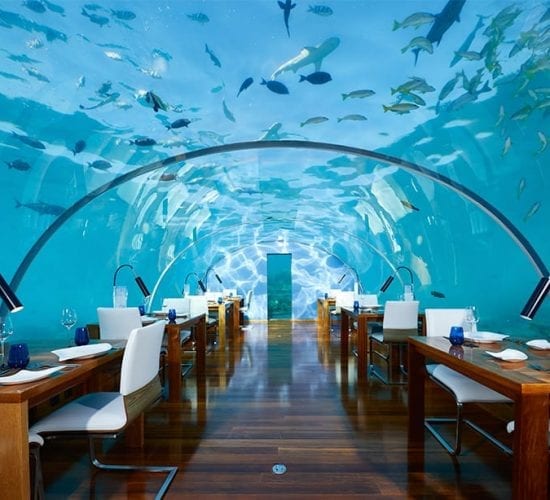 The Conrad Maldives Rangali Island is paradise on earth, far away from the overcrowded cities. It gives you the opportunity to relax under the sea, to swim in the crystal clear waters of the ocean, and to remember this experience forever. As it is a luxury resort, bear in mind that the costs would be high, but for once in a lifetime, you deserve to live your best life.
Crazy Bear, Beaconsfield, UK
Last but not least! The hotel that completes our top 15 wackiest hotels in the whole world, the Crazy Bear, located in Beaconsfield in the UK. The Crazy Bear Group was established in 1993, and it offers a variety of hotels, restaurants, farm shops, and events.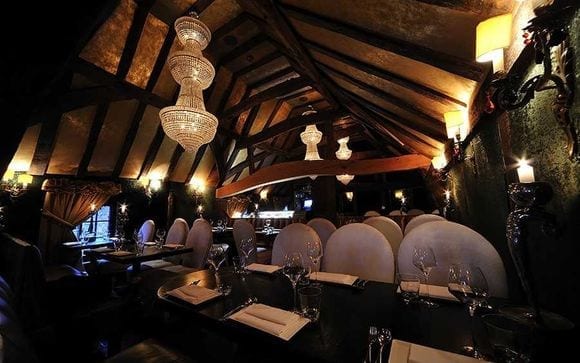 The extraordinary decoration guarantees a breathtaking experience. The rooms and all the places at the hotel have a medieval look as this building exists from the 15th century.
An important detail is that this hotel has a dress code. Smart casual outfits only, no trainers, no football shirts or flip flops at all! Follow the dress code and live an unusual experience in The Crazy Bear Hotel.
Casanus, Stekene Belgium
The project was created by Dutch architect Jupe Van Lieshout. This anus looks like a hotel but you will be surprised by the facilities it has inside. It is suited in a cool environment that gives guests the insight of being in a comfortable place despite its uninviting exterior.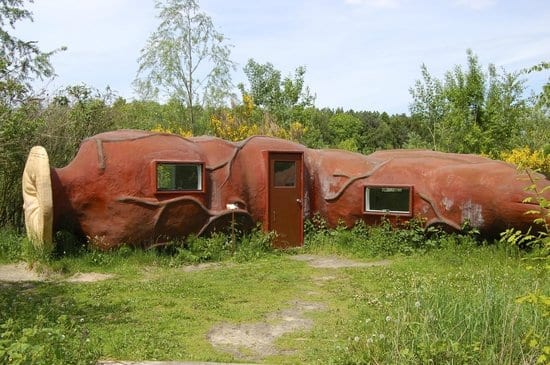 This has got to be one of the strangest hotels that we've ever seen, do you agree? Don't worry it's completely safe to enter despite it looking like a colon.
V.O.F. Dromen aan Zee, The Netherlands
This is a Dutch series of hotel rooms set up inside a lifeboat, lighthouse or harbor crane. They have been renovated and turned into comfortable rooms with modern amenities.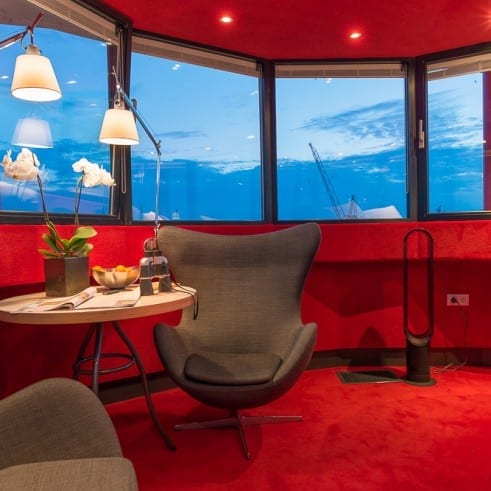 First, let's talk about the lifeboat in Harlingen, which offers wonderful accommodation with curious windshields and a view of the bright blue seas. Once you enter it, you can consider it as a world of art.
I guess you never thought of staying in a harbor crane this is the place where dreams become reality. The unassailable height of the harbor tower meets the freedom of living on the water.
Pengheng Space Capsules Hotel, Shenzhen, China
This futuristic hotel with tiny rooms and very low rates is almost entirely serviced by robots. All the capsules in the room come with a TV with a work desk and electrical outlets for your devices.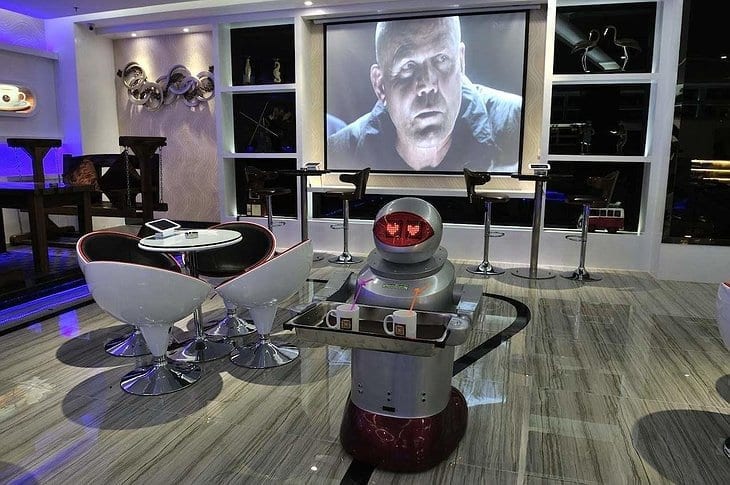 Also, the rooms come with shared bathrooms and showers which makes you feel like you are not alone. The special feature about the Space capsule is the lounge, where you can order refreshments and have it delivered to you by the robot butlers.
The hotel has close proximity to several points of transportation such as the Bao'an Airport, the Luohu Railway Station and the East gate pedestrian street.
Palacio De Sal, Bolivia
The hotel, located in the center of the largest salt marsh on the planet, is built from about 1 million bricks of pure salt. The interior ) is also made of salt from the chairs to the bed.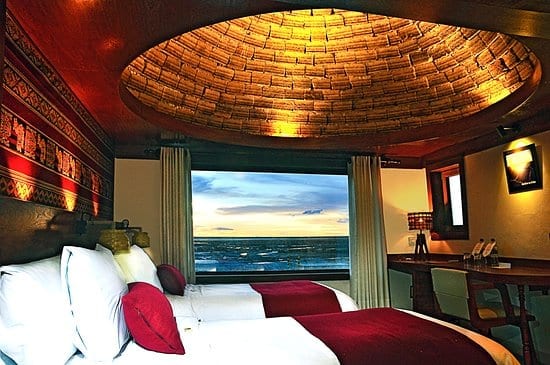 The Hotel Palacio de Sal is located on the banks of the majestic Salar de Uyuni in Bolivia; it is just 25 km from the city, where it is unique in its class for being entirely built with salt: walls, floors, ceilings, furniture, sculptures. This hotel is what we call a lass of beauty and artifact.
Kolarbyn Eco Lodge, Skinnskatteberg, Sweden
This is a series of grass-covered cabins located in the middle of a forest that lack electricity and running water. But each lodge has its own fireplace, so you definitely won't freeze.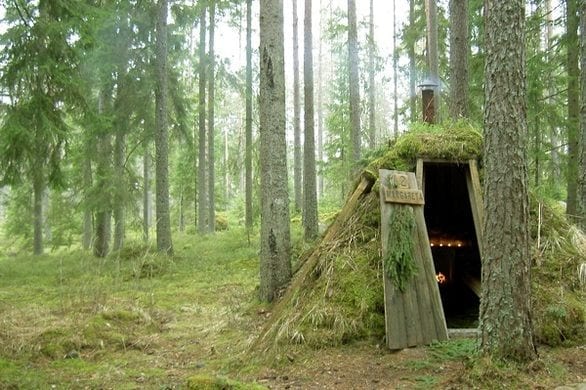 Spending a night at Kolarbyn Ecolodge with no electricity, no showers, nothing fancy at all and just a natural environment. And that is precisely why these places are unique on their own. The environment provides a serene atmosphere where you can feel mother nature celebrating life around you.
When you arrive at Kolarbyn, one thing you see a lot is a plethora of trees. When you move closer you will find out that, in-between all the trees lie cabins. And these are covered in mud and grass which is difficult to notice at first. Most people who come here refer to them as forest houses.
Free Spirit Spheres, British Columbia Canada
It seems that the creation of these three spherical numbers suspended on trees in the middle of the forest was inspired by the Death Star from Star Wars. Each of them, by the way, has its own name – Yves, Eirin and Melody. During a gust of wind, the rooms of the fancy hotel are swaying.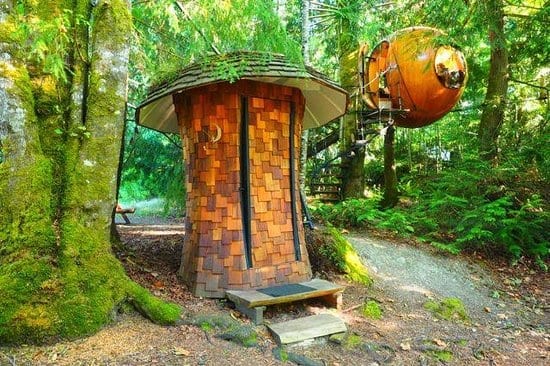 These spheres are made of special fiberglass and wood and it's borrowed heavily from sailboat and construction methods which make it look like a hollow shape hanging from a tree. Inside there are fold-out tables and mirrors with curved loft beds. There are also benches and also tiny appliances. One special thing is the curved walls made for windows.
This experience of sleeping in a treehouse sphere is an experience that one might not want to miss at all.
Tianzi Hotel, Dandong, China
Inside, this hotel is not much different from any other, but as soon as you go outside, you will find that it's equipped with giant statues of Fu, Lu and Shu – the Chinese gods of prosperity, status and longevity.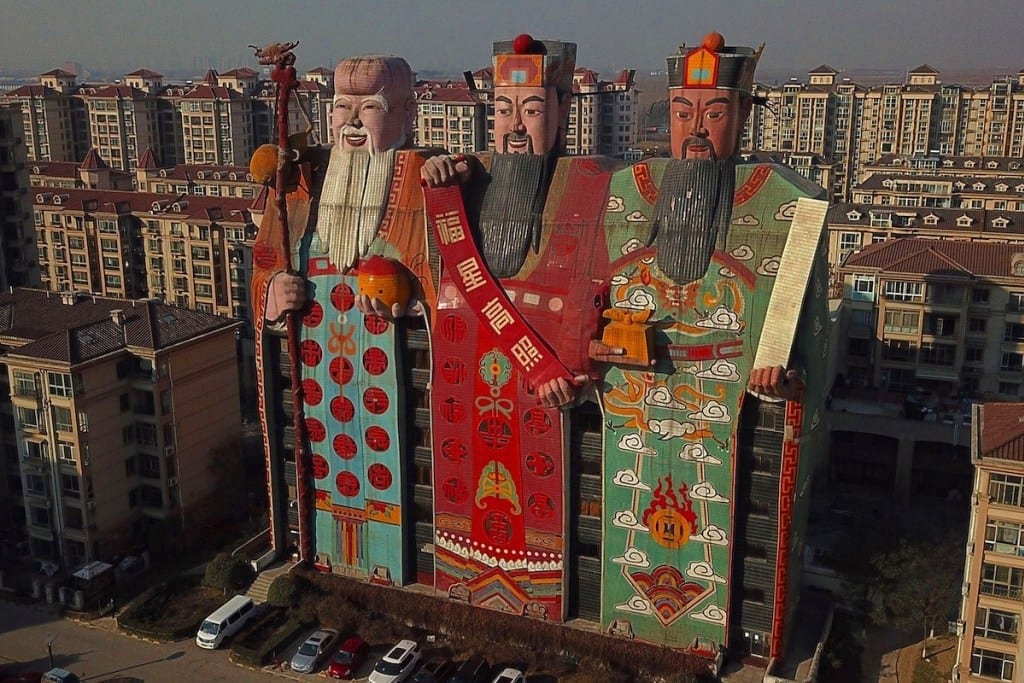 Guests, who come to the hotel, enter through a door on the right foot of Shou. The rooms of the hotel which are located in the city of Hebei can go all the way from the feet to the gods' heads. Guests can even stay in Shou's peach which serves as a room to visitors.
Lizzie Borden Bed & Breakfast, Massachusetts, USA
This is the house where two brutal murders occurred. This is the ex-home of Lizzy Borden. The shocking B&B reveals that she killed her parents here. The house became the main attraction of the city and was converted into a hotel with terrible photos from the crime scene.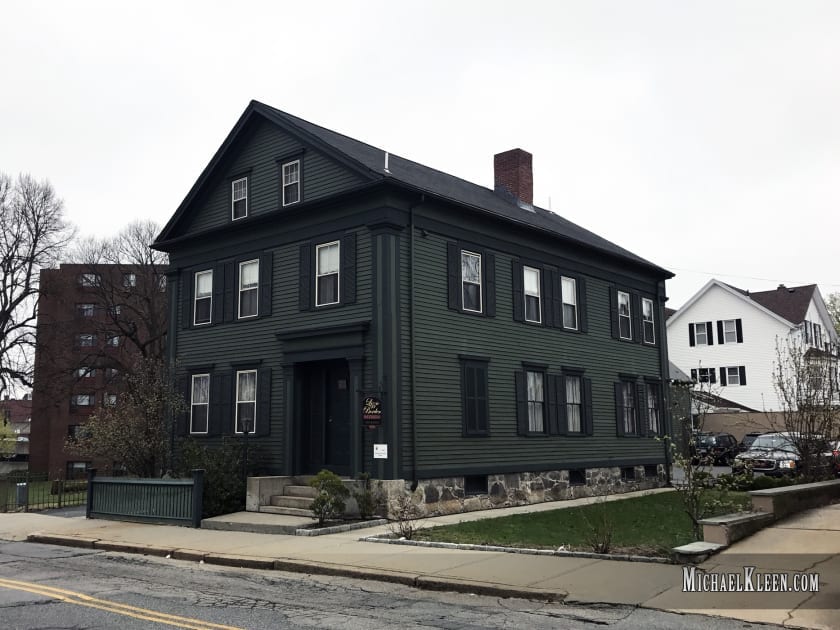 Here you can rent one of 8 rooms, including the room where the bodies of Lizzy's parents were found. It might feel like a horror movie scene staying here, but if you're craving a good true crime hotel vibe then this is the place for you.
It reminds us of Bates motel too, so if you're a big fan of horror movies then you'll certainly get a kick out of visiting this place. Just make sure to go with someone so you don't get too spooked out.
Panda Inn, Emeishan, China
All 32 rooms at this extraordinary hotel are pandan-themed. Works of art, beds, tableware – everything here glorifies black and white bears. Even the hotel staff work exclusively in panda costumes.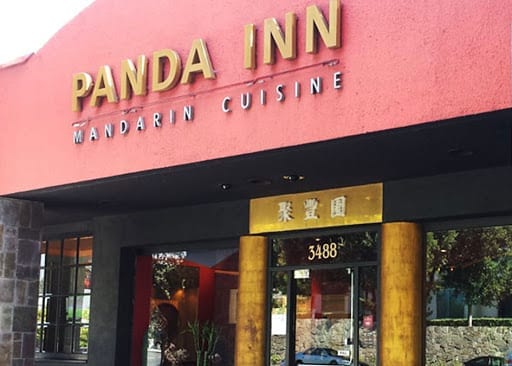 These rooms are well decorated with pandas all over and you'll be amazed at how dynamic and real they look. The position of every panda has been done to perfection to ensure visors have the best time possible.
If you're an animal lover or someone who adores wildlife, then this will be the perfect place for you. The only thing missing here are real-life pandas!
The Clown Motel, Tonopah, Nevada
If you think that there is nothing stranger than a hotel that resembles an anus, then take a look at this hotel, located next to the cemetery and filled to the brim with clown paraphernalia.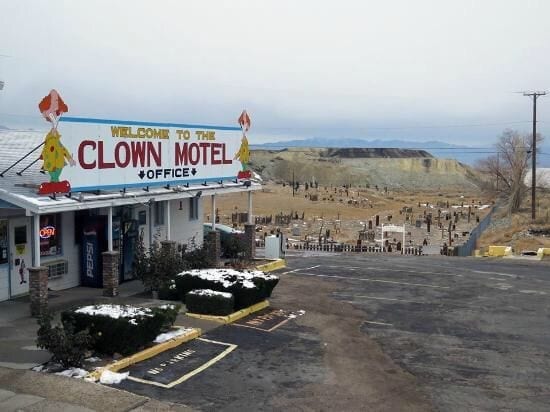 Clown dolls hang on the walls of the lobby, life-sized clown mannequins are everywhere, and paintings with clowns adorn the walls above the beds. When you enter the motel the experience of being a clown yourself comes to mind.
Montana Magica Lodge, Chile
The Montana Magica Lodge is a beautiful sight to watch. This hotel has been built right into a volcano, making it exceptional. And the unique nature of this hotel is the waterfall from the slope, which makes its way down the steep.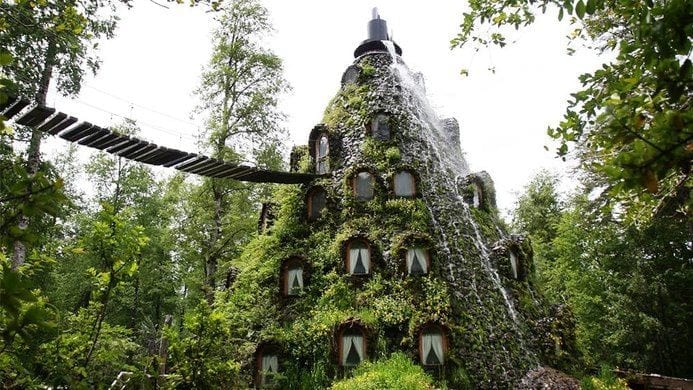 This is a true definition of mother nature. You can view this site and wonder how they built this hotel like a volcano. It's a beautiful sight to behold and it's truly magical. We can almost imagine Gollum from Lord of the Rings peeking out from under one of the small hills.
SiloStay, New Zealand
Located in Little River in New Zealand, the SiloStay hotel gives guests the right to stay inside grain silos.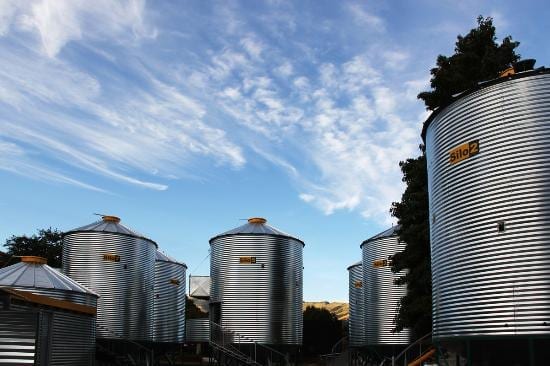 These silos are designed in an eco-friendly innovative way. The design gives guests the feeling of real hospitality. The serene atmosphere of the location of the silo allows the guests to have their private time by themselves or with their partner.
Silos are typically used for storing bulk materials. The materials include cement, coal, grain and even sawdust. Luckily, these silos are filled with comfy amenities to ensure you nab a well deserved night of sleep.
Sala Silvermine, Sweden
The Sala Silvermine is built for Guests to stay more than 500 feet below ground which is situated in Sala Silvermine's the underground suite in Västmanland in Sweden.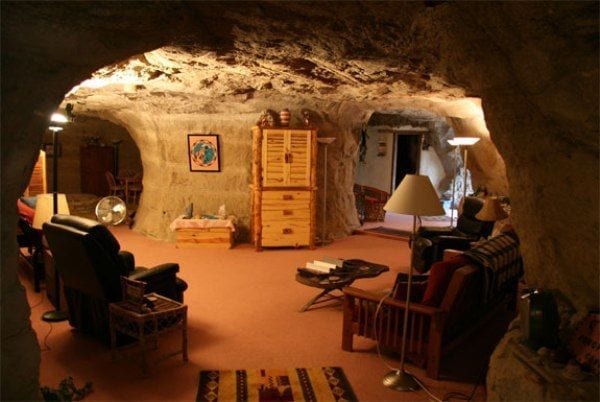 The underground suite comes with a large bed which will help you drift off into sleep seamlessly. There's also a dressing mirror and lighting system to brighten the room. The room has been carefully designed underground leaves the guests to let their imaginations wander.
If you're claustrophobic, this might not be the best place for you. But if you're about adventure and prefer dimly lit spaces, then this romantic love hole is meant for you!
The Manta Resort, Zanzibar
The Manta Resort located on Pemba Island is part of the Zanzibar archipelago that is off the coast of East Africa. The hotel allows guests to stay on a private island that floats. This beautiful hotel allows guests to feel like they're part of the ocean.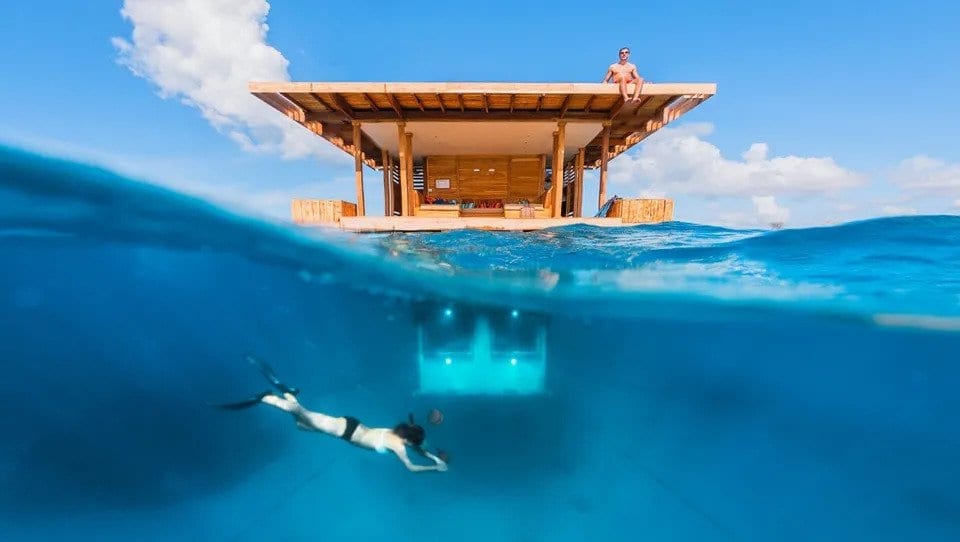 They can easily exit their bedroom and jump into the ocean anytime they please. The hotel has been so carefully crafted that the guests can choose to relax on the floating island whilst looking at the ocean. Moreover, the serene vibes of the island will surely leave you feeling rejuvenated even after just one night! What are you waiting for? Zanzibar is certainly a dream location and should be at the top of your travel bucket list.
Whitepod, Geneva Switzerland
Whitepod is an "eco-luxury hotel" filled with high-tech pods that are nestled in the Swiss Alps. The pods which have been carefully designed to sit on wooden platforms provide a majestic view of the mountains and the Lake Geneva.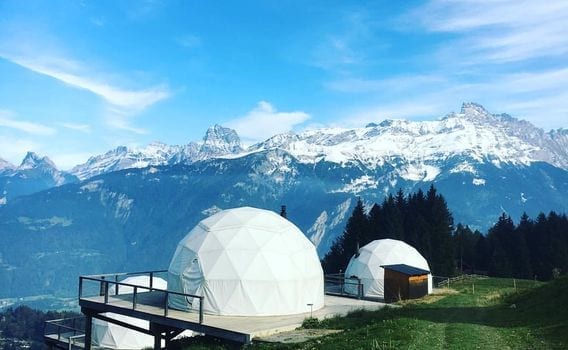 The pods have been crafted to offer guests the wonderful experience of being intertwined with their snow-kissed environment. Whitepod which is located 2 meters above sea level comes with a pellet stove and also a bathroom to yourself. The experience here is wonderful due to the fact that it comes with a sauna and a bar. What more could you ask for in a hotel?
Hotel Kakslauttanen, Finland
This hotel can be found in the forest along the Kakslauttanen river in Finland. The Snow igloos are made of glass ceilings and come with sleeping bags, and a shared bathrooms in separate buildings. There are also more cozy igloos which are equipped with lots of facilities.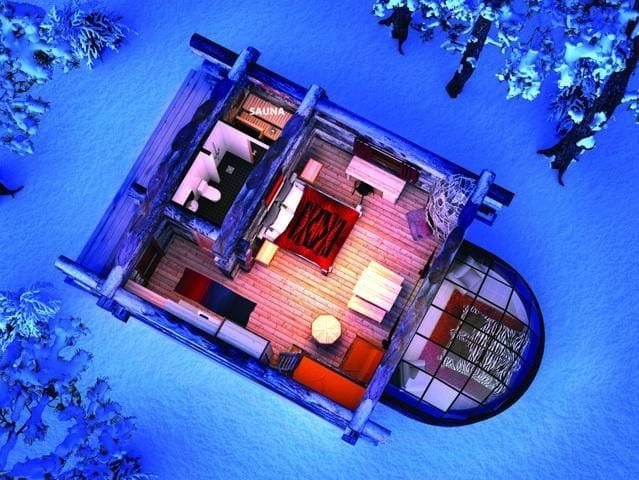 These facilities make one feel super comfortable and cool (literally). It has a fireplace and a sauna to give you that perfect night with your loved one. You'll also have breakfast and dinner served for free, if this isn't a dream then we don't know what is.
Le Grotte della Civita, Italy
The hotel which is situated in a cave is simply amazing when you first enter it. The furnished rooms and suites have stones plastered on the walls and well carved wooden furniture.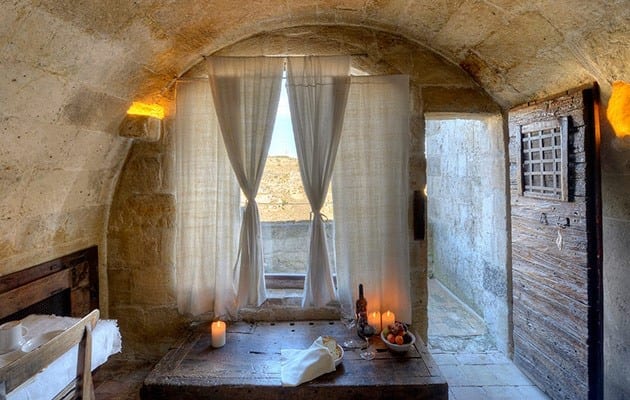 Also, it comes with free-standing tubs. The Upgraded quarters have terraces and guests can have a nice massage in their rooms with a simple ring of the telephone. So you can exit the cave like room feeling refreshed like a bear coming out of hibernation.

Like it ? Share it !